Media literacy education for adults should be empowering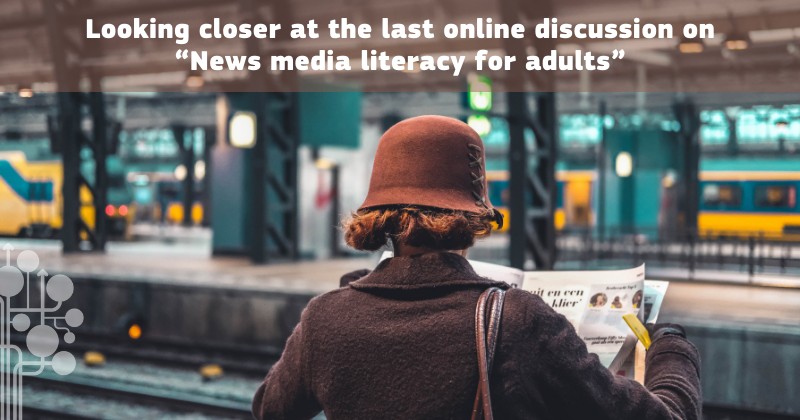 Photo by Raphael Ferraz
The EPALE Discussion "News media literacy for adults – why is it important right now?" focused on the need of cultivating news media literacy, considering the rapid technological developments and the ever-changing social conditions. In this context, diverse communication dynamics occur which give rise to several challenges such as mal-/mis/dis-information, hate speech and propaganda.
During the EPALE discussion, the experts Heini Huhtinen (MA), editor-in-chief and Anne Tastula (MA) the editor of Elm Magazine presented and discussed a variety of topics such as the concept of media and news literacy, the work of the Media Literacy Expert Group of the European Commission, as well as the rise of disinformation, which, among other, stresses the importance and need of cultivating news media literacy. To this regard, the notion of democracy emerged, which was further emphasised in the Palestine project introduced by the experts. The discussion proceeded with the news literacy education for adults and the best methods used in media literacy educational practices.
In the questions set, as well as the feedback provided it was acknowledged that adults constitute a rather demanding group to work with, since they have several prior experiences. Another point raised, during the EPALE discussion, referred to how we can identify the people who need the education and how can we include them, while at the same moment, media literacy education for adults is rather fragmented. Moreover, critical skills were highlighted in several comments of the participants. When we discuss about media literacy skills and digitalisation, we should not forget the core essence: how do we critically evaluate info and sources? How can we address and integrate critical skills in online settings? As described by a participant: "In today's world, where access to the Internet and information is at our fingertips, critical thinking that goes hand in hand with media literacy is so important. The purpose of critical thinking is not to criticize, but rather to be able to create distance, to think about why and how this information comes to me, can I somehow verify it or what is the source of information?"
Additional topics that came up by the participants and should be further explored refer to whose responsibility is/should be the provision of media literacy education and what is the impact of informal settings on adults media literacy practices. For instance, a participant stated: "I think media literacy has to be developed already in school years. In adult learning we can go on, but if we don't have the basis for critical thinking and media literacy, it will be very difficult to speak about the development".
Participants shared several perspectives and resources such as case studies, projects, guides and frameworks.
Some enlightening reports:
Some guiding frameworks:
The framework of

Critical Media Literacy Framework

, developed by Jeff Share, Steven Funk and Douglas Kellner, provides a series of 6 questions to ask when consuming (or also producing) media content (also in

German

)

The

Media Literacy Competence Model 2021

builds on the Media Literacy Competence Model 2012 and offers eight media literacy competences and ten areas in which individuals can achieve tangible results with their media use.

The 

Guide to digital skills for adult education

is addressed to teachers, supervisors, clients and (volunteer) organizations that develop and provide training and courses in digital skills for low-educated and low-digitally skilled adults.
Some interesting projects:
Finally, the discussion was completed with a challenging question set by a participant regarding the future situation, a "prediction" on media usage for the next 10 years. Even though no one can provide clear answers about the future, Heini Huhtinen highlighted that media already influence our daily lives, for instance on how we make friends, how we fell in love and in general on how we interact with other people. These constitute good examples of how digital media are incorporated in many aspects of our lives and change the way that we develop relationships with ourselves, but also with others. Focusing on her expertise in journalism, Heini described two future scenarios: the first, a positive one, would be that media would create more personalised content and be more transparent based on ethical values. The second scenario, which is more pessimistic, would be that media will sharpen polarisation which will lead people to be limited in their information-media bubbles.
However, the basic conclusion is that media literacy education for adults should be empowering. It should not just focus on the existing difficulties in the digital world. On the contrary, it should empower individuals on the way that we as citizens can become more aware of the content that we encounter and how we can safely navigate in the social media.
Even though there are lots of threats and challenges, it's important to remember that there is so much interesting work done which should be shared, so all can learn from each other. One such piece of work is the Open Educational Resource developed by the experts that addresses a set of challenging questions and topics which should be considered beforehand, while engaged in news literacy practices while working with adults.
We hope to see you in the upcoming EPALE discussions.