A digital inclusion pathway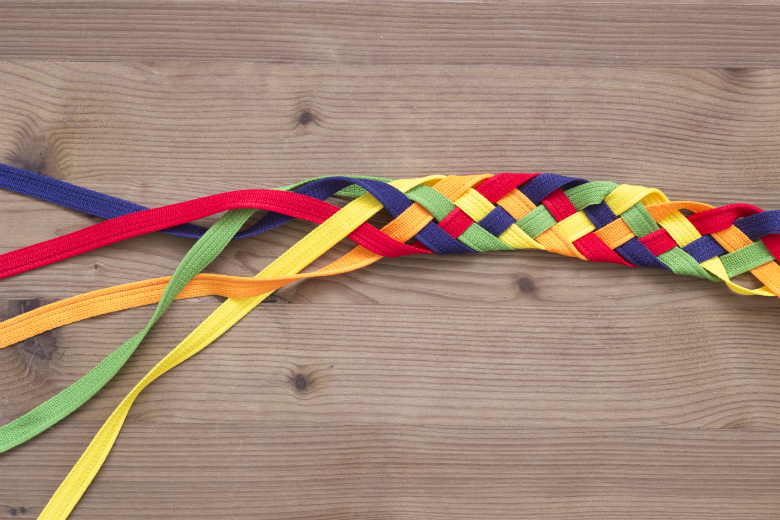 EPALE's Thematic Coordinator for Life Skills, David Mallows, reflects on the importance and process of digital inclusion of adults.
As we enter EPALE Digital and E-learning month, thoughts will likely turn to innovative and exciting ways in which learning can be made available online, on a computer or mobile device, or even through virtual reality headsets. The implications for pedagogy and for teacher training will be discussed, interactive materials will be presented and a brave new learning world will feel just a little closer.
The digital divide
However, as well as these exciting possibilities we should also take the time to consider whether digital technology will facilitate access for adults who have been excluded from learning, or simply erect new and even more daunting barriers. There has been much talk of a digital divide over the years – fears that an increase in the use of computers as tools for communication, commerce, civic engagement and, of course, learning, may lead to greater and perhaps more significant inequality for some groups in society.
As the online world encroaches ever further on the physical world we should pay great attention to digital inclusion – ensuring that each member of society is able to engage effectively with the riches of the digital world.
Digital inclusion
We can think about digital inclusion in terms of access to hardware. We know that there are strong associations between the use of digital tools and various economic and social indicators. This leads to certain groups of adults falling behind their peers in terms of adoption. Poorer groups often simply lack the necessary hardware. If you don't have a computer at home or at work (or in your pocket), accessing government services online, or applying for a refund for a cancelled train ticket, or shopping online, or sharing cat videos on Facebook, or logging in to EPALE is far more difficult. And when adults lack access to the hardware, they are also more likely to lack IT skills. This is, quite rightly, of great concern to policy makers. However,
before they rush into expensive programmes of investment in equipment and basic IT skills courses, it would be wise to consider what it actually takes for someone to cross the digital divide and join those of us who are (reasonably) comfortable and active online.
I have been involved in a number of such initiatives and have seen first hand that it takes more than a computer and some mouse skills for an adult to be digitally included. As well as access to hardware and the skills to use it, we also need to understand adults' diverse motivations for engaging with new technologies. It may be better for us to conceptualise this process as a journey and to identify the pathway through which any adult will need to pass. Professor Steve Reder of Portland State University has proposed a four-stage pathway to digital inclusion that I believe can be extremely helpful as we attempt to meet this challenge.
4-stage pathway to digital inclusion
Those who have never used a computer are in the first stage: Digital Access.
Once individuals have access to a computer, they move to the second stage: Digital Taste.
Here they must decide whether they actually want to use a computer and for what purpose. And it is here that many initiatives fall down – there's no point in providing an adult with access to a machine if they have no desire to use it. We probably all know an elderly relative who has been given a laptop or an iPad in the expectation that they will start to send email rather than letters or keep in touch via Skype rather than a landline. Instead, the expensive gadget gathers dust in the corner despite much patient coaching by the younger generation. Others, of course, soon see the benefits and once they have got this 'taste' for digital, the next step, learning how to use it, becomes more meaningful.
This is what Reder calls the Digital Readiness stage.
Those not yet "ready" to use the technology will need to learn, but once they have the 'taste' for digital, they are far more likely to succeed.
When they have mastered sufficient skills to do what they need to, they are deemed 'digitally ready' and move on to the final stage: Digital Literacy.
Here they need to systematically develop their proficiency in the use of digital tools in order to achieve what it is that they have a taste for.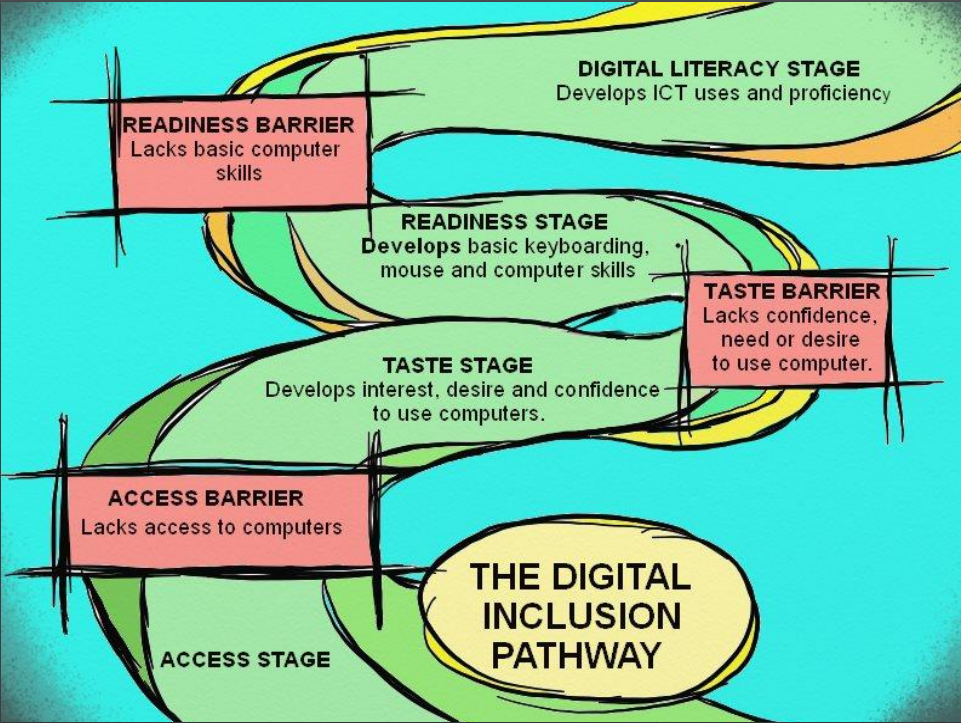 Each stage in the pathway has its own barrier that must be overcome. In Digital Access, the barrier is the lack of hardware, or perhaps broadband; in Digital Taste – a lack of confidence, perceived relevance or desire to use computers at all; in Digital Readiness, the barrier is basic IT skills; and in the Digital Literacy stage the barriers are the seemingly never ending ways in which digital technology develops and new applications are invented.
As with much adult learning, adults' progress through and positioning on the digital inclusion pathway may not be as linear as suggested by the diagram. While one's taste for a particular technology may follow or partially depend upon having sufficient readiness to use it, as Reder, points out he himself has no "taste" for computer games, even though he has the basic computer skills to do so and is thus 'ready'.
Designing digital inclusion programmes
So, what is the implication of Reder's digital inclusion pathway for policymakers? Principally, that we should not forget that adults' motivation to learn is internal. Programmes aimed at 'equipping' adults with IT skills to ensure digital inclusion should also take the time to help adults explore the ways in which using digital tools may enhance their lives and support them in doing the things that they value and desire. If adults do not have a taste for digital, no amount of IT skills training will help them across the digital divide.
Graciela Sbertoli of Skills Norway, Zoltan Varkonyi of Progress Consult in Hungary and Caecilia Maerk of SVEB, the Swiss Federation of Adult Learning, all members of the European Basic Skills Network, discuss how digital inclusion is being approached in Norway, Hungary and Switzerland.
---
David Mallows has 30 years experience in adult education as a teacher, teacher trainer, manager and researcher. He was previously Director of Research at the National Research and Development Centre for adult literacy and numeracy (NRDC) at the UCL Institute of Education, London and currently represents the European Basic Skills Network in EPALE as thematic coordinator for Life Skills.