Maybe, just maybe Museum Education was kickstarted by the Pandemic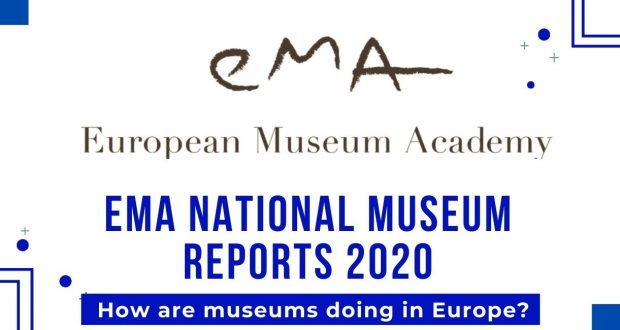 The European Museum Academy has just published a report on how museums were doing in Europe last year. 2020 was like no other year in recent decades because of the COVID-19 pandemic which has swept over Europe and the world since early in the year, and which has shown little sign of ending when these words are written in the second month of 2021.
That situation sets its clear mark on the report. For the third time the European Museum Academy presents an overview of the situation and the trends in the European museum landscape. The overview consists of reports from colleagues across the continent who have simply been asked "what's going on?" and "how are you doing?" Because of the special situation with the pandemic the Academy representatives were asked specifically to report what the impact has been on museums in their countries and how museums, the public and the authorities have responded.
The year 2020 became a year of unprecedented challenges for museums as for society in general. As our colleague in Cyprus put it, "aside from all the bad, sad circumstances that this pandemic may have provoked, museums, as in many other sectors, were forced to rethink and revaluate their policies, strategies, and purpose". The pandemic threw museums all over Europe into lockdowns for days, weeks, and months, and even repeated as the second wave of the pandemic struck. In many countries this meant that staff were sent home for longer periods, or even lost their jobs, and thereby museums losing competences. The pandemic impact was severe for staff all over Europe, and in some cases, freelancers lost their contracts, in some countries like the Netherlands, Denmark and Sweden staff had to be dismissed. Museums tried to encourage people to come by securing safe distance between visitors, lowering entrance fees, and other means, but for most museums it seems to have been a losing battle. Some museums received about half the number of visitors as usual during the summer, but many lowered their visitor numbers by historically 70-80 percent, which was to a great extent explained by an almost total ban on tourism and travel. The financial impact of this set aside, the lockdowns also caused museums to fail to fulfil a key element in their purpose: reaching people and offering the kind of experiences that only museums provide.
For decades digitalisation has been an issue which museums in general seem to have used primarily for modernising collection registration procedures, even though there are of course examples in many countries of pioneering digital presentations, educational offers, and exhibitions. When museums closed across Europe digitalisation became something much more than a tool for registration. The reports reveal how museums were fast to change strategy and adapt to the new circumstances. The digital means and social media suddenly became particularly important tools for reaching the public, and even to reach the public at all.  The reports demonstrate a great variety of digital activities from the museums. Interactive learning experiences, virtual tours and many other offers have been developed, produced, delivered, and consumed in almost all countries. In several countries the governments stimulated the digital development, as does the European Union through several programmes. In other countries governments or museum organisations dedicated 2020 to further education programmes for museums on digital competencies. But in some countries, taking Turkey as an example, smaller independent private museums are still not able to make use of the offers, as they were already poor and in need of basic resources before the pandemic.
Besides handling the impact of the pandemic, and taking opportunities it offered, there have been some remarkable political developments of importance to museums in Europe. In 2019 we saw initiatives in some countries to create politicised control over museums as was the case mentioned for Italy. This year we have reports on how governments can undercut the authority or welfare of professionals. In Hungary, the civil servant status has been taken away from museum staff which has had the unfortunate result that salary development has been negative. Good news comes from the Northern Macedonia, where the staff earned a long-awaited salary increase.  In other countries like Sweden the division of financial responsibility and engagement in museums between central government and regional councils is highly criticized by the regions, who claim that the government is increasingly narrowing its financial engagement to cover little more than the central government-run museums. Nevertheless, there took place relief funding by the state in several countries for the hardship museums and actors in cultural sector go through, such as in Austria, Estonia, Belgium, Denmark, Norway, and Ireland. The pandemic was an occasion for museums to review the social role of museums in Slovenia. Migration, globalisation, decolonizing museums were important topics that the sector discussed in Belgium, Germany and the UK. Brexit and its repercussions for the tourism and museum sector was another important topic for the UK.
The importance of museums to the mental welfare and competence development of people may never have been demonstrated as strongly before as during the pandemic. The demand for reopening museums was seen in all countries throughout the year and grew from modest attempts with opening for smaller groups as in Montenegro, excessive safety precautions as in Spain, and demands in national media in France for reopening as soon as possible.  The damage done by closing museums was considered in some ways worse than the risks of careful opening. It may be seen as a symbol of the importance of museums that the National Day was chosen for reopening in Slovenia.
This is maybe the most interesting trend of new development in museums from the Pandemic: Museums are important to welfare of people as there is a constant need to construct, de-construct, and re-construct where we come from, who we are and, where we are going. The impressive digital breakthrough in museums in 2020 will be an important part of the tools for museums from now on. From being something museums do beside ordinary analogue work for reaching people, digital offers and especially live digital interaction with the museums will be as important to a globalised museum. When museums take this serious they will also be more attractive for different educational settings. 
You can download the full report here:
http://europeanmuseumacademy.eu/how-were-museums-in-europe-doing-in-202…