Good practice examples from the EPALE event on digital adult learning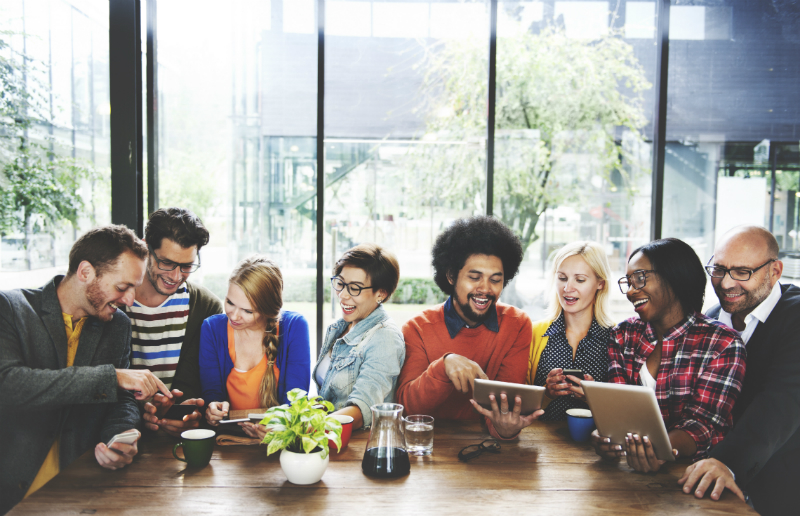 Between 25-28 February, EPALE organised an online event for collecting good practice examples from digital adult learning. We had various contributions from a wide range of adult learning professionals from over 20 European countries. The event yielded information on more than 25 projects on digital learning and obtained many suggestions for further reading, both on and off EPALE.
In this article, we will present the topics, tools, programmes, projects and further readings shared during the event.
Reflections on the use of digital learning
The event participants brought up an interesting aspect of digital learning in the current age. They talked about the inclusion of disadvantaged groups, such as adults with disabilities and those that lack basic skills. For instance, digital learning can ease the access to traditional learning centres for learners with disabilities only if it is organised in the right way and the teachers and trainers have the right digital skills. Digital material is also used to raise awareness of the situation of digitally illiterate people, as it can be seen in this video in Slovenian provided by Nevenka Kocijančič from the Slovenian Institute for Adult Education. The video was created as part of the project Development of adult competences 2016-2022.
Rasa Pocevičienė from Siauliai State College in Lithuania argued that we need other competences to work effectively with digital tools. She elaborated that ICT is useful, but not an aim in itself. It is more important that we learn how to learn, and how to have a meaningful and successful personal and professional life. This requires the ability to adjust to the ever-changing environment, and constructively react to the constant stream of new information.
Several comments and projects touched upon the intergenerational aspect of digital learning. For instance, Merle Koik from the Central Library of Voru County, Estonia, talked about the Egg Teaches Chicken project where children teach older people to use smartphones and tablets. Also, in this context Tiina Tambaum from Tallinn University in Estonia highlighted her academic research on the importance of tutoring.
Some participants also warned about the amount of time spent on new technologies and how it should be balanced with face-to-face interaction, as addictive behaviour towards ICT and social media is increasing among young people.
Finally, there was a reflection that many websites and digital tools use complex language and need to be simplified.
Tools for digital learning and online learning programmes
There were many interesting digital learning tools mentioned during the event. For instance, Anna Grajewska presented the Mój Trener ('My Trainer') app – a free mobile app that helps trainers organise their students' knowledge in one easily accessible place. Trainers can send materials directly to their students from a single control panel, set goals for their groups, share lists of books to broaden their students' knowledge as well as inspirational quotes. The app is currently available only in Polish, but it may be available in English soon. You can find more information about the app in this blog post (available in Polish and German). Another useful app was shared by Marcin Szeląg – the app was developed by Brooklyn Museum in New York and its aim is to help museum visitors to learn from exhibitions.
Other online programmes mentioned in the event included:
Projects
The EPALE community shared a multitude of successful digital learning projects, which we bundled into the following groups:
Providing infrastructure of digital learning
Carlos Ribeiro from Portugal told the EPALE community about the FabLabs project. Fablabs are experimental workshops that offer a set of digital machines and tools that allow anyone to produce a variety of custom products on a small scale. These are spaces that can play a fundamental role in the valorisation and diffusion of knowledge, in particular the new digital technologies of production, as well as in the consolidation of collaborative practices, which contribute to respond to social challenges.
Lithuanian EPALE Ambassador Laima Lapiniene shared some information about the Family Digital Activity Hubs project in Lithuania and Latvia. As part of the project, special DigiHubs spaces were established in four libraries and equipped with computers, interactive screens, 3D printers, Lego robots, Kinect, virtual reality and interactive bicycle sets. Alongside the equipment, engaging educational content was developed such as virtual reality and interactive bicycle tours, Kinect quizzes, mobile applications, and 3D programming workshops.
Another successful project from Lithuania was shared by Simona Gogelytė. The Connected Lithuania project's main goal is to encourage and support Lithuanian citizens in acquiring digital skills for using the Internet in an effective, safe, and responsible way.
Empowerment
Intergenerational learning
James Callus shared information about the Family Coding Sessions initiative in Malta. The project focused on the creative use of the school tablet and invited parents/guardians together with their children (aged 8-10) to discuss how these devices can be used in computational thinking processes.
Livija Mukane from Latvia told the community about the SINDI project – Social Inclusion through Digital literacy and Intergenerational learning. The project objective is to promote social inclusion and foster the motivation of older people through innovative integrated approaches, such as intergenerational learning at local, regional and international level. The project also aims to increase the level of digital competence of older people by promoting innovative digital skill teaching techniques, and developing and disseminating learning materials and tools applicable in other European countries.
Hakan Yandim from Turkey told us about the My Mom Is Learnıng to Use the Computer project. The project aims to help all mothers to use the computer and internet effectively in order for them to be able to better contribute to their children's education.
Migrants and refugees
Filiz Keser Aschenberger from Austria shared an online learning platform for librarians and young refugees – the LIB(e)RO project. The project aims to establish an online platform based on the involvement of libraries and librarians in providing minor refugees with a safe space where they can learn the culture and language of the host country. The project targets minor refugees who are at risk of social exclusion, librarians and social workers.
Education Policy Officer Karin Olsen from Denmark told us about the AgriWorker digital project. The AGRIworker app is an e-tool designed directly for migrant agricultural workers. With it, they can learn about the working conditions in agriculture in the project countries, such as payment rates, holiday entitlements and how to understand the payslip. The agricultural worker can also learn about their lifelong learning opportunities and gain basic knowledge of the host country.
Mona Schliebs from Germany told us about the CaseWORK project, which provides a free flexible online training course for volunteers working with refugees. The course includes three modules – Information, Intercultural Competence and Psychological Support.
Outreach
Altheo Valentini from Italy shared information on the course Digital Invasions – Using Social Media to Enhance Participation in Culture. The course aims at transferring good practices in enhancing cultural participation for both young people and adults. Participants learn how to engage their primary target group in the digital valorisation of local cultural heritage in order to increase the sense of ownership and the knowledge about their region.
Veronika Pflaum from Museum of Gorenjska, Slovenia, told us about the project Digital Museum Practice in Adult Education. The aim of this project is to develop social media and the museum website into education tools for adults. With this project the Museum will be able to address and educate a wider circle of people and attract new target groups of adults who would like to learn about cultural heritage.
Tutoring and teacher training
Innovation
EPALE Ambassador Brian Caul told us about the project Cultural Awareness Supporting Training for Innovation (CAST4Innovation). The project's aim is to design innovative, accredited transnational training, both online and person-to-person, which will enable the participating trainees to progress afterwards to expand the delivery of cultural awareness courses throughout the UK, Ireland and Europe. As well as a generic exploration of the elements of culture, diversity, xenophobia, racism, bigotry, social inclusion and development of civic skills, trainees will be able to opt for specialist modules in the use of music, art, poetry, sport and cuisine as creative pathways to equality and social cohesion.
Further publications/readings
During the event, the EPALE community also shared a series of interesting publications and articles:
Do you know of any other good practice examples and successful projects from the digital adult learning sector? Share them in the comments below!