Lut Lippeveld: more opportunities to learn in prison
Short bio
I was principal of CVO De Oranjerie from June 2003 until September 2020 and was active for 20 years in adult education, teacher training, second chance education, and secondary education where I taught history and sociology. As a principal I have led a project on blended learning in prison(s) in Flanders. From 2010, I have been a networker and communicator in Klasbak, representing EPEA in Flanders.
My story
As a child, but also as an adult, I have been very eager to learn. By the time I was 22, with a master's degree in history in my pocket, I was well-read, but I lacked technical or practical knowledge in my upbringing. That made me feel clumsy, and I didn't believe in my success. Luckily, I met my partner early in life, who dragged me into his love for music. He played in a band and took care of the sound installation. He partly made it himself as an engineer. With a lot of patience, but also immediately in practice, I quickly learned how to mix sound. I was making much-needed money with him.
There was little work to be found in the early 1980s, so it was welcome. One day, we went to play in the prison of Leuven. In the small but cozy theater, I sat in the middle of the inmates at the mixing desk. Besides the fact that I found it exciting, I was especially impressed by the ordinary that took place there. It was a performance like all good performances outside, with a slow warm-up to the right apotheosis at the end. What was 'different', however, was the incredible attentive concentration of each of the men there. They enjoyed it intensely, in great respect for all of us.
And I was growing to believe in myself as a sound engineer. It continued to fascinate me, when I started teaching in adult education, that extraordinary concentration and success can arise, with new opportunities to experience and learn. It works for all adults, but also for those who had less chance to do so in their earlier lives. For 20 years, I continued to teach adults who finally seized their second chance to obtain their secondary diploma, called second chance education in Flanders. I also taught adults who wanted to become a teacher based on their experience or expertise. I could compare that with experiences I had in secondary school with students between 15 and 18 years old and how they learn more easily and spontaneously 'if' they are concentrated and interested.
After training to be a principal, I got to join management in an adult education center, and I became a director. I greatly expanded second-chance education in the Center for Adult Education De Oranjerie, with my colleagues. Later, from 2008, I had the opportunity to do this together in a regional collaboration at Leuven and the surrounding area with the centers for basic education and centers for adult education in secondary and higher adult education. For the first time, we organized an extensive range of services in the prisons of Leuven Centraal (long-term inmates) and Leuven Hulp (arrest house). From 2012, we started with a team with a blended learning trajectory on an offline platform called Primo or prison Moodle. To this day, inmates can receive additional general education in prison with on-site instructors and access for inmates to practice and learn on the platform. For them, it forms part of their future secondary education outside prison. Some even earn a diploma in prison if they also can complete their technical training in prison.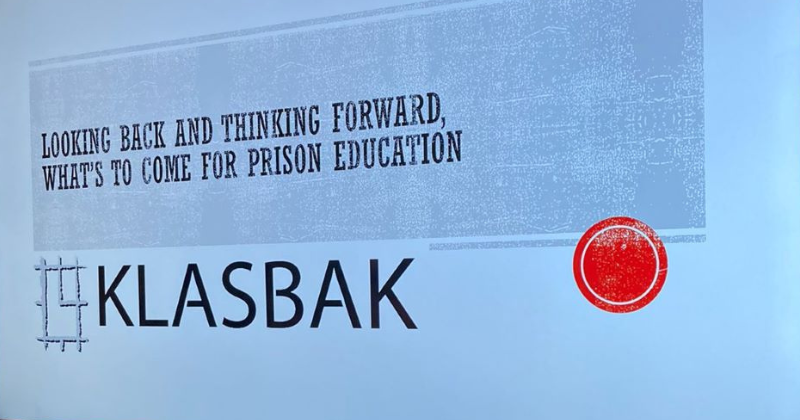 Together with the team that teaches there, I come to the same conclusion as when I was still very young in Leuven Central, at my mixing console among the prisoners. They go along with full concentration, enjoy learning, and are very respectful students. At the annual proclamation in prison, the party is at least as intense as out there. They're so proud and happy. When the proclamation could not continue due to corona outbreak or strike, everyone was sad.
Experiencing success is definitely the strongest trigger for everyone, but also for the (vulnerable) adult learner.
I want to finish with a call for more opportunities to learn in prison on behalf of our network organisation Klasbak, for example, giving detainees in the first place access to the internet and platform (blended) learning!