New public consultation on a European approach to Microcredentials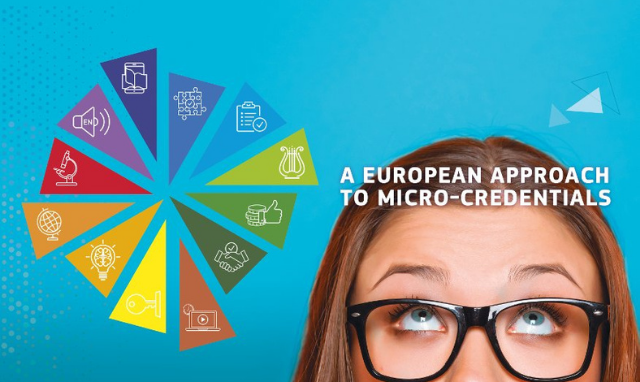 The European Commission has launched today a public consultation on the initiative "Micro-credentials for lifelong learning and employability". The consultation will be open until 13 July 2021.       
Why an open consultation?
The objective is to collect ideas for the development of a common definition of micro-credentials, EU standards for their quality and transparency, and further steps to be taken at institutional, national and EU level. This  joint initiative led by European Commissioners Gabriel (Innovation, Research, Culture, Education and Youth) and Schmit (Jobs and Social Rights) will support the quality, transparency, recognition and portability of short learning experiences leading to micro-credentials, substantially widening learning opportunities, making lifelong learning a reality across the EU and boosting employability chances. This is complementary to full degree programmes.
Within Europe a growing number of people need to update their knowledge, skills and competences to fill the gap between their formal education and the needs of a fast-changing knowledge-development society and labour market. Moreover, the recovery from the COVID-19 crisis and the green, demographic and digital transitions require upskilling or reskilling efforts. This, to maintain and acquire the competences that enable citizens to participate fully in society, ensure their personal, social and professional empowerment.  Short learning initiatives are developing rapidly across Europe by a wide variety of public and private stakeholders, in response to the need for more flexible, learner-centred and blended forms of provision of education and training. Therefore the interest in credentials that certify the outcomes of these learning experiences is increasing. 
How to participate?
Take part to this public consultation by filling in the survey in the name of your organisation or in private capacity. Your organisation is also invited to attach a position paper, if you wish.
A definition of micro-credentials
A micro-credential is a proof of the learning outcomes that a learner has acquired following a short, transparently-assessed learning experience. They are awarded upon the completion of short stand-alone courses (or modules) done on-site or online (or in a blended format).       
Flexible learning
Micro-credentials open education up to more people because of their flexible, short-term nature. They are open to all types of learners. They can be particularly helpful for people who:
are looking to build on their current knowledge rather than get a full degree
want to bridge a gap between degrees or their initial formal education and emerging labour market skills
want to upskill or reskill.      
Wide-reaching benefits
Micro-credentials make education more inclusive, as it is accessible to all types of learners through its flexible and short-term approach. A larger uptake of micro-credentials could foster educational and economic innovation and contribute to a sustainable post-pandemic recovery.
The short courses can be provided by higher and vocational education and training institutions, as well as by different types of private entities, as a quick response to labour market needs for specific skills. This is particularly relevant given the challenges posed by the economic crisis due to the COVID-19 pandemic.         
Some background information
Micro-credentials were announced in the European Skills Agenda, published on 1 July 2020, as one of its 12 flagship actions to support the quality, transparency and uptake of micro-credentials across the EU. They were included in the Communication on achieving the European Education Area by 2025 to emphasise higher education's key role in supporting lifelong learning and reaching out to a more diverse group of learners. They were also included in the Digital Education Action Plan.
Commission President von der Leyen stated her intention "to bring down barriers to learning and improve access to quality education", underlying the relevance of lifelong learning.
To learn more about micro-credentials you can visit the dedicated page.