Transformative Learning in elder learners
Transformative Learning in elder learners
Older elders are often overlooked in discussions on ALE, so following the EU Commissions Green Paper on Ageing and EPALE's latest live discussion on Active Ageing and Life Transitions I would like to dive into this topic a bit deeper. 
However, I do not want to talk about why we must support the learning of adults and elderly respectively, what benefits that can entail for them and society, that we should not instrumentalize ALE for labour market purposes or how the pandemic has proven that we need education for all. I would rather talk about the transformative power ALE can have on adults and why we need low threshold learning opportunities that facilitate Transformative Learning (TL) for all adults. Although transformative learning is not a new approach but has been around for a while, the idea of it has not been as widely spread in Europe as it has in the US, so I will provide a quick overview. 
Referring to one of the major representatives of transformative learning, J. Mezirow, we can look at TL as a ten-step process. Being triggered by a "disorienting dilemma", TL begins with a recognisable confusion a person experiences regarding a specific situation or reaction they have not anticipated. This experience would lead to self-examination and a critical assessment of oneself and the situation. Recognising one's own (wrong) doing and further exploration of said doing, leads to setting out a plan of action for oneself. This might be to further educe oneself in the topic formally or talk to different friends and family about what had happened. These actions will support the person to learn something new (Acquisition of Knowledge), and following, to carefully adjust their behaviour (provisional trying of roles). In doing so, the new knowledge and practice of behaviour will build the person's self-competence and confidence and will, according to Mezirow; lead to the final reintegration of said new or adjusted behaviour. (Jack Mezirow, 2011, Transformative Learning in Practice: Insights from Community, Workplace, and Higher Education, John Wiley & Sons)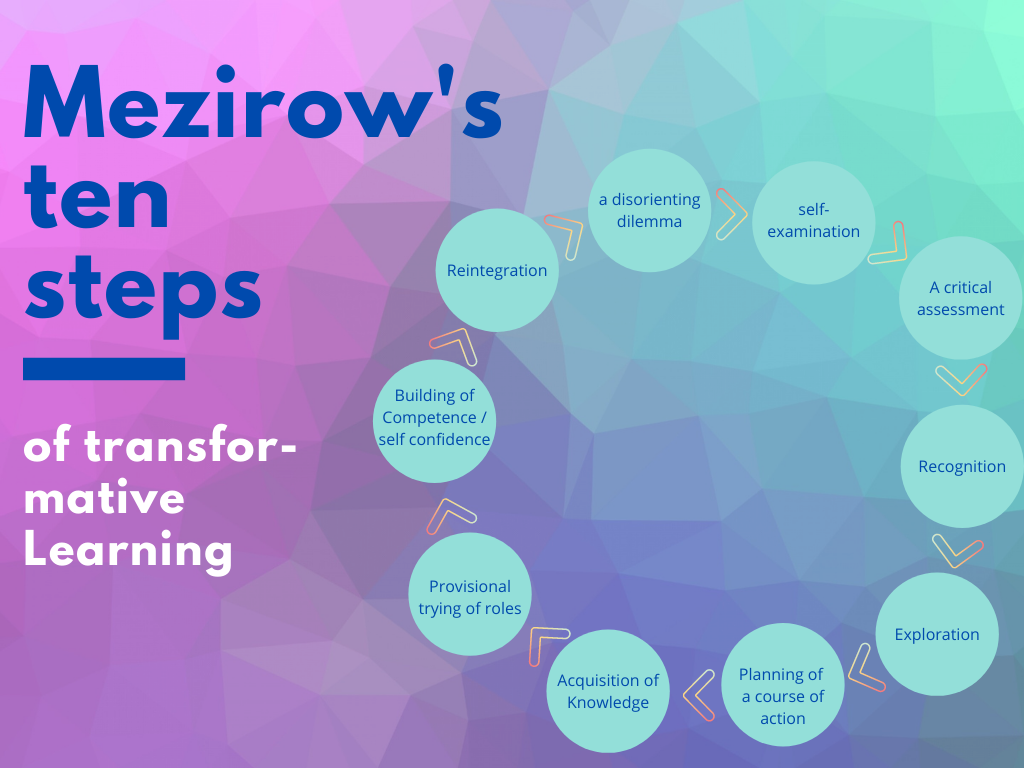 Experiencing such a disorienting dilemma and the following transformation respectively is a highly individual process. The same situation or response can be perfectly ordinary for one person but highly irritating for another – making TL a great tool for adult learners, with their individual life experiences, vastly different needs, skills, abilities, impairments and learning goals. Especially for older learners TL can be a fantastic opportunity to facilitate low threshold learning, already tailored to their individual needs and situation as it happens in their very specific setting, life situation and experiential circumstances. 
Since TL is not relying on gaining knowledge in a formal setting and not even depending on an educational institution of any kind, it can be facilitated in many shapes and forms. Mezirow himself identified discourses as the central tool of facilitating disorienting dilemmas and trigger for learning experiences. (Michael Kroth, Patricia Cranton, 2014, Stories of Transformative Learning) Especially against the background of the current challenges we are facing in Europe and globally, better acknowledging an all-available, low threshold tool is requested, when it has great potential to help adults of all ages to engage in transforming, adjusting, extending or broadening their perspective.  
Intergenerational and family learning as "dilemma provider"  
Having already discussed some benefits of intergenerational and family learning during the live discussion, we want to further underline its importance as a provider for disorienting dilemmas in Merizow's sense. Experiencing and discussing intergenerational differences, supporting each other in daily life's chores or in learning endeavours, entails great potential to bringing people on the verge of their prior experience and issuing disorienting dilemmas.  
These conversations can easily challenge assumptions and stereotypes that might have worked for a long time. However, having these conversations with people one values and whose opinion one appreciates, simply walking away or just dismissing those viewpoints is not an easy option. On these accounts, intergenerational and family learning are excellent settings to issue transformative learning experiences. This being said, ALE initiatives in the areas of intergenerational and family learning are in dire need to be more prominently promoted as low threshold learning opportunity for the elderly. For this, they need to be better funded and further supported, especially from the EU-level, in order to utilise their full potential.  
Sustainability as objective and content of transformative Adult Learning and Education 
Seeing transformative learning as a low threshold approach to learning in older ages, has great capacity to contribute to a sustainable and healthier ageing. Studies have shown repeatedly how learning in adults can not only decrease loneliness and increase happiness and well-being (especially within the group of elder learners), but also has the potential to uphold the mental fitness and even potentially delay the effects of Alzheimer's (University of California - Irvine. (2007). Learning Slows Physical Progression Of Alzheimer's Disease. ScienceDaily. www.sciencedaily.com/releases/2007/01/070123182024.htm). Learning in older ages can increase the open mindedness and mindfulness of learners and can be the entry point for formal learning endeavours. 
Additionally, transformative learning is the most suitable learning approach to teach sustainability itself. It is to be argued how likely it is that masses of people will pour into formal learning courses in order to learn about environmental protection, sustainability, mental health issues, equality and emancipation and other challenges of the new century. On the other hand, non-formal and informal learning opportunities, such as some transformative learning settings, are providing a tremendous potential to reach a vast number of adults, especially elder learners, who might not be reached via formal learning offers. At that, transformative learning opportunities can also actively contribute to the UN Sustainable Developmental Goals, in just about all the 17 goals. 
In summary, transformative learning with its embeddedness in specific settings, life situations and experiential circumstances, is a crucial tool and objective and should be fostered as such.
Further information on Adult and elderly learners can be found here: 
https://epale.ec.europa.eu/en/tags/older-persons 
project examples 

 
studies 
articles 
comments