AGE:WISE – Across Generations at Eye Level: Ways to Integrate Seniors by Education
Autors: Stefanie Gugganig, Martina Bachmeier, and Gerhard Doppler
The challenge of demographic change
Society is changing – Europeans are living longer than ever before and the age profile of the population is shifting rapidly. This demographic change is characterised by a declining percentage of people who are of working age and a simultaneous increase in the number of elderly people (EUROSTAT, 2020). This continuing, Europe-wide demographic change is leading to an increasingly ageing workforce, creating challenges for many areas of society, including the education sector. In addition, retirement is ranked in tenth place in a list of the 43 most stressful life events according to the American Institute of Stress (AIS, n.d.). More often than not, we no longer hear and talk about "well-earned retirement", but rather a "retirement/pension shock" that comes after working life. Learning and education give us the opportunity to rethink the relationship between generations. Rather than separation, the focus should be on solidarity between different generations in order to combat social exclusion, age discrimination, and disparaging views of elderly people.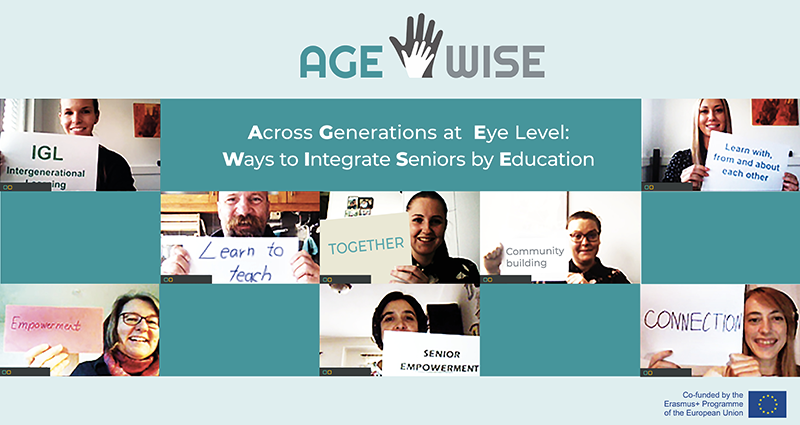 AGE:WISE project team © bit schulungscenter GmbH
ERASMUS+ project AGE:WISE
Learning processes between generations offer opportunities to further the social integration of elderly people and bridge the divide between young and old. This led to the creation of the Erasmus+ project AGE:WISE – Across Generations at Eye Level: Ways to Integrate Seniors by Education, which is being implemented by partner organisations from five European countries:
bit schulungscenter GmbH (AT)

Volkshochschule im Landkreis Cham e.V. (DE)

Fundacja Autokreacja (PL)

Associazione Culturale Eduvita E.T.S. (IT)

Future Balloons Unipessoal LDA (PT)
"Learning with, from, and about one another – and reducing the ever-widening divide between Generation Z and senior citizens through intergenerational learning (IGL)" is the vision of the project. Intergenerational learning settings allow the scope of action of all members of society to be increased, thus leading to greater social integration, respect, and encounters on equal terms.
The participants in the workshop at the EPALE conference in May 2021 also primarily associated intergenerational learning with the concept of "learning with/from one another".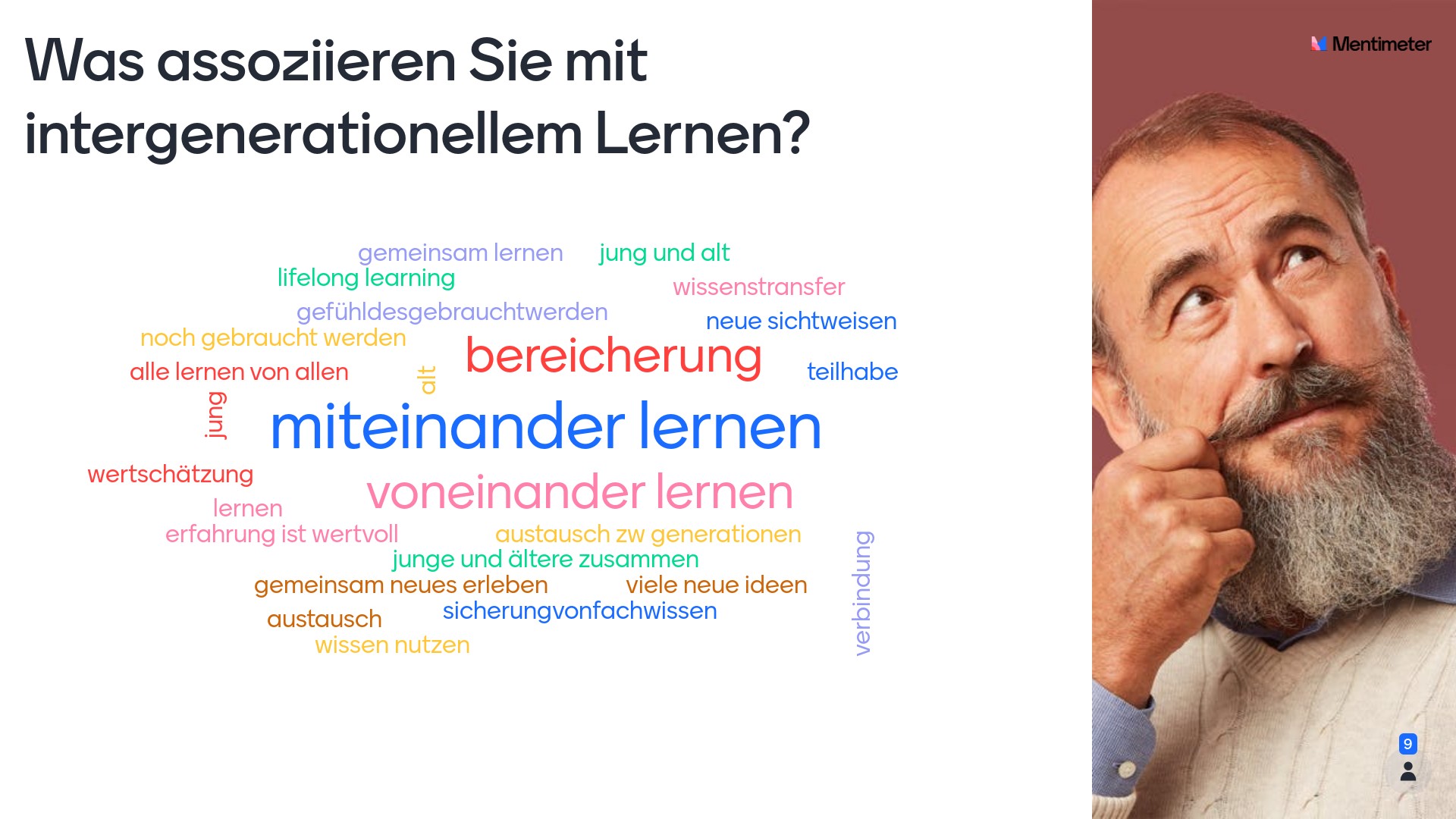 Associations with the term "intergenerational learning" © Mentimeter.com
Project objectives
Although the IGL approach is not new, the project team wants to help ensure that it spreads to more and more educational institutions and other relevant social spheres (e.g. municipalities, multigenerational homes, senior citizens' associations, youth centres, schools, and many more). The goal of the project is not only to promote intergenerational learning, but also to motivate the elderly population to actively get involved as teachers. The project results offer the opportunity for self-reflection and appropriate further education.
Project results
In order to turn this vision into reality, the following results are being developed in the course of AGE:WISE:
Research report and marketing guide for adult education institutions

The research report establishes the status of IGL in each of the partner countries involved and lists numerous good practice examples for IGL activities. In addition, the teaching and learning needs of seniors are determined on the basis of structured interviews with adult educators and seniors who work in IGL settings. These serve as the basis for the development of the training and learning package.

 
Web platform with a self-reflection tool for seniors and videos about success stories

A digital, web-based tool for self-reflection is being developed that will help seniors to become aware of their diverse competences that can be of value for the younger generation. At the same time, videos about success stories will help increase the motivation to get involved as a teacher. The videos contain valuable tips and ideas for how to successfully implement IGL in practice.

 
Training package with didactic

guideline

 for IGL settings and curriculum for the training course

The package contains a didactic guideline for the implementation of the training course by adult educators as well as a guide for adult education institutions for the practical implementation of IGL settings.

Learning package for a training course for seniors and pilot training

The learning package contains five modules dealing with the topic of "teaching" and will be tested with the target group in the course of the project.
A first look at the research report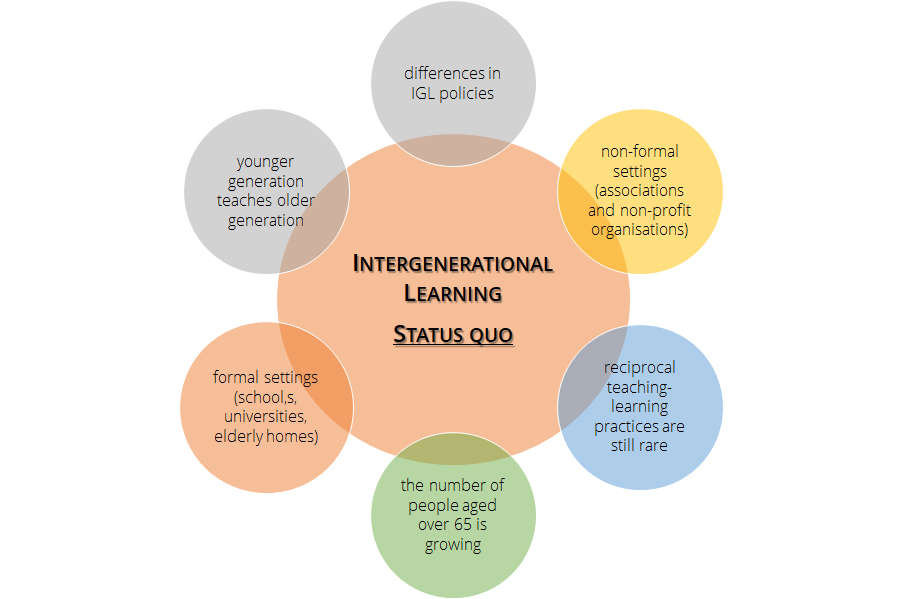 Current status of intergenerational learning © bit schulungscenter GmbH
The research in the project partner countries once again confirms the demographic trend of an ageing population. The IGL strategies vary from country to country, but are relatively underdeveloped in general. Reciprocal teaching-learning models are still rare, and the setting of the younger generation imparting knowledge to the older one (e.g. in the instruction of digital competences) is dominant. In addition, a lack of specific training courses for teaching in IGL settings was identified.
In course of the interviews with adult educators teaching seniors and teachers/trainers over the age of 65 teaching young people, specific learning needs of the older generation were identified as well as the competences and skills elderly people must have as teachers in the opinion of adult educators.
According to the expert interviews, the most important competences are:
Pedagogical competences: talent for organisation, activities/teaching experience, communication skills, learning-teaching competence in an intergenerational context
Cultural and social competences: breaking stereotypes, empathy, recognising and utilising skills
Action-oriented competence: ability to develop and initiate new projects
Other key competences were also identified such as the combination of skills/experience, teamwork, mentoring, joint organisation together with students, proactiveness, and enthusiasm.
"Flexibility", "empathy", and "patience" were mentioned most often by participants at the conference.
Participants' opinion on which key competences seniors must have to take on the role of a teacher © Mentimeter.com
Challenges in the teaching/learning process for seniors serving as teachers were also identified. The respondents see the challenges primarily in four areas: health problems, personal challenges, learning style, and technology.
Within the networking pool, participants most frequently listed "digitalisation", "adaptability", "health", and "technology".
Participants' opinion regarding the biggest challenges for seniors in the teaching process © Mentimeter.com
Additional information about the project and the results is available at the following links:
Sources
Stefanie Gugganig
Stefanie Gugganig, MA, studied health management in tourism (BA) at FH Joanneum University of Applied Sciences as well as tourism and entrepreneurship (MA) at MCI Innsbruck, and also gained international experience during her studies. She has been working in project management since 2017, initially in the field of destination management and education before joining bit schulungscenter GmbH, where she has been involved in European educational projects for over a year now.
Stefanie.gugganig@bitschulungscenter.at
https://www.bitschulungscenter.at/innovation/
Martina Bachmeier
Martina Bachmeier has a university of applied sciences degree in business administration and has been working in project management since 1992. She initially organised international conventions and major events for the business and scientific communities. At the same time, she gained many years of teaching experience in the fields of higher education and adult education. For over ten years now, she has served as a project manager for European projects at Volkshochschule im Landkreis Cham e.V. (Germany) in programmes such as Erasmus+ and INTERREG.
Gerhard Doppler
Gerhard Doppler, Dipl.-Ing., studied telematics at Graz University of Technology and worked for seven years as a lecturer for adult education in the field of software development and computer networks. In 2009, he moved to Portugal and founded the company Future Balloons in 2010, whose work focuses on the intersection of computer science, teaching, and learning.
https://www.future-balloons.eu/
About this blog
This blog is based upon a workshop at the Austrian EPALE and Erasmus+ Conference "I am different. You are different. Together we are diversity! Diversity in inclusive adult education" which was held on 20 May 2021.
Here on EPALE you can also find the video and presentation slides of the workshop (in German).