EPALE Interview: Andreas Schleicher and the right balance between modernisation and disruption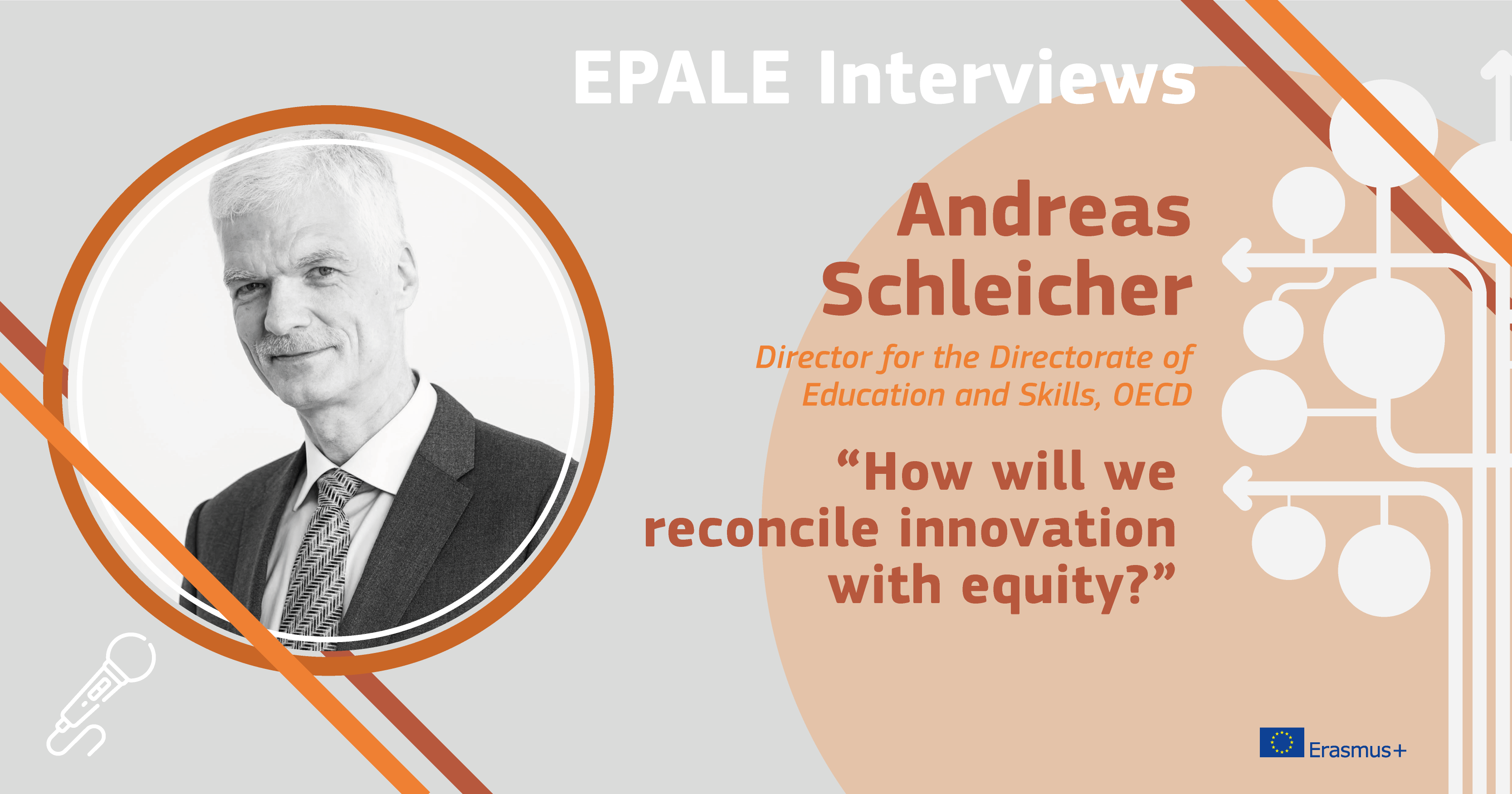 These are difficult times for education. Think back to March 2020, when 1.5 billion pupils worldwide were suddenly unable to go to school. Many turned to distance learning, but this could not compensate for the social function that schools also provide. The social well-being of pupils and students plummeted, hitting vulnerable groups even more. Teachers were able to meet some of this need, but they also had to deal with a steep learning curve themselves. After all, it was no longer enough to be a good teacher. You also had to become a very good coach, a good mentor, and also understand how different students learn in different places and in different situations. At the same time, a lot of really interesting innovations suddenly came to light, and not only in the technological field.
We saw a lot of social innovations, reorganising people, space, time and technology in very new ways. Will this crisis make us better or worse off in 20 years? We posed this question to Andreas Schleicher, Director of Education and Skills at the OECD, who recently presented 4 scenarios for the future of schooling.
In your opinion will the pandemic and the accompanying crisis have good or bad consequences for us in 20 years' time?
That is really hard to say. These days the pandemic is on everybody's mind. But what the pandemic has taught us most of all is that the future is always going to surprise us. Climate change is likely going to hit us even harder and is actually quite predictable.  When you open your window you see it coming. Think about artificial intelligence. This is going to be hugely influential on the way we live, the way we socialise, the way we run our educational systems. How else can the future surprise us? Think of economic shocks, data breaches, natural disasters, cyber wars, energy cuts... to name just a few. I don't think anybody really has a clear sense of how this is going to influence and shape us. There are lots of really different trends that we have to keep on our radar. In fact my colleague Tracey Burns has analysed those trends and it is amazing how many are important when we are thinking about the future of education.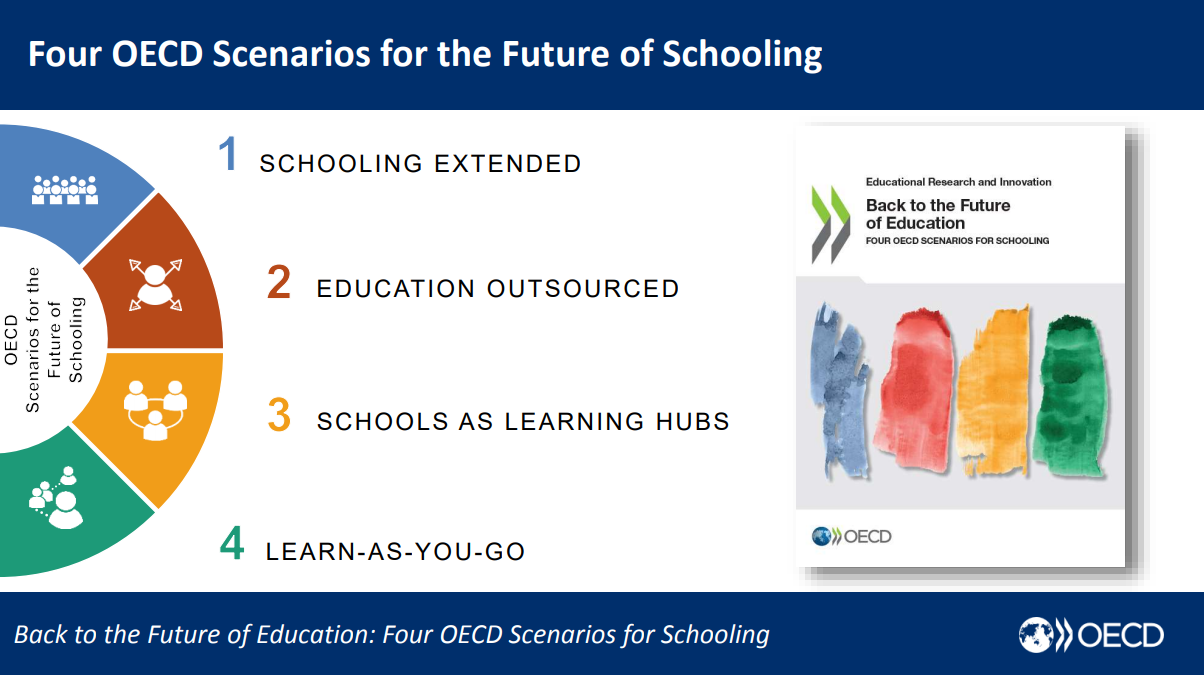 But many of these topics are already part of school curricula in most countries?
This is certainly true for climate change. About 90% of schools say they are dealing with it in some way. Our PISA research also tells us that young people say these issues matter to them. Two thirds say they try to reduce energy and that they keep themselves informed. Half of them say they choose products for ethical or environmental reasons, even if they are a bit more expensive. So you do actually have many young people that want to make a difference. 80% of all students say that 'looking after the global environment' is really important. But when asked whether they feel they can do something about it, most young people are left with a feeling of lack of empowerment. They talk about those subjects at school, they want to make a difference, but our education systems don't leave space for the perception that young people actually can make a difference, or that their behaviour will influence what's happening elsewhere or for other people. Making our education systems more resilient, that's what we have to work on.
OECD also studied whether young people themselves are resilient?
Indeed, and we saw that in some of the very successful education systems according to their PISA-scores for mathematics and science - like e.g. in Vietnam or Macau – they still have to learn a lot when it comes to the capacity or willingness for young people to be open to the future, to accept novelty, to look around the next corner, etcetera. Openness to change, resilience doesn't come as a by-product of maths and science just by itself. That inspired us to look at the scenarios of what the future of education could look like in more detail. 
The first scenario is 'status quo'. How would you describe this scenario and how likely is it to become the scenario of the future?
Status quo is about staggering on, despite all the disruptions happening around us. Teachers will teach, students will learn. Participation in formal education continues to expand. International collaboration and technological advances will support more individualised learning, but the structures and processes of schooling remain. It is not so strange that status quo has many protectors.  If you think about it everybody supports educational change, except for their own children. Even those who promote reforms often change their mind when they understand what change entails for them. Also, for policy makers it is really hard. If you want to change something you have to pay for it now. The changes are very visible, but it's not really clear what the results are going to be. The costs and benefits are very uncertain. If you look at our education systems, you see they are very complicated. There are many voices, many stakeholders, many layers. So, changing something is really hard. As a policy maker you can easily lose an election when something goes wrong. Because it takes so much time before ideas result in better outcomes. We also don't have a strong supportive eco-system around education. We don't have a kind of 'education industry' like in the health sector and research is often disengaged from the real needs in real classrooms. Teachers and education systems are more or less on their own. That is the reality, that is the difficulty.
The world keeps changing. Our reality has changed quickly, have the education systems followed?
Not so much. Just look at the way we deal with information. Our last PISA survey showed that only 1 out of 10 young people at age 15 can reliably distinguish a fact from an opinion or comment when the context gets complicated. And this in a world where navigating ambiguity is so important. Technology connects all of us but at the same time it puts us together with people who think like us, who look like us, who do the same jobs, etcetera. It's actually harder for young people to discern fact from fiction because they live in a polarised society, uninformed about opposing arguments. So, reality is changing, and status quo in our education system will leave them with big question marks. That's why another scenario might occur. In this scenario our traditional schooling systems one day will crack under the pressure from rapid accelerations and education will be outsourced. Society itself becomes more directly involved in education. Learning takes place through more diverse, privatised and flexible arrangements with digital technology as a key driver. Basically people will go looking for their own solutions and they are going to find them in the digital world. Here also many players are involved and teachers are going to have to take a much more varied role. But we have to consider how coherence is going to be assured in this fragmented world of opportunities. How will we reconcile innovation with equity? These are big questions.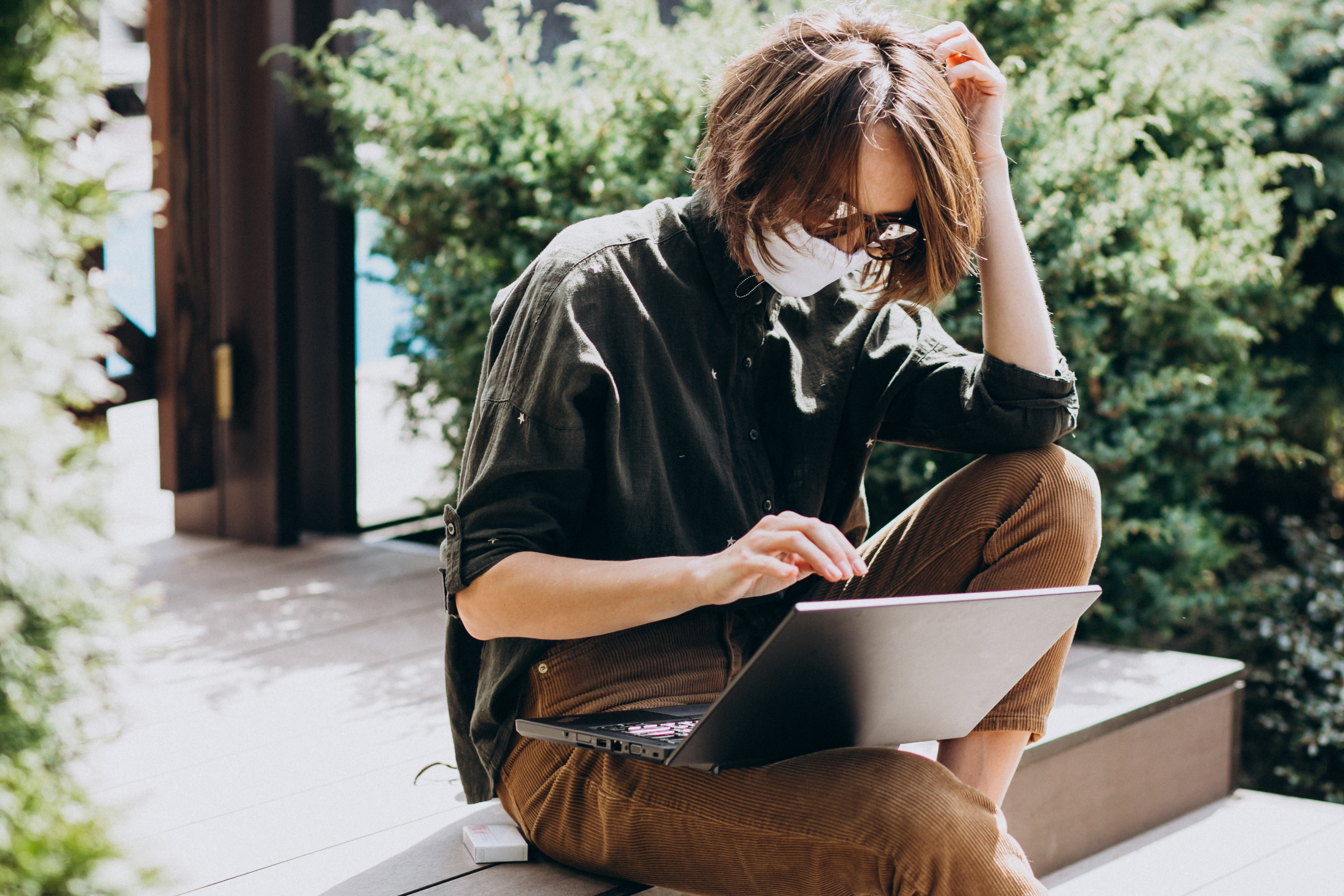 Do you have an idea about how countries see the future for themselves?
In the middle of the pandemic, in May 2020, we asked them this same question. It's interesting to see that about 22% of schools thought that they would be going back to where they came from. Half of them think we will go to a hybrid model of distance and classroom-based teaching and learning, and not just out of necessity because of the pandemic but because they experienced the advantages of such a system. Many online and distance learning and other innovative approaches such as augmented reality, virtual reality and artificial intelligence were created, adapted and expanded. In fact, this is opening up great opportunities. Think of when you study mathematics with the computer, that computer will be able to study how you study, what interests you, what makes you bored, where you are good at, where you need to improve. This can make your learning so much more granulous, so much more adaptive and interactive. There are amazing possibilities. Just think about assessment and exams. One of the most tragic mistakes education has made over the last 200 years is to separate learning from assessment. We learn and learn and learn and then one day someone comes and says: now tell me everything. The future is about integrating learning and assessment, and technology will be the driver and the enabler of this assessment. You will have a better understanding of why you are learning and get feedback on how to learn better. Teachers are also going to get feedback on how to make their teaching more effective. We will be able to do simulated assessments. No longer alone about what you know in your mind but you can actually interact with tasks and solve complex problems. It will be a new world of looking at learning outcomes, not just touching on cognitive outcomes, but also socio-emotional outcomes must be part of this.
In this respect learning analytics are often also mentioned?
I know there is a lot of controversy about this e.g. how do you reconcile free flows of data with privacy? But can you think about how this could transform the world and life? Learning analytics help educators personalise learning. For example sensors, learning management systems and digital activities of learners could figure out how different people learn differently. Integrated with big data and learning analytics it will be possible to build really new learning environments. Where this leaves 'school' in this scenario is not so clear under this scenario.
How far are we from this scenario?
Looking at our 2018 TALIS data when we asked teachers to tell us about their work and what matters to them, we had less than half of the teachers using some forms of technology in their classrooms on a daily basis. A big surprise is who is really behind on this: Japan, one of the most high-tech countries! Technology is everywhere in Japan, but teachers are not ready for this and the education system can shield itself quite well from those kinds of pressures. But there is movement. If you look for example to countries as Sweden or Rumania, Israel, Finland, Croatia. The share of teachers integrating technology frequently has doubled over 5 years. Things are moving, but to bring a sense of reality, that scenario is still quite far away from us.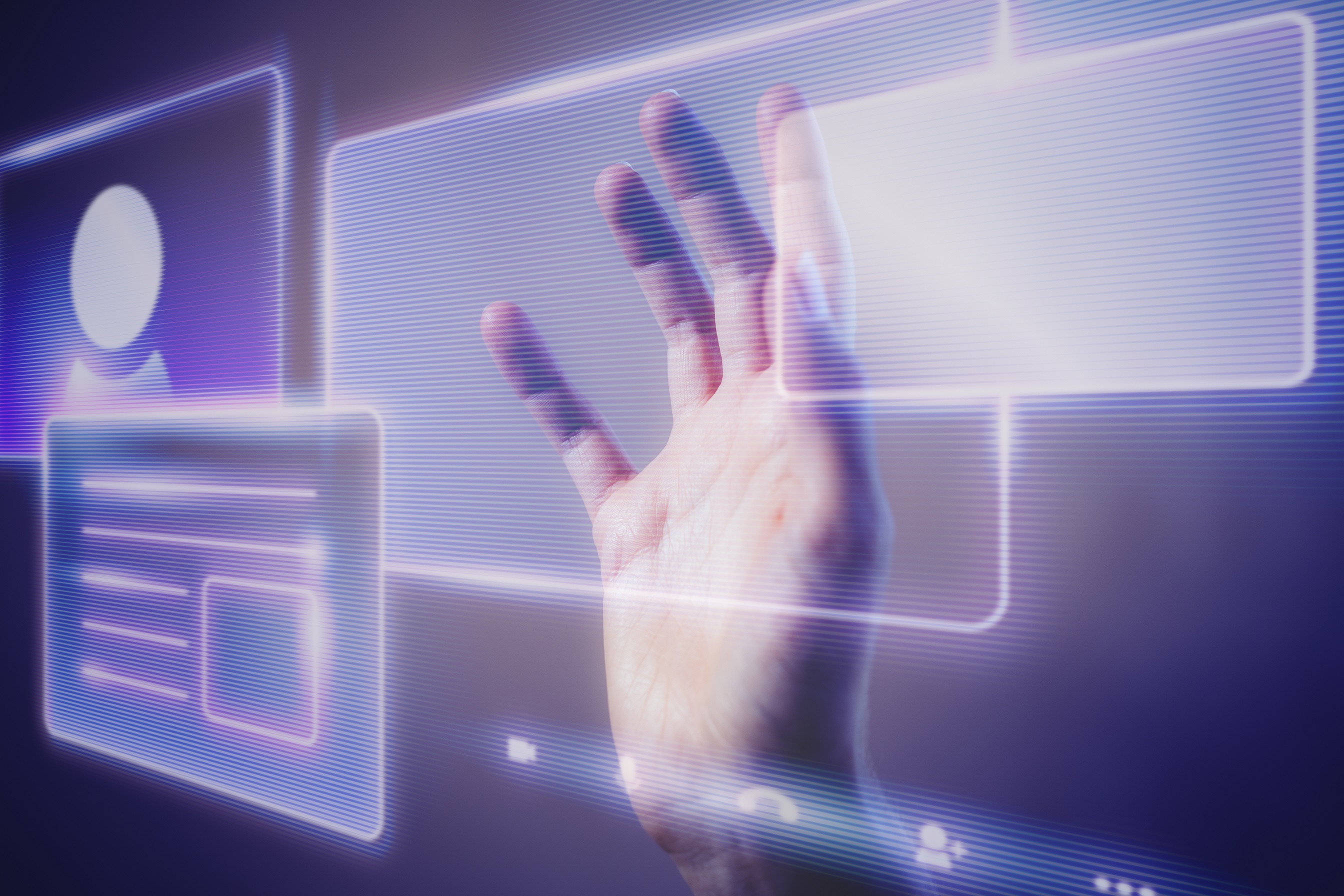 What's the third scenario?
The third scenario is practically the opposite. Instead of fragmentation we see schools becoming the hubs of learning in the centre of society. Schools remain, but diversity and experimentation will become the norm. School walls are going to be open and the school is connected to the community favouring ever-changing forms of learning, civic engagement and social innovation. Normally schools are good at keeping young people inside and the rest of the world outside. Maybe that is going to change. In fact, in northern Europe you find some really interesting examples where school systems actually do become integrators of many forces from society, rather than just from a government service. Those schools, unsurprisingly, are coping better with the pandemic because they have that local capacity to respond flexibly to new situations. Decisions are taken mainly locally in a self-organising environment. It's another way of thinking about the future, but again in most of our education systems, the number of these kind of schools today is still very limited. You have countries like e.g. the Netherlands, the Chech Republic, and England maybe where schools can do a lot. But there are also other countries – e.g. Turkey, Greece or Switzerland - where less than 1 in 10 decisions are being taken on the frontline. This is still very much a kind of industrial education system where most decisions are made somewhere higher in the hierarchy. So, it is not difficult to realise there is still a long way to go.
In pedagogy we see the same thing happening. On average across OECD countries we see that teachers still spend most of their time on classroom management and clarity of instructions. That's what most teachers are quite familiar with: explaining to students what they are expected to learn, telling them to follow the classroom rules etcetera. But when you look at cognitive activation, e.g. giving tasks that require students to think critically, we see that less than 60% of the teachers say they do this. Only 50% let students work in small groups to come up with a solution on their own. 45% let students solve complex tasks and even less (30%) present tasks for which there is no obvious solution or give students tasks that require at least one week to complete. When, in fact, this is what learning in the pandemic was about. Students had to be able to manage their own learning, to become the owner of processes, to give young people more discretion about what to learn, how to learn, where to learn, when to learn. So once again: it's easy to say, but hard to do.
Then there is the last scenario which is called 'Learn-as-you-go'. Why this name?
It's because maybe one day education is going to take place everywhere, any time, and is going to reach anyone. In this scenario the traditional goals and functions of schooling will be totally overwritten by technology. Distinction between formal and informal learning is no longer valid as society turns itself entirely to the power of the machine. Technology and innovation are going to be scaled up, at lightning speed. And you won't see the infrastructure of schooling anymore because learning is happening in other sectors of our society. But once again, when you look at today we see that we are just at the very beginning of this evolution. Market capitalisation in education is tiny when you compare it with the health sector for instance. Less than 3% of global education expenditure on education is currently going into technology. During the crisis, to be honest, most of the technology was deployed to conserve existing practices, not to transform them. Most teachers don't teach their students to use the kind of technologies we are talking about here. Currently, there is more hype than reality.
Where is this money going in and where is it coming from?
By 2025 we expect growth, but still, we are talking about maybe 6% of total education investment. We see that augmented reality and virtual reality are rapidly gathering pace, followed by artificial intelligence and other digital learning systems, also robotics, and a little bit of blockchain for credentialling accreditation. If you look at global education venture capital we see something interesting: there is a lot of growth, but when you look closer, you can see that in 2014 most of the innovations came out of the United States. When you look at 2018, it's virtually all about China. So, over 50% of global education venture capital is coming from one country! And that means the rest of the world is not putting a lot of extra bets into this kind of innovation.

OECD described 4 scenarios. Could we imagine more?
You could design an endless range of scenarios, but the point I really want to make is that we should not just look in a linear way into the future. We can't ever know what is going to happen tomorrow or where we will be in 2 days. We need to learn to think in terms of alternative futures and think about what these futures mean for the goals and functioning of education. What do they mean for learners, for the organisation, for our structures, for educators, for governance, for politics or public authorities. The hardest part for education is to find the right balance between modernising and disruption. How do we reconcile new goals with the structures that we have? How do we support globally minded learners and teachers that are at the same time locally rooted?  How do we foster innovation while recognising the socially very conservative nature of education? How do we leverage new potential with the existing capacity that we have? How do we reconfigure the spaces and how do we give people the time to develop the learning environments of the future? Those are the questions we need to ask ourselves today.
---
This interview was originally published in Dutch on Lang Leven Leren (Long Live Learning), the website supported by the National Coordinator for the European Agenda for Adult Learning in Flanders/Belgium.