Public libraries and their roles and work in inclusion and learning

Hosted and organised by Henrik Arvidsson and Marit Lødemel of Diku, our short study visit looked at the roles libraries play in being venues for inclusiveness and learning.
Gathering in Bergen, this was a chance to talk with other library professionals about both the differences and similarities in attitudes, practices and expectations within our own libraries.
Participants came from Austria, Croatia, Czech Republic, Denmark, Estonia, Ireland, Italy, Lithuania, Netherlands, Norway, Poland, Portugal, Scotland, Slovakia, Spain and Sweden.
Day one: the roles of libraries in Norway, and what is practised in European libraries
After a meet-and-greet session, Elin Golten (Hordaland County Library) explored how the Norwegian Library Act 2014 moved the focus from libraries as being venues for physical collections, to being independent meeting places for conversation and debate. In short, a shift from collections to connections. Elin explained how Norwegian libraries have risen to the challenge of being open arenas for all.
Through small group discussions, we covered the practices and attitudes in our own countries. This ranged from restricted opening hours which reduce accessibility; the use of volunteers to extend the services provided by libraries and the risk of downgrading the role of professional librarians; libraries hosting digital and language skills workshops, amongst many others; and assisting with forms and accessing online-only government services.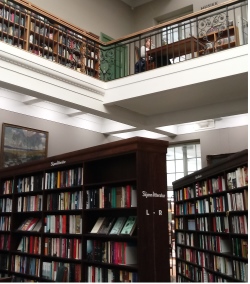 Bergen Public Library as a learning arena
We walked to Bergen's Offentlige Bibliotek, where a tour of the library showed how this grand building has adapted to modern needs. Alongside various extensive and unique collections, there are plentiful reader-focussed spaces, including a lecture theatre, café, music and performance stage and extensive computing facilities.
Library staff from the library and outlying branches spoke enthusiastically about their involvement in delivering, hosting or facilitating learning activities for library users: new citizens with language needs; teens taking part in coding clubs; and tech sessions for older citizens. Cake and coffee often featured in these sessions. As is the case throughout Norway, Bergen's libraries provide venues for training and learning to take place, for example, when the Red Cross provides homework help and language cafés.
Day two: visit to Voss Library: learning about practices there and elsewhere in Norway
A train journey through stunning landscape took us to the beautiful municipality of Voss, well known for its winter and extreme sports, as well as arts and culture. The library is collocated with the adult learning service, and hosts a cinema, lecture/debate area, theatre, dance studio and meeting rooms.
After a tour around this lovely space, staff from other Norwegian libraries spoke about activities to involve citizens and the wider community within libraries. Sessions are often about starting conversations, connecting people who might not normally meet, and reflect a mix of old and new cultures (story-telling, traditional crafts, folklore and folk music, plus coding, bring your own device advice and Pokémon).
Closing day: swapping views and experiences
After a few more contributions from Norwegian libraries, small groups discussed the approaches we could try out back home. Most groups could point to similar activities giving tech and language assistance. Making connections or starting conversations with other organisations seems key – where library staff can't deliver help or support, they can often provide a convenient and neutral venue, and in some cases, be the glue bringing unlikely partnerships together.
Inclusivity means involving those who feel excluded or unsure of their place in a library, opening the door to them, and giving them the confidence and skills to make use of access. This includes refugee/asylum seekers and new citizens finding their way in society; people with low skills attainment; older citizens facing isolation or disengagement as technology changes ever more rapidly; and older teens, who may drift away from libraries until major life changes (parenthood and unemployment) draw them back in.
Many of the Norwegian participants spoke of activities bringing together young and older citizens for mutual assistance (language learning and tech help), in the process creating closer communities and extending generational friendships. Events promoting traditional crafts and cultures help new citizens integrate and break down barriers; outreach to organisations supporting those with mental health issues establishes bridges and increases confidence and participation. Food sharing is a regular event – even if just coffee and cake – as it is a great way to help people relax and talk.
Final thoughts
There can be frictions: conversations in public venues are noisy, after all! As established users can feel edged out or intimidated by change, care is needed in listening to all and ensuring space is shared with consideration. Libraries may need to make shared spaces more flexible to expand what they offer, so expense is a consideration. Lastly, action happens by asking, listening and reaching out to people and other organisations.
The message from Norwegian librarians – and others - is clear. To bring people into libraries, be flexible, facilitate and adapt. Provide an adaptable physical space if you want people to connect and talk and reduce isolation. Skilling librarians for this new environment means providing support and training in being a presenter, organiser, communicator and a good listener – and learning about the technogies to enhance these roles.
Libraries are well positioned to link people, organisations and services. Shouting about what we do/could do is something we need to keep up. Anticipating and responding to societal and technological change has kept libraries relevant; this will be no less essential in the future.
Claire Roberts
Claire Roberts is an information literacy librarian and works as part of the Library Services team at The City of Glasgow College, Scotland. Alongside leading reader development and delivering referencing and research skills support, she works with ESOL and supported learning students taking part in work experience in the library. City of Glasgow College is the largest further education college in Scotland with around 15,000 students (fulltime equivalent).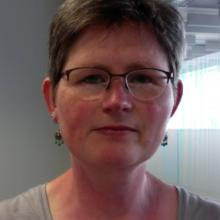 You might also be interested in: