OER on Introduction to Adult Numeracy Training: Section 3
How to address numeracy training?
The European Council recommends the enhancement of basic skills including literacy, numeracy, problem solving and digital skills as part of the Europe 2020 Strategy. In the frame of lifelong learning, therefore, adult numeracy education has an important role in the development of good programs for basic skills for the future. Evidence informed adult numeracy education may be the key for attaining the goals set out in the Europe 2020 strategy. The European Council's recommendation on Upskilling Pathways also focuses on numeracy as part of its scope.
In most European countries, adult numeracy education is a locally based endeavour with a plethora of practices, some efficient, some less so. Furthermore, there are a variety of underlying assumptions on what constitutes good adult numeracy education.
3.1 Numeracy as part of lifelong learning and outreach
Many countries in Europe are engaged in developing policies on lifelong learning for their inhabitants in their roles of professionals and citizens. In those policies literacy, numeracy and digital skills are almost always highlighted as focal points for policy development. In the Council Recommendation on Key Competences for Lifelong Learning one of the listed competences is "Numerical, scientific and engineering skills". However, developing policies on numeracy tend to be under-represented or overlooked when it comes to solid funding and provision of activities.
One of the serious problems of establishing sustainable settings for adult learning of numeracy and thereby improving the quality of numerate behaviour of individuals in their role as professionals and citizens, is the outreach to participants. Several ideas and initiatives are already posed and researched, but there is still no convincing best practice in reaching out to and connecting large number of adults to engage in improving their numeracy knowledge and skills.
A few approaches are presented below that apply numeracy training of adults in a specific context of everyday life or work.
General approach
In the 12th volume of the ALM journal (i.e. Adults Learning Mathematics), Jeff Evans, Keiko Yasukawa, David Mallows, and Brian Creese "aim to consider the context of the exercise of numeracy by adults, drawing on earlier research in mathematics education. (...) (they) consider the range of practices that particular adults may engage in, and the demands that these may make on the adult, the affordances the practices may offer; the latter include the opportunities, and the supports and / or barriers produced within these practices, and in cultures more generally, that may foster or impede an adult's ongoing numerate development." Their article provides examples of each of these aspects of adults' numerate practices, and consider implications for the teaching, learning and development of numeracy.
Evans, J., Yasukawa, K., Mallows, D., & Creese, B. (2017). Numeracy skills and the numerate environment: Affordances and demands. Adults Learning Mathematics: An International Journal, 12(1), 17-26. (Open Access)
Community approach

All over the world different communities, associations and organizations are working to promote adult learning. Parallel to these efforts, we need a new initiative in the form of establishment of Lifelong Mathematics Learning Communities for Adult Learners at local, regional, national and international level. (…)
Social computing can actively support lifelong learning by offering accessible, flexible and dynamic learning environments that can complement and supplement initial training. Furthermore, the networking potential of social computing, together with its power in overcoming time and space barriers, supports interaction and collaboration among and between learners and teachers who are geographically dispersed and enables students to broaden their horizons, and collaborate across borders, language barriers, and institutional walls.
These learning communities for elderly can be established online as well as in the form of traditional organizational establishment. The role of media experts and organizations will be to establish and provide technical support to these communities, while adult learners will be required to take care and run these communities. These establishments will act as connecting link for adult learners to fulfil their lifelong mathematical learning needs. These establishments will also provide a forum for the elderly to showcase their expertise and experiences for development of new ways and techniques to practice mathematical learning. In nutshell, these learning communities will be a viable platform for all those adult learners willing to practice mathematical learning on continuing basis or looking forward to share their experiences and expertise to promote it.
Source: Katherine Safford-Ramus · Pradeep Kumar Misra, Terry Maguire (2016). Establishing Lifelong Mathematics Learning Communities for Adult Learners In: The Troika of Adult, Learners, Lifelong Learning, and Mathematics Learning from Research, Current Paradoxes, Tensions and Promotional Strategies. Springer. (Open Access)

At the biennial conference of European Research in Mathematics Education (CERME) there is a special thematic working group on Adult Mathematics education. It gives an overview of the state of the art in research on numeracy. See for instance the proceedings of the CERME 11 which was held in Utrecht, the Netherlands in 2019. In the proceedings of the 2019 conference you can find an article on an interesting Spanish experience on using dialogic gatherings to reach adult learners. Read the following quote from the article:

The participants in the Mathematics Dialogic Gatherings (MDG) engaged from the very beginning in mathematical discussions around the history of mathematics. The six women seemed comfortable talking about the first traces of mathematics in the Palaeolithic Era, the mathematics used by the Babylonians, the contributions made by the people living in ancient Egypt, the mathematics formalized by the Greeks, etc. Drawing on the description of how humankind developed counting, grouping and the idea of number as the strategy to keep track of cattle, crop, the six women discussed such notions as number system, algorithm, unit of measure, value, equivalence, and so forth. They related some of these concepts with their everyday life. For instance, when discussing the concept of the base of a number system, they rooted their arguments in their previous knowledge about using different coins whose value is defined by groupings in base 1, 5 or 10. Their knowledge about duros (a coin equivalent to 5 pesetas in the old Spanish currency) facilitated their understanding about ancient number systems which a base different from the Hindu Arabic numbers that we use nowadays.
Source: Díez-Palomar, J., & Anagnostopoulou, E. (2017). Mathematics and Physics Dialogic Gatherings: Fostering Critical Thinking Among Adult Learners. 1–8. (Open Access)

For a similar approach advocated by Graham Griffiths access his conference paper Using dialogue scenes with adult mathematics learners: Research questions and methods.
Workplace oriented approach
In the 9th volume of the ALM journal two papers address numeracy training for workplace competences. The paper presented by Lisa Björklund Boistrup & Lars Gustafsson aims at analysing and understanding adults' mathematics-containing work competences. The authors propose and discuss an analytical framework for analysing mathematics-containing activities in adults' work competences where different functions of multimodal communication and institutional aspects are addressed.
Björklund Boistrup, L., & Gustafsson, L. (2014). Construing mathematics-containing activities in adults' workplace competences: Analysis of institutional and multimodal aspects. Adults Learning Mathematics: An International Journal, 9(1), 7-23. (Open Access)
The second paper by John Keogh, Theresa Maguire, & John O'Donoghue focus on analysing the contextualization of the workplace in different dimensions i.e. accountability, clarity, familiarity, stressors and volatility in which mathematics knowledge skills and competence, regardless of level of complicatedness, are deployed.
Keogh, J.J., Maguire, T., & O'Donoghue, J. (2014). A workplace contextualisation of mathematics: measuring workplace context complexity. Adults Learning Mathematics: An International Journal, 9(1), 85-99. (Open Access)
The Learning & Work Institute from the UK offers a series of resources and programs for numeracy training at the workplace.
Better Skills, Better Businesses:
"Addressing the basic skills needs of people in work can contribute to enhancing overall skills levels in England." A governmental scheme i.e. The Adult Education Budget (AEB) offers fully funded literacy and numeracy provision up to Level 2, and these courses may be delivered in the workplace. Two guides presented by the Learning & Work Institute supports these programs implementation. Visit their website to access these guides: a guide for employers, a guide for providers.
Prison-oriented approach
Maths4prison:
Another initiative by the Learning & Work Institute presents an example for applying numeracy training of adults in a correctional context. Read the introduction of the program presented by L&W.

The Maths Mentor pilot ran from September 2012 to March 2013. We trained mentors in two prisons who were confident in their maths skills to informally support other prisoners who lacked confidence in maths – both on the wing to help with money management and in the prison classroom. The project was led by NIACE, one of the two organisations which merged to formed Learning and Work Institute – and funded by the Department for Business, Innovation and Skills.
Mentors were trained and provided with learning activities booklets and equipment so that they could promote maths learning and provide one-to-one support to other prisoners on the wing, and in maths classes or vocational workshops. Mentors, together with prison staff, successfully supported other prisoners to handle everyday maths situations, helped them to become more confident about their own mathematical ability, encouraged them to join maths classes, and acted as informal classroom assistants.
The Maths Mentor idea has since been promoted in other prisons around England; we hope that this handbook and associated resources will enable individual prisons to set up their own projects.
Find the introduction, toolkits and resources by L&W here!

3.2 Towards a Common European Numeracy Framework
In an ongoing Erasmus+ project a framework is developed to make it possible that different European countries can act from a more coordinated approach. The main idea of the framework is to validate 6 levels i.e. X1, X2, Y1, Y2, Z1, Z2 which can be applied on all aspects of numeracy behaviour, as mentioned in the section on "Aspects of Numeracy". The next visualisation of the framework was created for this OER and it is based on the Erasmus+ project mentioned above.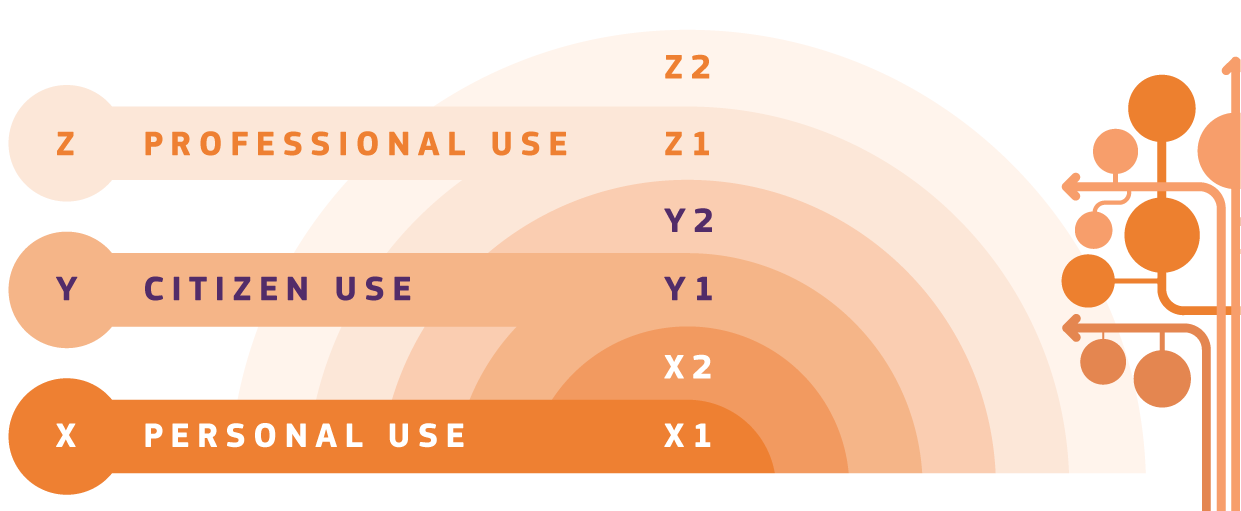 Source: Common European Numeracy Framework (in concept) (2020)
Besides the development of the framework a set of professional development modules are developed for teachers and volunteers in numeracy education. The modules will be piloted in 2021 and will be available at the end of 2021. Some preliminary publications from a presentation at CERME11 can be found here.
Some more background information from a presentation at ALM26 can be found in the proceedings of the 26th International Conference of Adults Learning Maths – A Research Forum (ALM) hosted by the Faculty of Engineering, Lund University Center for Mathematical Sciences between pages 49-56.
3.3 Key players and resources

ALM is an international forum for researchers and practitioners in Adults Learning Mathematics at all levels. It was founded in 1992 and its membership extends across Europe, the Americas, and Australasia, and includes leading figures in mathematics education research, policy and practice, many numeracy practitioners, and postgraduate researchers. The annual conferences offer those working with adults learning mathematics unique opportunities to present practical experiences, new thinking and research within a supportive and friendly environment. The conferences also offer opportunities to develop your professional network in this special interest group. Conference proceedings are published annually, along with an International Journal of peer reviewed papers. We invite you to browse our list of on-line publications and consider joining us at our next conference to share your ideas with others working in this field. Do also consider becoming a member of ALM and access our bulletin to keep up to date with news of ALM events and publications that are relevant to this international Adults Learning Mathematics research community.
The ALM virtual seminar series in 2020, which were organised as a replacement of the cancelled 2020 annual summer conference, many topical themes in numeracy research and education can be seen and heard here.

The Adult Numeracy Network was established in 1994. The Network is a community dedicated to quality mathematics instruction at the adult level. Members include teachers, tutors, researchers, administrators, and professional developers working in adult basic education (ABE), adult numeracy, high school equivalency, community colleges, developmental mathematics, and family numeracy. They produce a very informative journal.
Quoting their website: "The Math Practitioner which has been the voice of the Adult Numeracy Network since 1994. Three issues of The Math Practitioner are published every year, with each issue full of articles, lessons, rich activities, practical ideas, and stories from adult numeracy classrooms across the US."  (Source).

The Programme for the International Assessment of Adult Competencies (PIAAC) is a programme of assessment and analysis of adult skills. The international comparative survey collects data on adults' proficiency in literacy, numeracy and problem solving, and gathers information and data on how adults use their skills at home, at work and in the wider community. This first cycle of surveys was held between 2012 and 2018 the second cycle will be held from 2022 on. For more information read here.

At the biennial conference of European Research in Mathematics Education (CERME) there is a special thematic working group on Adult Mathematics education. It gives an overview of the state of the art in research on numeracy. See for instance the proceedings of the CERME 11 which was held in Utrecht, the Netherlands in 2019. Read here! The next CERME conference will be held in January 2022 in Bolzano, Italy.
Another interesting read on topical themes of key players in research and practice can be found in the ELM-journal. Read the different issues of the journal here!
Go back to the main page Move back to Section 2 List of Resources