OER on Introduction to Adult Numeracy Training: Section 2
What is numeracy?
There are many reasons to address numeracy and to aim for improvement of the quality of numeracy competences of professionals and citizens.
In our current society, however, many different perspectives can be found on what is exactly the nature of numeracy competences, and even more perspectives can be found how to address them in educational settings to improve the quality of the numerate behaviour of individuals.
This raises several questions:
What constitutes numeracy and numerate behaviour in the 21st century.
Which images do we have mentally when we mention numeracy?
Is there a common definition?
Did the answers on these questions evolve over time?
None of these questions have a straight-forward answer, but in this section, we aim to shed some light on the development of the concept of numeracy over time.
For a general literature review, access the following publication by the American Institutes for Research in 2006 titled A review of the Literature in Adult Numeracy: Research and Conceptual Issues.
2.1 Historic development
Watch the video presentation by Dr, Kees Hoogland on the historical perspectives on the change of numeracy concept (between 3:58 and 14:32) as a part of a lecture given at the Summerschool Freudenthal Instituut:
Source: Summerschool Freudenthal Instituut (summer, 2020)
The following image visualises the process of conceptual development over time. This illustration is based on the materials developed in the Erasmus+ project on the Common European Numeracy Framework. 

Source: From the Erasmus+ project on The Common European Numeracy Framework (in concept)
We mention two more sources on the development of the concept of numeracy. Katherine Safford-Ramus · Pradeep Kumar Misra, and Terry Maguire, in their topical survey describe it as follows:

In general terms the conceptualization of numeracy focuses around its relationship with both mathematics and literacy. Maguire and O'Donoghue (2003) developed an organizing framework (Concept Sophistication in Numeracy— an Organising Framework), which considers the development of the concept of numeracy as a continuum with three merging phases: Formative, Mathematical, and Integrative. The phases represent an incrementally-increasing degree of sophistication in conceptualisation. Starting from a very limited concept of numeracy, where it is considered as basic arithmetic skills (formative phase), the framework then moves through to a concept of numeracy as being 'mathematics in context', which recognises the importance of making explicit the significance of mathematics in daily life (Mathematical Phase). The continuum culminates in a conceptualisation which views numeracy as a complex, multifaceted sophisticated construct, incorporating, the mathematics, communication (incl. literacy), and cultural, social, emotional and personal aspects of each individual in context (Integrative Phase). Coben (2006) rightly points out that although conceptualization of numeracy always includes mathematics is does not work in reverse. Further she highlights how numeracy in some circumstances is conveyed as a component of mathematics e.g., Wedege et al. (1999), and in others, how numeracy is considered to be "not less than maths but more" (Johnston and Tout 1995). Others have highlighted that the acquisition of mathematical skills alone does not constitute numeracy (O'Donoghue 2003, p. 8). Numeracy has been defined as a socially based activity requiring the ability to integrate mathematics and communication skills (Withnall 1995). Other authors have characterized numeracy as a semi-autonomous semi-autonomous area at the intersection between literacy and mathematics (Gal 2000, p. 23).
Source: Safford-Ramus, K., Misra, P. K., & Maguire, T. (2016). The Troika of adult learners, lifelong learning, and mathematics. Springer Berlin, Germany. P.20-23

To further elaborate on the development concept of numeracy, we quote Dave Tout, a prolific author on this theme.

Historically, numeracy has tended to be forgotten and overlooked in adult education, especially compared to literacy. Yet evidence exists to show that numeracy should be made a priority, and that building the foundational numeracy skills of young people and adults is vital for their well-being in work and life in the 21st century (p. 1).
The evolution of the conceptual framework used for numeracy assessment in PIAAC, and the associated assessments and consequent research, have jointly assisted experts and practitioners in gaining a stronger and clearer understanding of what numeracy is – what it consists of, and what different aspects constitute being critically numerate in the 21st century. These assessments and the resulting research have helped to put numeracy more firmly on the map, in its rightful place as a significant and crucial complement to literacy, with both together representing key foundational skills for all young people and adults around the globe (p. 24).
Source: Tout, D. (2020). Evolution of adult numeracy from quantitative literacy to numeracy: Lessons learned from international assessments. International Review of Education. https://doi.org/10.1007/s11159-020-09831-4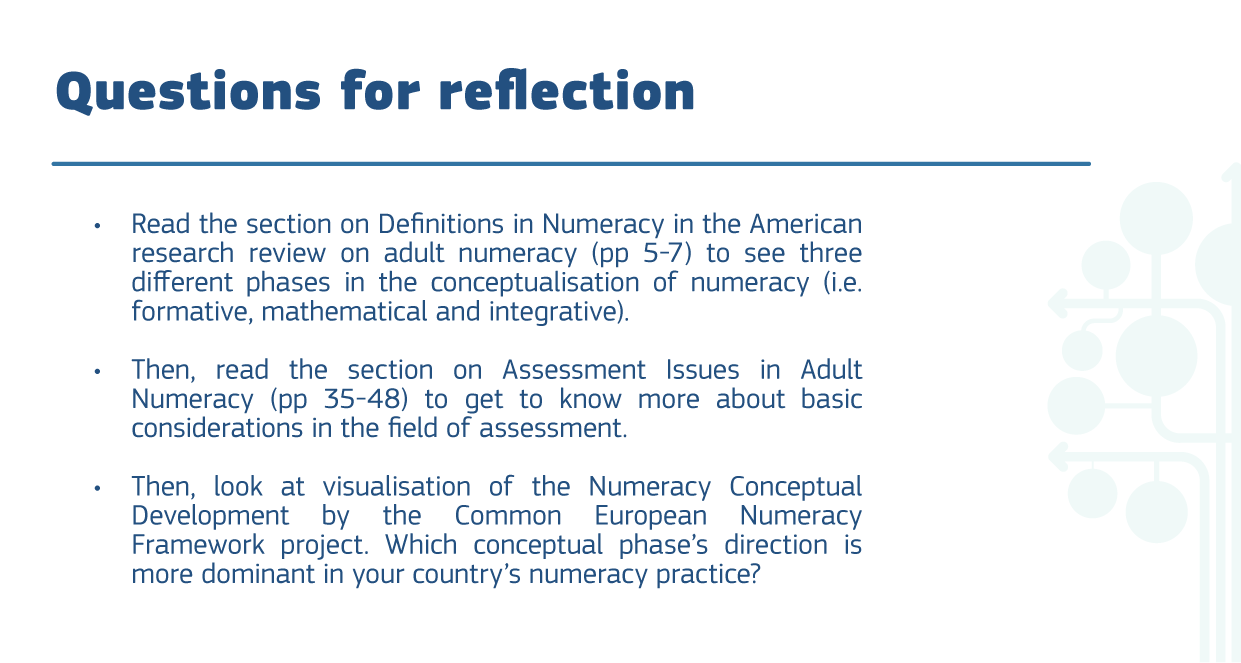 2.2 Numeracy as a social practice
There are quite some recent publications which shed further light on what is exactly the meaning of Numeracy as Social Practice. To get a good impression of the several perspectives on this idea, we give some short quotes from three sources that are not open sources, but we would like to highlight some parts of these publications that describe this approach well.
One of the best introductions to numeracy as a social practice is presented by Keiko Yasukawa and colleagues in a now much-read book titled Numeracy as social practice: global and local perspectives. In the first chapter the authors map the terrain of social practice perspectives of numeracy. 

Numeracy as Social Practice perspective focuses on what people do with numeracy through social interactions in particular contexts, rather than on people's performance of mathematical skills in isolation of context (…) Numeracy practices are fluid, unstable and context-contingent (p. 244).

In another must-read titled Teaching Adult Numeracy by Griffiths and Stone, we find the following definition by Oughton in her chapter The social context of numeracy:

A social practice view of numeracy not only takes into account the different contexts in which numeracy is practised, such as school, college, work and home, but also how people's life and histories, goals, values and attitudes will influence the way they carry out numeracy (p. 17).

To further elaborate on numeracy as a social practice in relation to the PIAAC survey, we quote Dave Tout again. In his 2020 article titled Evolution of adult numeracy from quantitative literacy to numeracy: Lessons learned from international assessments, he states the following:

Numeracy as a social practice relates to the use of mathematics within a context defined not just by the problem, but also by the physical and social context in which it is situated. The notion of situatedness is tied to ways of thinking, modes of reasoning and means of knowledge generation within communities that are defined by distinct social or cultural types of activity. From this perspective, numeracy is viewed as a social practice, where the focus entails viewing numeracy activity as culturally, historically and politically situated (Evans et al. 2017; Yasukawa et al. 2018). Often based on such social practice views of literacy and numeracy, there is also now a body of research that critiques international large-scale assessments (ILSAs), including PIAAC. With PIAAC this criticism has often focused on the reporting of the results, and how these are used by governments (see e.g. Hamilton et al. 2015; Maddox 2018). PIAAC attempts to take this view of numeracy as a social practice on board, and in its framework conceptualises numeracy on two levels. It relates to numeracy as a construct describing an individual's capability to solve numeracy problems, but also relates to numerate behaviour and practice, which is the way a person's numeracy is manifested in the face of situations or contexts which have mathematical elements or carry information of a quantitative nature. In PIAAC, numeracy is described as comprised both of cognitive elements (i.e., various knowledge bases and skills) and non-cognitive or semi-cognitive elements (i.e., attitudes, beliefs, habits of mind, and other dispositions), which together help to shape a person's numerate behaviour and practices. The focus of the numeracy assessment component in PIAAC is necessarily limited in that its primary emphasis is on aspects of numeracy, namely the numeracy skills that underpin answering the test questions, which are mediated by written materials, without oral support, in the context of a formal assessment.

In the book by Yasukawa and her colleagues we find also an interesting collection of examples for the concept Numeracy as a social practice. The publisher's book description states: 
Drawing on workplace, community and classroom contexts, Numeracy as Social Practice shows how everyday numeracy practices can be used in formal and non-formal maths teaching and how, in turn, classroom teaching can help to validate and strengthen local numeracy practices.
2.3 Aspects of Numeracy
As we have seen before, numeracy is a much broader concept than only referring to computation or only referring to cognitive knowledge and skills. Numeracy for adults is all about the quality of the numerate behaviour of adults in all kind of practical real-life situations in their role as professional and in their role as a citizen. The following model is developed in an Erasmus+ project on creating a Common European Numeracy Framework. The model distinguishes between the different aspects, which are involved in numerate behaviour.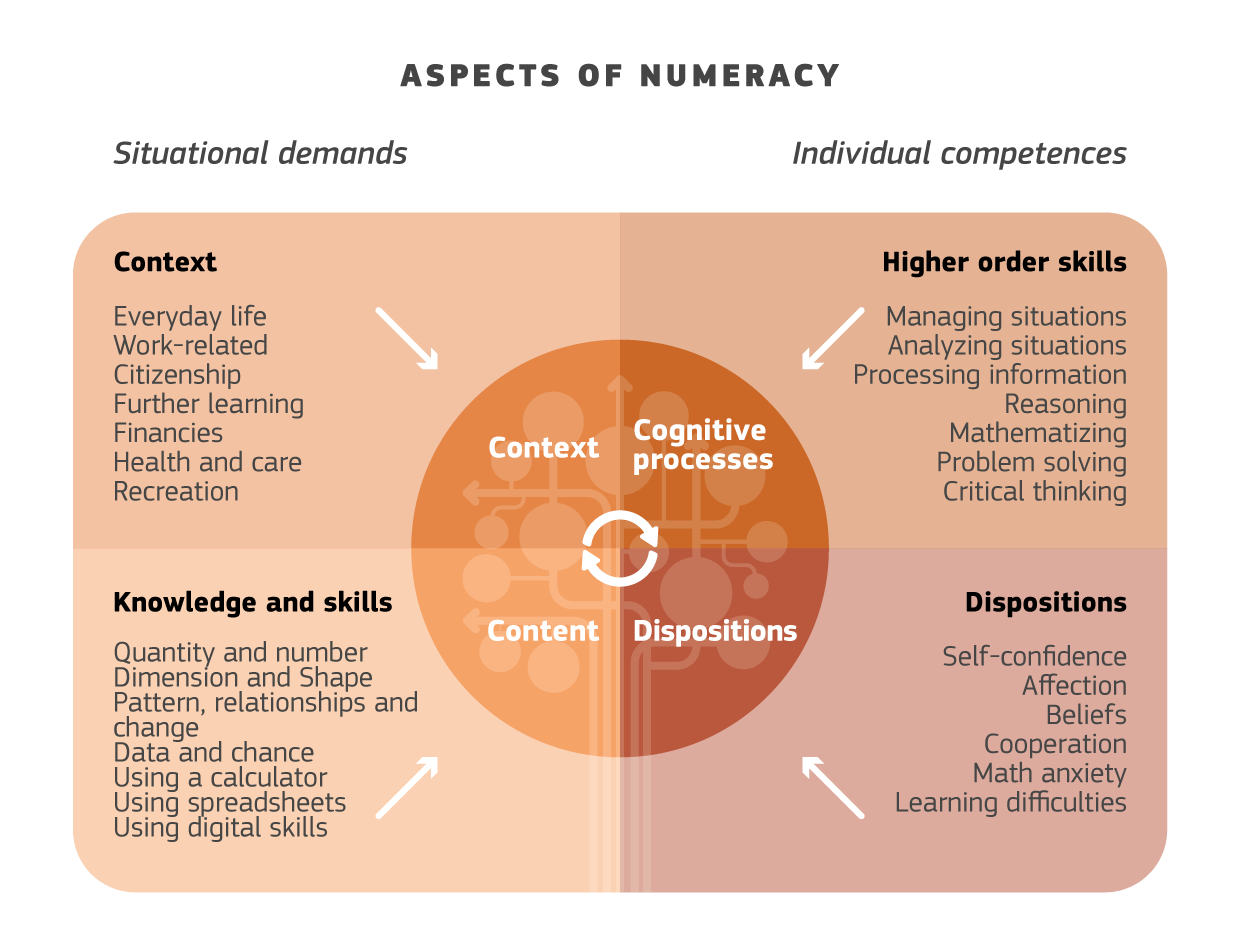 Source: From the Erasmus+ project on the Common European Numeracy Framework.
Knowledge and skills
Knowledge and skills have, of course, an effect on the quality of numerate behaviour of adults. With a rich mathematical knowledge base adult have a broader scope of dealing with problems in professions and daily life. This cognitive base is not only fed by mathematical content but also with skills in handling calculators, mathematical software and other digital skills.
Higher order skills
With the digitalisation and technological replacement of many lower order skills like computation with large numbers, there is an increasing demand on higher order skills to cope with the numeracy problems in the world around us. One of the most important higher order skills in numeracy is interpreting the quantitative aspects of the situation. Before any calculations are in order, a substantial cognitive process must take place, which is interpreting and mathematizing the situation.
Dispositions
In general, it is well researched that dispositions affects the motivation to get engaged and quality of adequate and autonomous behaviour. For numeracy, to be more precise, for the quality of numerate behaviour this is especially true. There are hardly any cognitive domains to be found, where dispositions are more important. We highlight one of them: Math anxiety. Math anxiety is a wide-spread phenomenon, and it hampers many adults in engaging in numerate situations or pursue further learning and professionalisation that area. It is important to realize that math anxiety is not a personality characteristic, it is a educational characteristics. Former educational experiences have created math anxiety and so future educational experiences can undo to a great extend the hampering that is due to math anxiety.
Context
In almost every aspect of human activity some elements of numerate behaviour can be discerned. There is a growing awareness that in health and financial matters, the quality of numerate behaviour is of serious importance.
2.4 Numeracy as a part of 21st century skills
There is a great parallelism between the development of the concept of numeracy and the increasing importance of the so-called 21st Century Skills. Many organisations argue that numeracy has become an inevitable element in basic skills training programs that aim at enhancing resilience of citizens and communities.
Watch NALA's conference summary on numeracy from 2018 to and listen to the experts' take on why numeracy is an essential part of skills for the 21st century.
Source: NALA.
Key resources
A good overview of 21st century skills can be found on Wikipedia. We recommend this summary as a point of orientation for further exploration of the themes. Access the summary here.

One of the most-used framework on 21st century skills by the Partnership for the 21st Century Learning (P21) can be found here.
The focus on higher-order skills in 21st century skills can also be found in the latest insights on what is important to improve the quality of individuals' numerate behaviour: Reasoning, problem-solving and critical thinking are the central higher-order skills which connects the concept of numeracy with the concept of 21st century skills.
We quote David Tout again here:

There is growing acknowledgement in education, government and business that the skills and knowledge adults now need to succeed in work, life and citizenship have significantly changed in the 21st century, mainly driven by technological advances and an ever-increasing use of quantitative data. This connects with the context of frequently changing careers and the transforming nature of the workforce associated with Industry 4.0 and the Gig economy with its increasing demands for science, technology, engineering and mathematics (STEM) skills (see e.g. Binkley et al. 2012; FYA 2017; Griffin et al. 2012; OECD 2013; Madison and Steen 2003; P21 2016; Pellegrino et al. 2012). The demand for techno-mathematical literacy skills (Hoyles et al. 2010) in 21st-century workplaces requires more critical, reflective mathematical reasoning skills and the ability to interpret and understand a broader range of data and processes, with an increasing interaction of the new skills with the digital world and technology. All this has led to an increased need of having a good foundation in numeracy and mathematics, especially in relation to data, statistical and quantitative information, frequently embedded in digital or graphic technologies or texts. Meanwhile, a small body of research has also emerged which looks at the numeracy practices in the workplace (see e.g. AAMT and AiGroup 2014; Hoyles et al. 2002; Hoyles et al. 2010; Geiger et al. 2015; Kent et al. 2011; Straesser 2015; Wake 2015; Weeks et al. 2013; Zevenbergen 2004). One of the key outcomes of this research is that because of the impact of technology and information and communications technology (ICT) systems, tools and processes, the mathematics- or numeracy-related tasks that people undertake at work involve more than basic arithmetic skills and straightforward procedural competence. These practices involve more sophisticated mathematical problem-solving skills and understandings and entail the ability to recognise and engage with the mathematics that is embedded within "messy" workplace settings. Some research indicates that workers themselves use technology (p. 9).
Source: Tout, D. (2020). Evolution of adult numeracy from quantitative literacy to numeracy: Lessons learned from international assessments. International Review of Education. https://doi.org/10.1007/s11159-020-09831-4

To get an idea how researchers and policy makers are addressing 21st century skills on the border between numeracy and workplace practices we recommend some further reading.

The webpage includes 4 key messages about numeracy and developing numeracy skills. The LLN and VET Meeting Place site provides a resource repository with links to information and practical advice to help adult educators support LLN and foundation skill development through vocational education and training and other adult education contexts. The website provides, among others, a repository of resources that offers links to organisations, information, ideas, and 'best practice' examples of how educators can help learners build foundation skills into any type of learning event.


The Survey of Adult Skills, a product of the OECD Programme for the International Assessment of Adult Competencies (PIAAC), provides insights into how frequently information-processing skills are used in the workplace and how frequently they are used in daily life. The book chapter presented here (click on Learn more!) looks at the utilisation of information-processing skills at work and in everyday life, and the relationship between the use of skills and wages, job satisfaction and economy-wide productivity. It also explores the factors associated with greater or lesser use of these skills in the workplace, including proficiency, the characteristics of workers and the features of their jobs.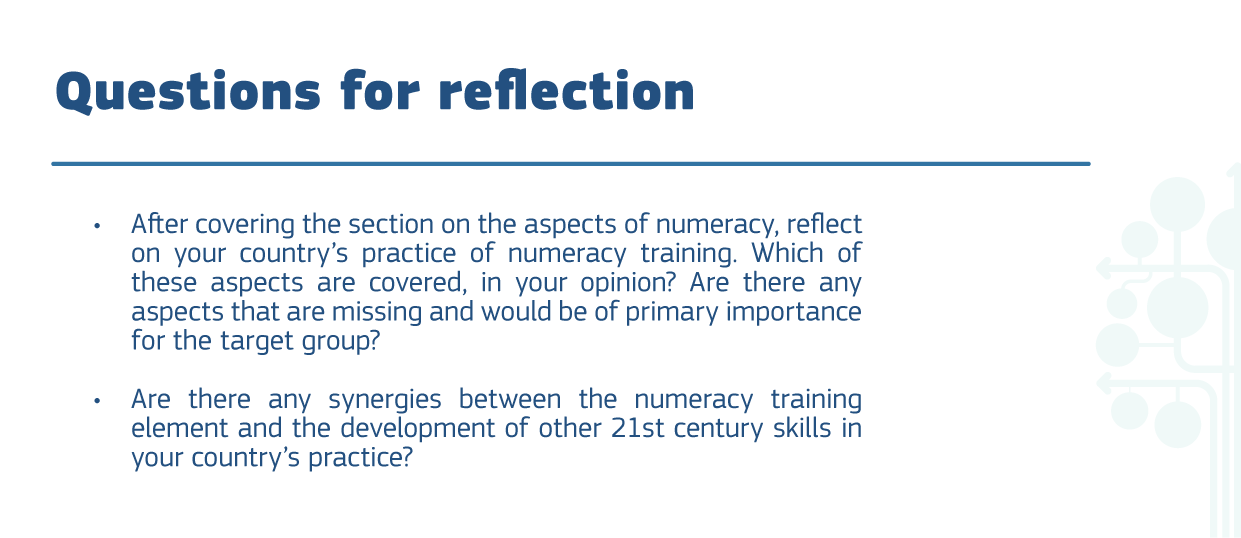 Go back to the main page Move back to Section 1 Move on to Section 3 List of Resources