Kaat Verheeke: uniting students of all ages and cultures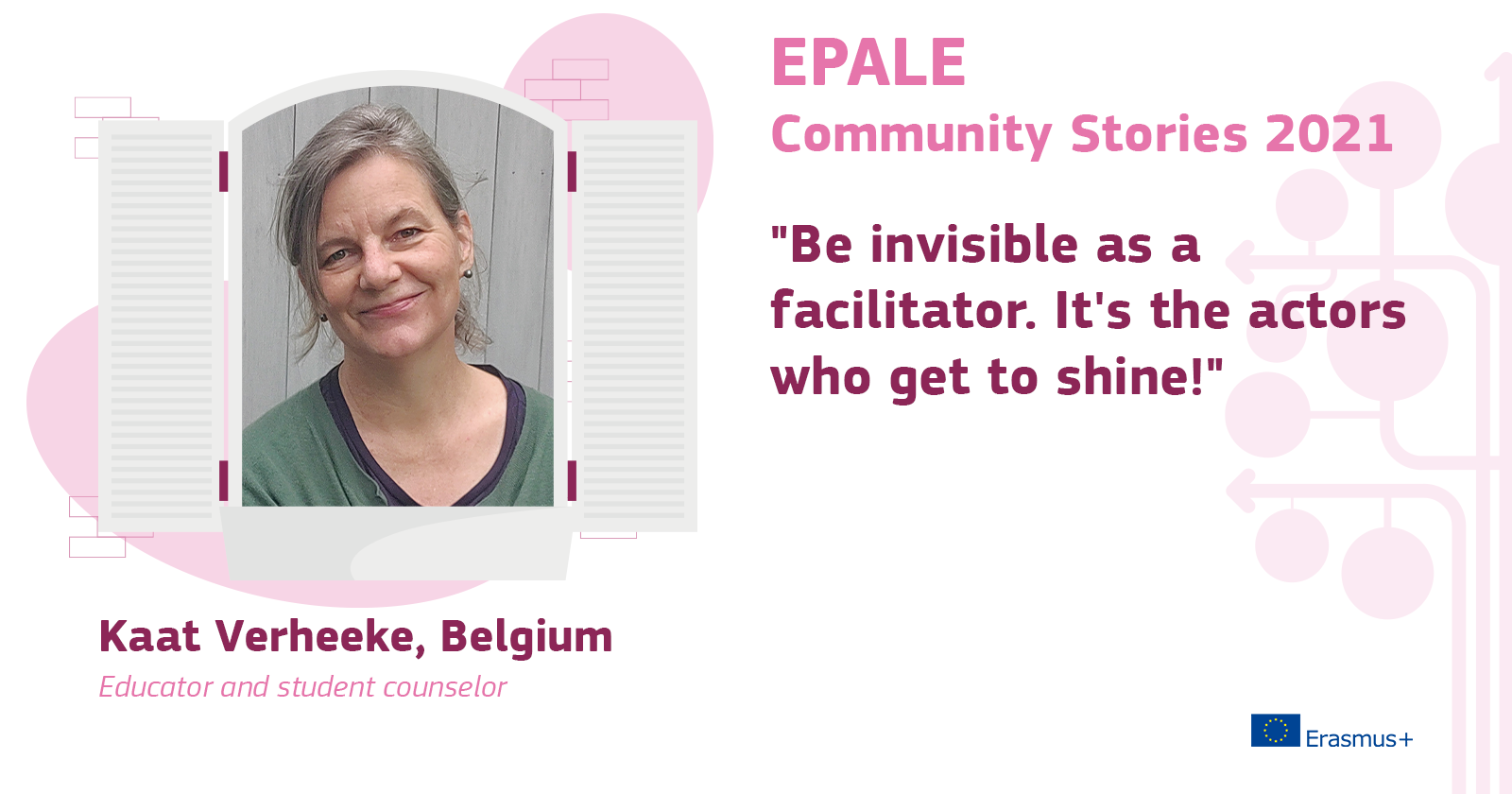 Short Bio
I have been working in basic education for 20 years, first as a teacher and now as a staff member. Before that, I taught secondary education. In the Ligo Center for Basic Education Ghent-Meetjesland-Leieland we combine our educational mission with connecting activities and projects. I like to give it everything I have. In the Wij, mens-project I was responsible for planning, organisation and additional funding.     
My EPALE
I do not know EPALE very well, but I have got an account to explore it further. 
My Story
Through sector exchanges between the centers for basic education we saw an example of a successful theatre production with students from Turnhout and the theater company HETGEVOLG. It inspired us to link the content of the modules 'working together', 'acting in a group' and 'being sure of yourself' to a creative project. As an additional goal, we set about improving non-verbal communication.
With Wij, Mens (We, People), Ligo Gent-Meetjesland-Leieland created a full-fledged theater play in cooperation with Victoria Deluxe. More than thirty students from different courses told their story in words, images and sound. Initially, the focus was on language, but the project grew into a unique opportunity to showcase talent, promote self-expression and connect. It still has a special meaning for the participants today.
Original format
After an appeal to students from all courses, no fewer than one hundred and seventy responses were received. A month later, thirty-eight remained. The group of actors was mixed: young and old, men and women, alpha and NT2 students, but also Dutch-speaking students. It defied our expectations that so many people wanted to get involved. The students need original working formats and ways of expressing themselves.
Communication as a game
The participants worked on the theater project for 13 weeks. They met every week with the 2 directors, Sara Vilardo and Klaas De Roo, and a musician at Victoria Deluxe, a social-artistic workplace. For the first month they attended workshops. For example, there was a speed dating event where they shared personal things. With the students, they also explored different ways of communication. Playing together made the differences fade away. What started out as small groups of peers, fellow countryman and classmates turned into US, the actors, the people. 
We do not always understand each other, but we do not have to. We were able to find solutions together. The diversity of participants was unique, but at the same time it was a great challenge for the directors. What are the possibilities for this group of players? How do you get to know everyone? How do you let each actor contribute? Do we give everyone enough attention? Does everyone feel at ease in the group? It was therefore important that the whole process was coached by staff from the centre.   
Music offers opportunities
Gradually, there was an evolution of improvisation to a structure with different themes: greeting - the body - bubbles of everyday life - communication/miscommunication - chaos - find each other (non) - first words - the journey - mother...  Music became more important. Musician Rudi Genbrugge provided musical support for the entire performance. That offered additional opportunities. An alpha student played a sing along.
A number of participants performed a song in their own language. A student from the Dutch language course taught choreography to the rest of the group. Students who had a harder time in class showed great strength during the project. This kind of project reveals talents. At first, we only wanted to focus on language, but then no one would have known what kind of talents there were in the group. We might only have noticed that the dancer did not speak Dutch well and had to redo the module… Now everyone has seen that he is a top dancer! The teachers noticed that the participants gained the courage to speak, they became more self-confident and furthered their language expression and cultural development. A number of students continued to make music and theater and were guided towards cultural initiatives in Ghent. Some of the players are already working as volunteers in Victoria Deluxe activities.  
Boost for participants and the centre
The final evaluation with the students showed the major impact of the project. The students described their personal growth, the intense experience of being able to express themselves as human beings, feelings of solidarity and equality, coping with grief and discovering, but also better understanding, a new world. They were allowed to be themselves, accepted each other and dared to stand up for themselves. The actors learned to know and respect each other's language, culture and life history.
Ligo students and colleagues were involved in the costumes, make-up and catering before and after the performances. Through Wij, Mens the colleagues have seen the students in a different role than that of a barely literate, refugee, job-seeker… but rather as people with a rich emotional world and possibilities. Realising such an artistic project together gave the centre a boost.
The artistic concept
Together with the students, we want to look for important interactions in people's lives and the search for (the kind of) language people use during these interactions. What words and language do we use when we want to express our love (praise) to someone, when we are angry with someone when we want to share a joke, when we want to share our sadness, when we want to play together, when we sing together to celebrate something… We want to use Dutch as the language of instruction, but where possible we want to start from the students' mother tongue and make the link with Dutch.
In the artistic form(s) we want to use, we like to choose very diverse forms: not only the spoken language (via play), but also via audio recordings, printed T-shirts or other textiles, projection via beamer or overhead projector,… The core idea is that the artist, together with the students, searches for ways to play with (Dutch) language. Always tailored to the students and suitable for their own tastes and styles.
It is crucial that we look for the language specific characteristics of each student. In other words, we want to reflect on how every person (citizen) tries to use language to express essential characteristics of identity.
Tips
Create a scenario with images and photos for students with low language skills. 

Start preparing in time. For such a large project, you need (financial) resources and a clear planning. Every Monday morning, we had a meeting with the Leerpunt coaches, the directors, the Victoria Deluxe management, an intern and the musician. After the rehearsal we sat down together for an hour to evaluate. 

Provide good psychosocial support. Personal stories stir up a lot of emotions.  

Be invisible as a facilitator. It's the actors who get to shine.

Make sure everything runs smoothly behind the scenes so that the artists can focus on the creativity

Apply educational codes of conduct to prevent transgressive behaviour.
  Have a look at the making of...
 And the program booklet
---
Did you get inspired by this story? Let us know below in the comments and get the chance to win an EPALE unique gift!
5 users per month (May-November 2021) from those commenting on a 2021 Community Story will be picked at random and will receive a gift. Comments must be relevant and related to the topic to be eligible.