Esther Willemse: Passion for lifelong learning and development

Short bio
I'm a 57-year-old woman, and in addition to looking after my children, I've always worked for a living. For the past five years, I've had two jobs: one as a teaching assistant and another as a project worker at Welzijn Lelystad, a social services provider in the city of Lelystad in Flevoland province. I'm currently working at Huis voor Taal, which provides language support services to adults with low literacy and to non-native speakers of Dutch. I happen to have a passion for learning, which means that I love learning new things myself and enjoy assisting and supporting children and adults in their learning process.
My story
My earliest memory dates back to primary school. I had to learn multiplication tables, and I would cry and ask: "Do I really need to do this?" Later, when I got older, it was my mum who helped me get through secondary school. She was a teacher and felt I should earn at least some sort of formal qualification. "Once you get your diploma, you can get a job at [Dutch department store chain] HEMA", she told me.
But by the time I finished school, I wanted to keep learning – learning and working at the same time, which is something I've continued to do throughout my life.
I first enrolled in a technical college to study shop window design and decoration, and after I graduated I went off to New Zealand, where I worked as a window dresser for a while. When I got back to the Netherlands, I worked a series of odd jobs, including bar work, working in several restaurant kitchens, and various catering gigs. I somehow ended up working as a front desk receptionist at [broadcaster/entertainment company] RTL, and was soon promoted to head of reception. My co-workers taught me how to use a computer, as well as other skills. The company apparently thought I had potential, and when they offered me a job as a secretary I decided to take a course in business correspondence at the Schoevers secretarial college.
Then I met my husband, and we ended up moving to Lelystad and had two children together. I continued to work throughout my marriage, initially as an administrative assistant and front desk coordinator at Welzijn Ouderen Lelystad. That organisation eventually became part of the social services provider Stichting Welzijn Lelystad. I took care of the children and also worked part-time. On my days off, my kids and I would do fun things together. I'm happy to say I could really give them my full attention.
My husband had taken a number of courses over the years, and when the children got a bit older, he suggested that I too should get back into education in some capacity. He did a really good job of encouraging me, and I decided to enrol in teaching assistant training.
While I was doing my work placement, many of the parents would think I was the teacher, as I was older than most of the actual teaching staff there. There was something funny about working as an assistant when I already had all this life experience under my belt. I remember there was this one mum who took her kid to school for the first time. She wanted to stick around for a bit until she saw her child was OK and playing contentedly, so she could leave the classroom with peace of mind. I completely understood how she felt, whereas a young teacher might have asked that lady to leave.
I've been a part-time teaching assistant for the past five years, working two days a week, but this past year I worked as a teacher in the nursery class. I started out with nine children, and I'm currently in charge of 18 pupils! I'd actually rather work as a teaching assistant than a teacher, and would prefer a smaller group. My job is to pay extra attention to the children in the classroom who really need it.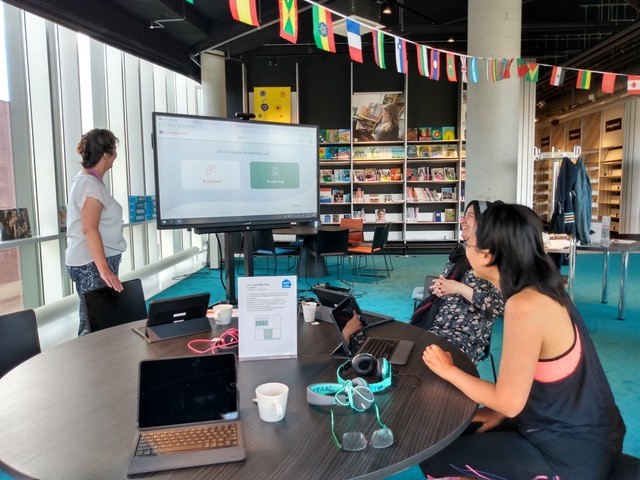 On the other days of the week I work at Welzijn Lelystad. After working as a receptionist and then as a volunteer for VoorleesExpress (service for children with language delays), I ended up taking a job as a project assistant at Huis voor Taal (HvT). It means my week is pretty full on, but I really support what the Huis voor Taal project stands for and, as a lifelong learner myself, I love seeing adult education in action. It's important for people to learn in a caring, safe and fun environment, and it's wonderful to see people from so many different countries gathered together in a classroom to learn the Dutch language. I also find it important to get along with the project managers. I'm responsible for managing volunteer records and attend team meetings where I share ideas on adult education practices and also provide input on the best way to organise the language courses. We also try out new games and other forms of play together, and evaluate the suitability of books for classroom use. I help out during the summer months, when the Huis van Taal section of the library is closed due to a lack of volunteers, just so that HvT can stay open for people who want to learn Dutch or may have other questions.
As well as being curious by nature and loving to learn new things, I also like a bit of variety and don't want to end up like my mother who did the same work for 40 years of her life. She may have been perfectly content doing that, but I know it wouldn't suit me.
I remember receiving a bouquet of flowers when I'd been working as a receptionist at Welzijn Lelystad for 12.5 years. Although I obviously appreciated the gesture, it caught me off guard. I was shaken out of my complacency, and decided I wanted to do something different rather than simply marking time until my retirement. That's how I ended up at Huis van Taal.
What are my plans for the future? I suppose I'll decide when the time comes... I'd like to put in a few more hours a week at Huis van Taal, so I can personally provide support during the language classes. I'd say there's still plenty of room for growth.