Blog
Employability Programme for people with a learning disability at Belfast Metropolitan College
24/10/2019
/en/file/stonegatejpgstone_gate.jpg
Background
The Positive Action Employability Project was a partnership between the Belfast Health and Social Care Trust (BHSCT) as the key employer, Belfast Metropolitan College as the skills and education provider, the Open College Network (OCN) (awarding body for the qualification) and the following organisations who support people with a disability both within work and prior to work i.e. Orchardville Society, NOW Group, Ulster Supported Employment Ltd, Mencap, Disability Action and Northern Ireland Union of Supported Employment (USEL).
/en/file/manwithlearningdisabilitiesjpgman_with_learning_disabilities.jpg
About BHSCT
The BHSCT Belfast Trust is the largest integrated health and social care Trust in the United Kingdom. They deliver integrated health and social care to approximately 340,000 citizens in Belfast and provide the majority of regional specialist services to all of Northern Ireland. They have an annual budget of £1.3bn and a workforce over 20,000 (full time and part time). Belfast Trust also comprises the major teaching and training hospitals in Northern Ireland. The Trust wanted to make their workforce more inclusive of people with a disability and identified a number of job roles suitable for people with a learning disability.
Belfast Metropolitan College (Belfast Met)
Belfast Met is the largest Further and Higher Education College in Northern Ireland and one of the largest in the UK. Belfast Met provides a range of education and training at every level to address a variety of skill needs – from apprenticeship and Level 1 courses, to those undertaking degrees and post-graduate study. Critical to this is the commitment to ensuring that College students have access to opportunities which will enhance their employability and job-ready skills.
 
Additionally, Belfast Met provides a wide range of full-time courses with progression pathways, for students with moderate to severe learning disabilities to develop independent living skills, employability and enterprise skills. It also offers opportunities for the students to gain skills in the retail and catering industries. Programmes also provide academic progression pathways into Higher Education and further academic study.
/en/file/belfastmetcollegejpgbelfast_met_college.jpg
Positive Action Programme
The project offered 10 full-time permanent paid jobs in patient care services, for people with severe learning disabilities. Belfast Met's Centre for Supported Learning and School for Health Wellbeing and Inclusion worked closely with BHSCT for the year to create a new bespoke course curriculum and qualification which embedded and covered the sector mandatory core competences for employment in Health and Social Care which is a regulated sector, governed by NI Social Care Council (NISCC) and Regulation and Quality Improvement Authority (RQIA). This was the first programme of its kind  where such a range of partners have come together to upskill people with a learning difficulty/disability and prepare them for the workplace.


/en/file/womanwithlearningdisabilitiesjpgwoman_with_learning_disabilities.jpg
Belfast Met wrote and delivered the new curriculum and qualification and worked with BHSCT and the OCN so the programme could be accredited. Therefore not only did the students receive valuable employment skills and training, as well as the possibility of a job, they also received a qualification for the training undertaken.
 
Critical to this programme was not only the need to upskill and develop the students, but equally to upskill the workforce in preparation for the new recruits. Disability awareness training was provided and the staff learned how to communicate effectively in general with someone with a learning disability and specifically with the potential new employee. This opportunity raised the general awareness of BHSCT staff around disabilities and helped them understand more about the barriers faced by a person with a learning disability.
 
The students from this first pilot graduated at a ceremony in Queens University's Riddell Hall (link to website article) where the 10 new student recruits were presented with their certificates and offer of employment by the BHSCT Chairperson and Belfast Met's Director of Curriculum.
 
A film crew documented their journey and a short 10-minute programme was produced (link to video).
 
Following the success of this pilot programme, Belfast Met is working with the Equality Commission for NI to extend the programme to cover all disabilities and link with a range of employers so more students can progress into employment.
 
Within NI there is a legal duty under the Disability Discrimination Act for employers to promote positive attitudes towards people with a disability and encourage the participation of people with a disability in public life (link to legal duty). We believe that through this programme we can help organisations fulfil this legal duty and help them understand and unlock the real potential of people with a disability.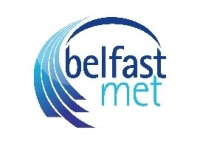 Belfast Metropolitan College prides itself on the integration of people with a learning disability into society.
Although Belfast Met has been supporting people with a learning disability throughout its history, in 2016 it opened a new centre for supported learning students (Live and Learn Hub) to help young people develop vital life, coping, and employability skills making them more independent.
The ground-breaking Live and Learn Hub is a Centre for Excellence for supported learning students across Northern Ireland and the foremost provider of full and part time supported learning programmes. Belfast Met's supported learning work is designed to deliver excellence for those with learning difficulties and has 800 student enrolled on its full time courses and 400 in the part-time courses.
It offers programmes in an inclusive and supportive environment, which allow young learners to avail of vocational training, employability skills, budgeting and money management skills - in preparation for adult life.
Students with a learning disability have the opportunity of learning in a mainstream college and socialise and interact with them throughout the day. For some students this may be the first time they have interacted with someone with a learning and/or physical disability.
You might also be interested in: