EAEA Grundtvig Award 2021 is now open for applications!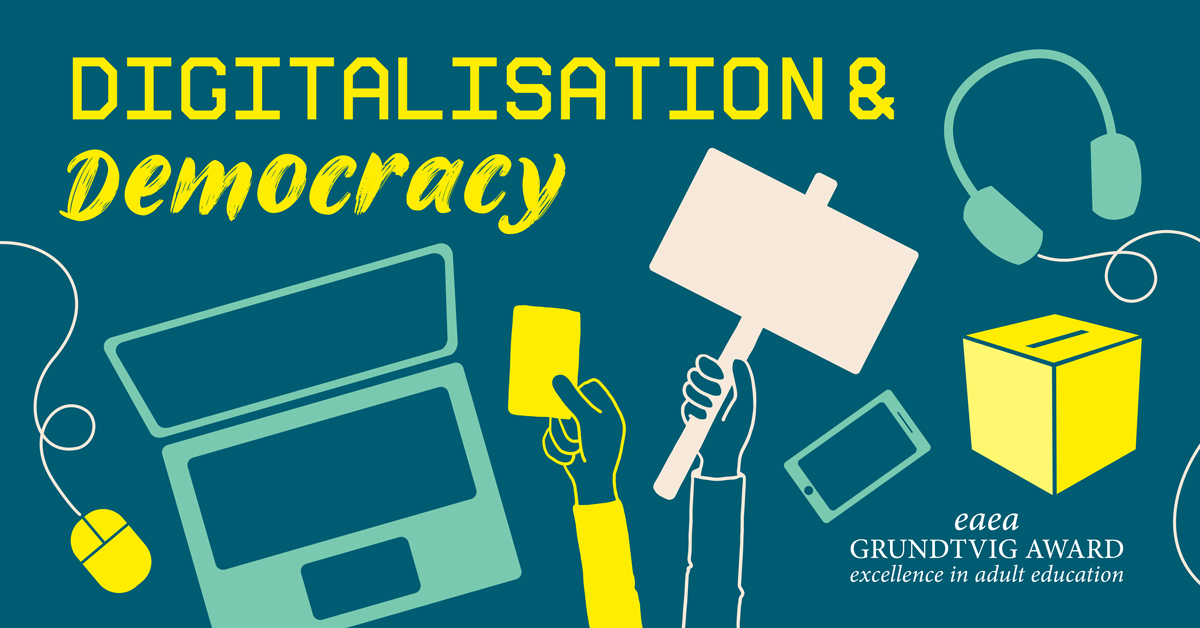 Every year, EAEA looks to adult education projects from Europe and further for their demonstrations of innovation and excellence. The EAEA Grundtvig Award highlights project results that produce new ideas, new partnerships, new methodologies and a new understanding of how we can work in adult education. This year's theme is Digitalisation & Democracy.
Digitalisation and Democracy
In light of all the recent events, the world is moving to a digital-first society, as relationships, institutions and workplaces are increasingly becoming mediated by technology. While digital technologies have the power to platform everyone, there is still a lot of work to be done towards representativeness, openness and transparency. The digital gap has acutely widened, exposing a large group of the population with little or no basic digital skills, access and opportunities.
Developing alternative mechanisms and offers on how the internet can promote democracy, disseminate them and promote critical thinking as well as media literacy is of utmost importance. In this, a clear strategy needs to be developed on how Adult Education can contribute to the promotion of democracy with the help of digital media/internet and what preconditions must be created for this to develop concrete approaches to adult learners. The goal is to enforce the power of the people in public decision making and personal development, providing access to digital outlets, and creating safe spaces for active engagement in international digital contexts.
Against this background we are specifically encouraging initiatives involving participatory processes and methods. Co-creation, collaboration and participatory initiatives are vital to build digital citizenship and promote engagement to apply for this year's Grundtvig Award. We are looking for projects and initiatives that fufill one or more of the following aims.
Main aims:
Develop strategies to better promote democracy and critical awareness, as well as media literacy as a core competence
Close the opportunity gap by transforming how people access and experience digital learning
Activate networks and partnerships of public, private and citizen organisations that promote democracy and participation in a digital context
Support initiatives that foster political change through education by engaging learners, practitioners and organisations
Further the development of the provider's own mission statement taking into account D&D
How to apply:
Find all the information about the call on EAEA's website or fill out this application form for the Grundtvig Award up until 10 April 2021.