The use of language mentors to enhance employment in Norway


Language mentor (a.k.a Språkmentor)
Norway is a country that prides itself on integration and its multi-culturism. There are now close to 800,000 people with an immigrant background who live in Norway, which corresponds to around 17 percent of the population, according to our national statistical database (SSB). In Oslo, the number of people living here with an immigrant background increases to around 35 percent. The overwhelming majority of these people will have needed to learn Norwegian fluently as a second language, in order to meet the growing demands of the Norwegian work place, as many vocational trades such as Nursery and Elderly Care which have an ongoing recruitment need, require a mimimum of B1 in CEFR European Language Scale.
In late 2019, NAV Frogner and Oslo Adult Education Servicesenter decided to work together in an attempt to help accelerate greater numbers of immigrants into the workforce. Although NAV Frogner and Oslo Adult Education Servicesenter have a tradition of working closely together in terms of their "service users", we arrived at the conclusion that many of the adults we work with would benefit from an extra linguistic support in the workplace. Therefore, by designing and developing a system/model that promotes, encourages and implements the importance of language, we hope that our model will be able to assist many adults in securing permanent employment.
What is a language mentor?
A language mentor is an employee who has the task of supporting his or her colleagues when it comes to language development in the workplace. It is inspired by the Swedish Språkombud concept, but has been further developed to meet and match the needs of the Norwegian workplace. The language mentor should be a full-time employee who knows the workplace well. He/She should have the support of the manager or leadership so that they can move the entire workplace towards being pro-active within language development. In order to do so, it is his or her task to strengthen clear communication between all employees (and others).
A language mentor for example can be about supporting employees or trainees who have a mother tongue other than Norwegian. Alternatively, it can also consist of helping colleagues in questions related to everyday language use. It can also be about questions related to culture, or understanding both written and unwritten cultural codes at work, for example. In the not too distant future, we hope that all participating organisations will have a language mentor, and that the principle of language in the workplace will be seen to be as equally important as HMS (Health and Safety).
Who can become a language mentor?
• Employees who have the desire and motivation to contribute to positive language development in their workplace.
• Employees who master Norwegian at a good level - minimum B1 is required, but please note that being a native Norwegian speaker is NOT a formal requirement.
• Employees who are concerned with good communication and are practical, outward going and solution-oriented
Why should each workplace have a language mentor?
The benefits of having a language mentor are many. Anders Johrén leading researcher at the Nyckeltalsinstitutet (in Stockholm, Sweden) has led research on this subject and the concept of Språkombud. He has arrived at the following conclusions:
Members of staff participate in conversations on a far more regular basis in the workplace, in a more confident and competent manner.
There is a direct correlation between increasing self-confidence and employee performance in the workplace from employees can be made.
An improved work environment for participating organisations after implementing the concept, than those not doing so.
Participating organisations experience a reduction in short-term sickness.
A potentially wider base for recruitment: Those not completely fluent in a specific language can also be seen as perspective employees rather than being seen as unsuitable due to their linguistic limitations.
Lower turnover of staff, which also reduces costs.
The concept has a long-lasting effect that can last for many years (dependent upon how often and active organisations work with this).
Developing a workplace that has greater competence towards multi-culturism
Participating workplaces are seen to be pro-active rather than reactive.
What does a language mentor do?
A language mentor supports employees in the company who need language support to understand and perform work tasks in a competent manner.
He/She can suggest areas of improvement for the workplace to be language-developing, e.g. clear language, images that replace or supplement text, prevent conflicts, take on extra responsibilities related to including break talk, and in other social settings.
What are the benefits for each organisation?
• Free/low cost skills development of employees who want to become language mentors
• Increased focus on language challenges and misunderstandings in the individual workplace.
• Costs nothing to implement, as training in the concept is free for all in Norway.
* The language mentors will be able to assist with their knowledge not only to those who are new employees to an organisation /trainees, but also to employees who have worked in the organisation for a number of years, but still have some language challenges: The language mentors will also be able to be a resource for management and other employees, for example at a HR meeting, in formal/informal settings in the workplace, etc.

How does the model work?
To become a language mentor, an employee must participate in four seminars (which usually consist of six to seven hours per seminar). These seminars will usually take place with a gap of a few weeks between each seminar, although the course has also been held over four consecutive days. The reason that we prefer to deliver the course with breaks between seminars is so that participants can use this time to reflect over the concept and develop a deeper understanding of their upcoming role, and how participating organisations can integrate language mentors.     
How do I become a Language mentor
Whilst attending the seminars, the perspective language mentors will partake in practical and written exercises. This will be done in addition to a number of tasks that each participant will complete in between the seminars. Examples of this can include making a Plan of Action for your organisation or discussing the concept with leadership of participating organisations.
The course will be delivered by two leaders who have experience with the concept, or who have been responsible for the development of the course in Norway. Each seminar is around 6 to 7 hours, but this also includes for lunch and various coffee breaks which also allows for interaction between participants and/or course holders. NAV Frogner and Oslo Adult Education Servicesenter have also developed our own "Lightning Course, for leaders who need to understand the concept, but will not be working as a language mentor themselves on a daily basis.
The history of the project
In 2019, Olga Orrit (representative for Vard-och omsorgscollege) was invited to Kompetanse Norge (Skills Norway) to participate in a debate as to how Sweden attempts to integrate as many immigrants into the workplace as possible. Representatives of both Oslo Adult Education Servicesenter and NAV Frogner saw the potential in the model and methods of upskilling via the Swedish Språkombud course, and approaching Vard-och omsorgscollege for permission to further develop the concept into the Norwegian market. We christened our project in Norway "Språkmentor" (Language Mentor).
Since 2020, "Språkmentor" has developed its own handbook, course literature and other material. As our concept expands into different vocational trades, so too will our own products and course content.  
The way forward for our projectSince March 2021, the Språkmentor project group has seen the potential of incorporating this on a Scandinavian/Nordic level. We have established a plan of cooperation with Vard-och omsorgscollege in Stockholm, Sweden but are also looking to establish the concept of "Language Mentors" in Iceland, Finland and Denmark to begin with, with Baltic States and the rest of the Nordic lands by 2022.
In Norway, we have come extremely far given such a short time frame. To begin with, in the projects inception in 2019 and 2020, we established our project within the Area of West Oslo. Here, we educated at Tilrettelagte tjenester (Adapted Services for the public), Hjemmetjenester (Home help), Mestring og Folkehelse (Assitsted Living), in NAV (National Labour Welfare Office as well as the local Stab (Local Authority Public Administration Services). Following this, we took our project into Byrådetavdeling for Oslo (Municipal City Council) where we established our project, based upon our conversations with Kompetanse Norge (Skills Norway). Following this, we then approached NHO (Confederation of Norwegian Enterprise) and then Fagforbundet (Norwegian Confederation of Trade Unions). By doing this, we knew that we had established our project locally, then at a municipal council level, then with the National skills authority for the Adult Learning sector, prior to taking our project to the largest representatives for commerce in Norway, as well as the biggest trade union.
It is now hoped that we will be able to expand our project over the entire city of Oslo, as well as the rest of Viken by early 2022. Concurrently, we have also seen the opportunity to launch a website or a fellow cooperative with interested Scandinavian/Nordic Partners, by introducing the concept of Language Mentor.com (a platform that will allow for formal cooperation between interested parties, but is also a dedicated website).
The potential of International Cooperation
We believe that our model can be implemented in any country and used in any language (although time must be set aside for translation, variations between countries in terms of working life, educational systems, support from Government Welfare Office, etc.) Here participating countries could have the opportunity to collaborate and expand the possibility of introducing the concept over a much larger scale. Immigration to all the countries I have previously mentioned has increased and assisting adults into the workforce will be a priority for many.
In terms of Baltic countries for example, this model could be of great interest. Many people have Russian as their first language and have attended Russian schools, despite having Latvian, Estonian or Lithuanian citizenship and struggle to speak these particular languages. The same can be said of many immigrants who move to Finland and need to learn Finnish, which belongs to the Uralic language group.  Icelandic, which has roots in Old Norse, is also seen to be a difficult language for many to learn, especially as an adult. These are arguably much harder languages to learn for many, in comparison to the traditional North Germanic language tree to which modern day Norwegian, Swedish and Danish belong.
With the formation of a fellow collaboration we would be able to do the following:* Share best practices * Form a fellow platform with a the scope to publish relevant literature/Share literature which can then be used in other countries * Rely on each other for international support (Potential for future projects) * Potential of visits to see how each participating organisation works with the target group * Be able to participate in online seminars, etc.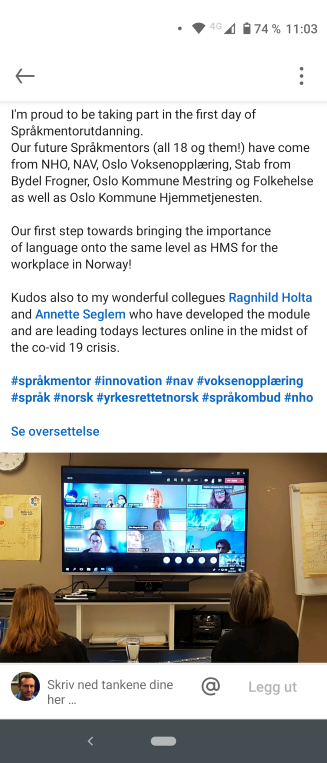 Support/ Finances/ Ownership of concept in Norway
At the time of writing, our model has received finance from both Statsforvalteren – (County Government for the states of Oslo and Viken) and the OU Fondet (Oslo City Councils own development fund). As of press, we have financing all the way through until April 2022.  We have also applied for a trademark for our concept, model, logo and content.
Two different models (The "Språkmentor"-model and the "Frogner Model")
We have developed two separate models when it comes to Language Mentors. The first model is called "Språkmentor" and is simply based upon educating as many Language Mentors as possible into areas we see as those of having the greatest need.
The second model is our own variation and is something we have labelled the "Frogner Model". This is a more complex model and involves instances such as NAV (Labour Welfare Office), Yrkesrettet Norskopplæing (Workbased language learning) and those we will describe as trainees.
The Frogner model is the first instance involves NAV identifying varying organisations with a need for recruitment in and around the district of Frogner. This can be in any vocational area, but we find that they are usually related to areas with moderate to high turnover of staff, such as nurseries, residential homes, etc. Once we have found enough organisations with a need for recruitment, we can then recruit internally to find suitable candidates for these positions. As part of our recruitment process with the candidates, we give them an interview (which allows us to judge their motivation and job target) and allow them to take a number of language tests which allow us to pinpoint what level on the Common European Framework of Reference for Languages they are currently at, in terms of reading, writing, listening and spoken word (speech).  
In addition to this, we can also assist the company by offering a multitude of possibilities which we hope will strengthen a trainees chance to secure permanent employment. To begin with, we can offer to educate a language mentor from the company. In addition to this, we also offer language training in the workplace for the trainee/trainees once a week from a qualified teacher, which NAV Frogner currently pay for.  
What is unusual about this approach, is that the teacher has the ability to come into the workplace in a non-classroom based setting and, based on the needs of the organisation, offer language learning on the exact level that the trainee requires. Research from FAFO and Proba amongst others has shown as that the workplace can also be an extremely important learning arena for improving language and communicative skills, and it is worth remembering that not all people respond to classroom based learning.  In addition to education from a teacher, NAV can also offer a multitude of financial incentives, such as "lønnstilskudd" (Wage Subsidies) where they pay part of a trainees pay over an agreed timeframe so that they may be able to learn specific skills whilst on the job, whilst the company can save money at the same time.