Pasta Factory – "Pasta is all we knead – all year round!"

This article is part of the EPALE European theme week focusing on: "Learning communities in rural areas". This topic brings together initiatives from Austria, Belgium, Finland, France, Germany, Hungary and Poland.
The interview was made by Vivien Balogh, the communication co-ordinator of Acting Communities Project.
The name "Pasta Factory" may suggest large-scale industrial production, but those who have already heard about it know that it is meant to be funny and refers to a series of activities in a friendly, family spirit. Vivien Balogh, the communication co-ordinator of Acting Communities Project, discussed the beginnings of this communal activity and its role in building a community with Izabella Bálint Zsoltné, the head of the ICSS (Integrated Community and Service Space) in Vokány.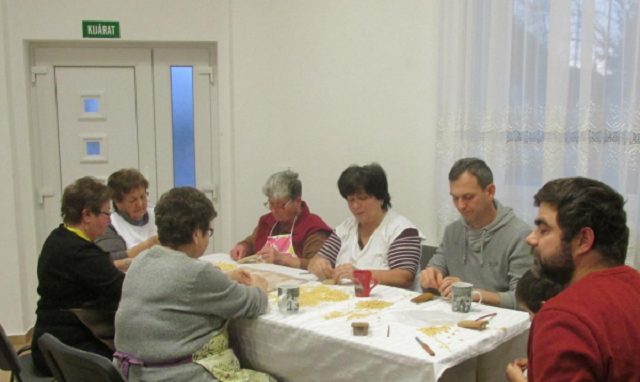 What is there to know about Vokány? 
Vokány is an ethnic German municipality in Baranya County, somewhat north‑east of Siklós, between Kistótfalu and Újpetre, beneath the slopes of the Villány Mountains. In its place there was a Benedictine monastery called Trinity back in the age of the Árpád dynasty, as mentioned in charters as early as 1183. Where the monastery once stood, a new village was founded in the 18th century. Initially it was populated by Serbs, only to be replaced later by ethnic German settlers. Inhabitants typically cultivated grapes. Landmarks of the municipality include the former monastery of Keresztúr, its place now covered by forest. 
How did the Pasta Factory programme come to be in Vokány?
Fundamentally, Vokány is considered an ageing community, with the number of young residents decreasing and the elderly population growing. The Elderly Centre, where previously 20 to 30 elderly people had come to spend some time together, was closed 8 years ago. In the past they organised joint activities, celebrated, talked, baked and cooked together. The elderly were happy to break out of the monotony of their everyday lives. The centre was closed due to financial reasons, virtually from one day to the next, and, as a result, the elderly suddenly lost this safety net that provided them with a link to active society.
For years, there has been no effort to create a new community space for them in any way, shape or form. Many of them became completely withdrawn, they did not even go out in the street. 
With the emergence of the ICSS, we tried to reach out to them, offering them a chance to meet there and recreate their own community. Although we provided them with all the assistance we could offer (baking together, trips, cinema, room access), they did not take advantage of this opportunity. I kept looking for the answer to the question: what could motivate the elderly to become active? We wanted to involve them in different activities as we have a lot to learn from them. The questions arose: what tasks can we find for the elderly and what makes them feel as though they need to participate in activities? We pondered these questions and arrived at pasta-making.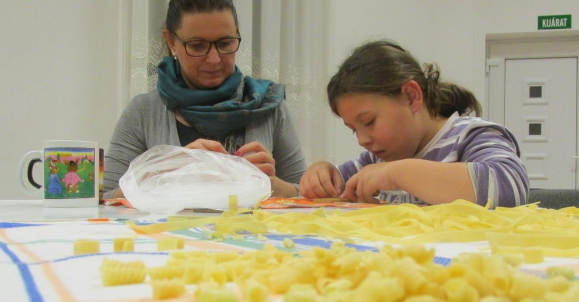 What were the first steps you took?
For the first session, we reached out to many people and asked them to join us. We bought all the ingredients in advance, flour, eggs and everything else. We prepared the room. All we needed were tables, a given in any facility, and a couple of bowls. Everyone brought their own pasta machine as there is one in every rural household, in every granny's pantry, just like a rolling pin and a pasta board or a little white embroidered apron. Elderly women, and even men, responded to our call. We started working with great enthusiasm, spending 4 hours together during the first session. Women kneaded and formed the dough while men played cards and sometimes helped crank the machines. We made "snail pasta" using a traditional "snail maker" made of wood and younger people were keen on learning the technique. The tried and tested recipe is as follows: take 10 homegrown eggs and 1 kg of flour and put in some elbow grease to knead it into a dough. No water is needed! When the dough is ready, let it rest for half an hour and then start processing it. First, use a machine to roll out the dough into thin layers, then cut it into strips and, finally, wrap an approx. 1 cm piece of the strip around a thin stick and roll it along the small ridged tool. Now you have one little piece of snail pasta! It is very labour-intensive, but worth it as there is nothing like home-made pasta. We often have visitors from the nearby city eager to learn how to make home-made pasta. During these meet‑ups, we all but manage to live up to our name as the amount of pasta we make is almost on an industrial scale. At the end of the first session, we divided the snail pasta among the participants so that everyone could have a chance to taste real home-made pasta. We also dried pasta and, for next time, I made a local specialty, real Swabian noodles with beans.
What is real Swabian pasta with beans and how is it made?
Classic food has a long-standing tradition in Vokány to this day. Recipes are kept in every family, with their own little twist; everyone takes away or adds a bit. I tried to work with the original recipe so I asked a number of housewives. Of course, I got as many different answers as those I asked so I decided to make the recipe my own. I poured a tin of beans in tomato sauce on some onion base, added some spices, cooked the pasta and put the bean sauce on top of it. As garnish, some coarse, hand-crushed bread crumbs were toasted by my mum and put on the pasta just before serving to keep it nice and crunchy. It is a filling, tasty, appealing and cheap meal, meeting all the criteria of good Swabian food. The first afternoon spent in the Pasta Factory was followed by many more. In addition to the pasta, we also made doughnuts and, most recently, strudel as well. There are permanent team members, but we always have some new faces. It is not unusual for men to join us or people from other municipalities to enquire whether they can come to learn. For the most recent session, we had visitors from 4 different municipalities.
Where do you think the strength of this initiative lies, what makes it so successful?
We offer a meaningful activity to the elderly that keeps them busy and makes them come out of their shells. They feel important and useful again, there is valuable preservation and transfer of knowledge and we also keep traditions alive. We built a bridge across generations while new relationships and friendships were forged. At one of our sessions, we were visited by a food blogger and he posted a wonderful photo of the first strudel he stretched in his life and, of course, he mentioned that he made the dough with us. One time, we had around 20 to 25 people working in the Pasta Factory which is a great turnout for a village with 870 inhabitants. We found a good solution for a societal issue that can be further improved. The success of this community action lies in building on people's natural craving for recognition and usefulness. Everyone likes to feel that they have a place in society. I believe that when you get actively involved in something and not just as a spectator, it is much more exciting and valuable for everybody. We often tend to gauge success by the number of participants, but the real measure of success is when needs, opportunity and supply meet as in the case of this programme. For our little group, we have sort of a motto: "Pasta is all we knead – all year round!"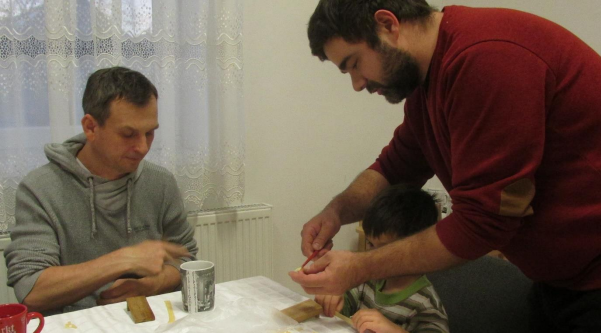 What is your advice for municipalities in a similar position?
I think that the programme in its current form is transferable, but needs to be adapted to the specific circumstances. You do not have to make pasta; you can focus on any other type of knowledge transfer, identifying local needs, local knowledge and resources. 
What is next for you, what are your short and long-term goals?
Our short-term goal was to bring elderly locals together and launch a programme for them based on local needs, with the potential to form a community and the attractiveness for people to be happy to participate. If there are no more pasta dishes to make, we can cook any other kinds of food, share recipes or publish a collection of recipes or organise food trips. During our conversations, it was proposed that we should offer the products we make for charity. Our long-term goals include transforming the busy bees at the Pasta Factory into an active and standalone community, taking advantage of the knowledge of the elderly and building bridges across different generations. 
---
Source: 'SZÍN' Community Culture Journal