Linguacuisine: Learning Digital Skills, Foreign Languages and Cooking

Linguacuisine Free App Now Available!
The free Linguacuisine app is the result of an Erasmus+ project1 working with 40 digitally-marginalised adult learners in the UK and Greece to build an app which can be used by anyone to learn digital, foreign language and cooking skills in an enjoyable way, producing something tasty to eat at the end!
What does the Linguacuisine app do?
The Linguacuisine app and website provides an infrastructure to enable all adult learners to take an active online role carrying out universal and enjoyable real-world tasks – cooking and eating food, learning languages, cultures and digital skills.
The free app helps adult learners learn a European language while cooking a meal! Choose a delicious recipe in a language, then your own smartphone/tablet will speak to you in the foreign language in your own kitchen and talk you through all of the stages of cooking the recipe. If you can't understand, just press a button to get a photo, audio or video explaining what to do. When you've finished, eat the food you've cooked and learn something about the culture of the country.
How about digital skills?
Linguacuisine starts with a task which all adult learners understand and can carry out, namely cooking. This is then used as a vehicle for learning digital skills and foreign languages. Adult learners can also use the recipe author app on to learn new digital skills by uploading their own favourite recipe from their own country in their own language.
That means that anyone anywhere in the world will be able to watch videos and listen to audios of them guiding the viewers through cooking their recipe!
Adult learners can also use their own smartphone or tablet to make video and audio recordings of themselves and upload them using our user-friendly software to create their own recipe, learning digital skills according to a structured template.
The recipe author app was originally developed to teach digital skills to students and is ideal for that purpose.  We know that adult learners from a range of countries are able to do this as they have done so on the project. The recipes that they have produced can be seen on the recipe player.  You can see a tutorial on how to use the authoring tool here: https://youtu.be/Hp2YNc_6sb8
Language Learning
Linguacuisine is a really fun way to learn about foreign languages, cultures and cuisines and you get to eat what you produce. You learn foreign words better when you are physically touching food and cooking utensils and using them to prepare food. When you are cooking, you involve all of your senses in the learning experience – touch, smell and taste as well as hearing and seeing. This is task-based language learning with a real product at the end of it and is intended to improve international understanding and communication. Linguacuisine tackles the universal problem of classroom language teaching, namely that students are rehearsing using the language, rather than actually using the language to carry out authentic real-world actions. It brings the foreign culture to life and helps motivation.
A resource for teachers!
The Linguacuisine app can be used for foreign language lessons, but also for cookery lessons and cross-curricular projects. Learners can use the app to cook and learn in the kitchen at home as well as at school.
 The app is a good way of
preparing learners for a foreign trip
as it helps engage them with the cuisines, culture and language in advance. Learners can write their own recipes in their own language, informing people about their culture and cuisines.
Promoting Cross-cultural Understanding
The app can also be useful for promoting cross-cultural understanding with adult learners. As the app was co-designed with a group of refugees, asylum seekers and migrants, it is particularly suitable for helping to integrate these groups into EU societies. Immigrants can learn to cook the host country's recipes to learn about the language, cuisine and culture. Secondly, immigrants can produce their own recipes in their own language using the recipe builder software. These are then freely available for use by EU citizens, this enabling mutual understanding and 2-way integration.  A number of recipes currently on Linguacuisine have been produced by migrants in the UK. 
The infrastructure has been set up so that any number of new recipes can be added in any language, country and cuisine in the EU and beyond, using the recipe author software. The app interface is set up for 6 European languages.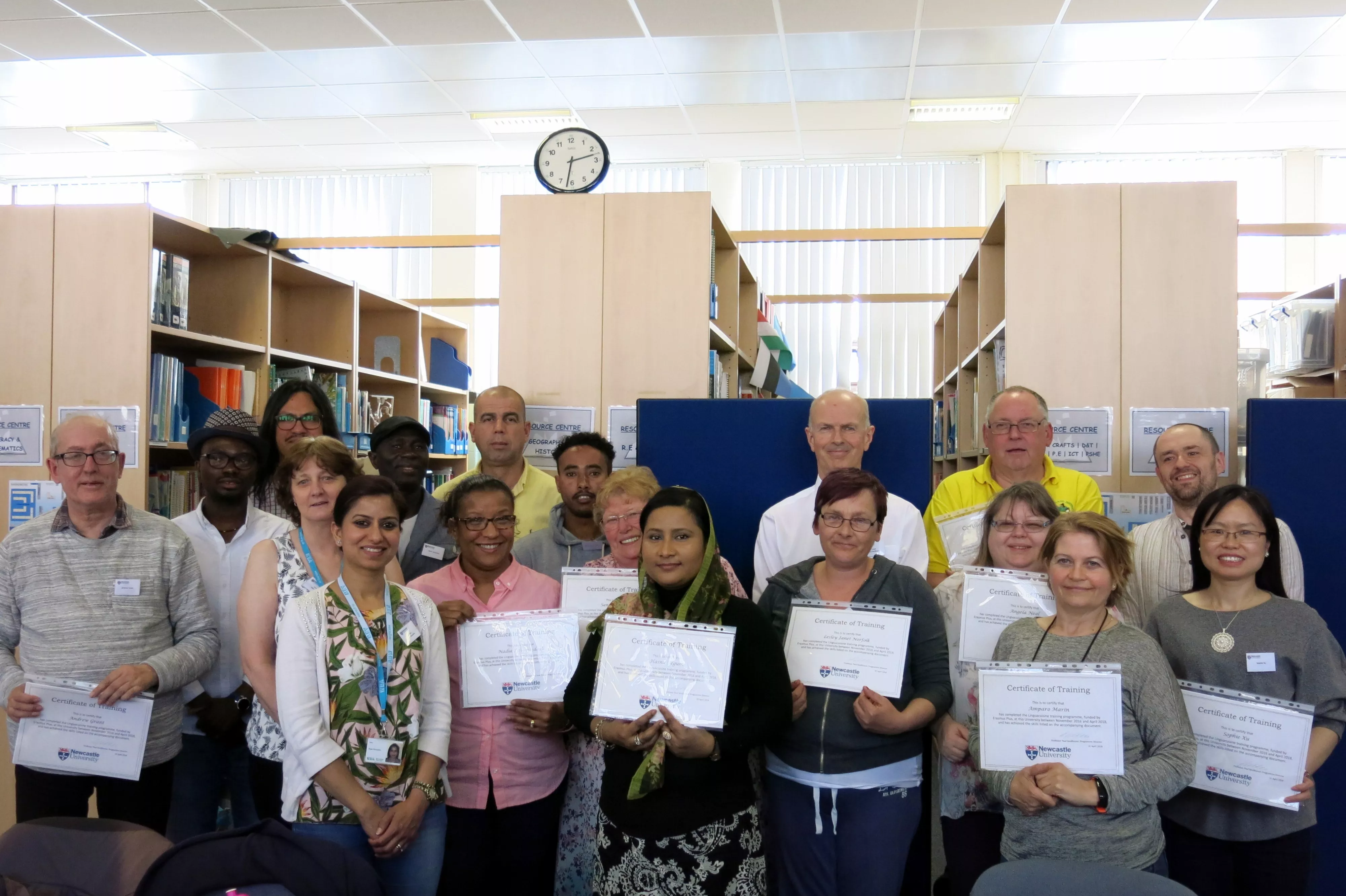 Certification of Digital Skills
We developed a digital skills certification system based on the EU DigComp framework, which we applied to the achievement of the participants involved in the project  https://linguacuisine.com/certification/ This can be used by teachers who use Linguacuisine to produce certificates for students.
We worked (2016-2018) with UK and Greek citizens, refugees, asylum seekers and migrants who did not take much part in the digital world, taught them digital skills and co-designed the Linguacuisine app with them. The app interface is therefore very easy to use and ensures that the vast majority of EU citizens will be able to use it. The app engages key motivations of EU citizens of all ages and backgrounds, namely cooking/food, languages and cultures.
Linguacuisine is available now for mac and android download for smartphones and tablets, as well as from our website https://linguacuisine.com.
---
1.This project was Co-funded by the Erasmus+ programme of the European Union in 2016-18. Partners: Newcastle University, Hellenic Open University, Workers Educational Association, Action Foundation, University of Modena and Reggio-Emilia. The software was programmed by Dr Phil Heslop, Newcastle University.
---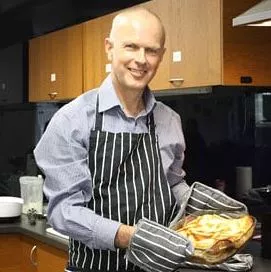 Paul Seedhouse is Professor of Educational and Applied Linguistics at Newcastle University, UK. Working with colleagues in Computing Science over 10 years, he has had 3 grants to build kitchens which use digital technology to teach users languages and cuisines simultaneously. The French Digital Kitchen project won the European Language Label Prize in 2012.