Hideaki Uenishi: People have a treasure called "curiosity" in their hearts
Short bio
I am 59 years old and Japanese. I'm teaching Japanese at Ghent University and the adult school CVO LBC regio Mechelen in Belgium. I started teaching at an adult school, GLTT CVO, in 2007. I established an online Japanese language school in September 2022 because there are not enough learning opportunities for learners who want to continue learning at higher levels.
My story
15 years ago, Chinese was enormously popular, and Japanese was of interest only to a few manga and anime fans. However, since then, interest in Japanese culture has increased, and the number of students enrolled in Japanese studies at universities and the number of Japanese language courses at adult schools have gradually increased. Even now, this trend continues. Many events related to Japan are held in various places every year, and Japanese words can be seen on many street corners in Europe.
As society's interest increases, classrooms will be filled with people from diverse backgrounds, and the difficulty of teaching will increase. Young people progressing well in their studies and older people who find it difficult to realize their learning outcomes sit together. The former is, however, so busy with their work and study, and some often give up attending school, while the latter often give up learning due to age-related difficulties. The difficulty of learning a language with different characters and grammar seems enormous for those who have only experienced learning European languages.
Considering the social situation in Europe, Japanese is not an indispensable language. It is unlikely the learning will directly help you get a new job or lead to career advancement. None of my old students at adult schools have learned Japanese because it was necessary for work. The motivation for learning Japanese is often driven by personal interests, rather than practicality.
Is learning a language then meaningless if it's not directly connected to real life? The answer is "NO."
People have a treasure called "curiosity" in their hearts. It is the excitement of making discoveries, the elated feeling of taking on difficult challenges, and the exhilaration of expanding their world. We've all experienced such feelings as education is popularized, and the internet provides instant access to various kinds of information.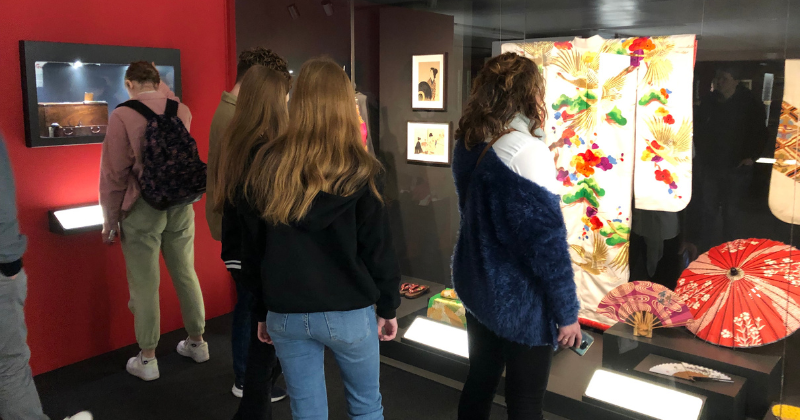 I think teaching Japanese in adult education is to respond to learners' curiosity. For this reason, I try to teach the third "Japanese" at an adult school. It is neither the "Japanese" that university students should learn for their future nor the "Japanese" that Japanese parents want to pass on to their children and grandchildren who grow up overseas. It involves the typical difficulties of learning a language, like memorizing words and conjugating verbs. With Japanese, you must memorize kanji and grammatical rules that don't exist in European languages. The study might be sometimes boring. However, there are various "unknown things" there, so Japanese teachers should help students pick them up and explore them and invite people to further cultural and intellectual stimulation.
Last year, I taught beginners for the first time in several years. While keeping my ideals firmly in mind, I sought how to make learning fun without giving the learners stress. We used calligraphy pens to practice writing letters and visited an exhibition related to Japan. The heavy exams held several times a year were replaced with periodic small assessments, allowing learners to take them mostly online in their spare time at home. As a final evaluation, we created a presentation video in Japanese by all the class members to confirm the learning results of the nine months. Next to regular classes in adult schools, I established an online Japanese language school for intermediate level learners without classrooms to attend. Although the situation they sit in is different, I want to make all classrooms a place where people can enjoy learning Japanese for a lifetime.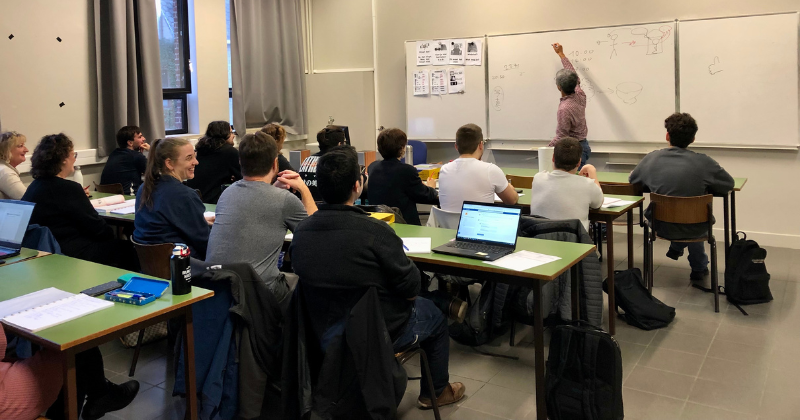 There is a word in Japanese called "ikigai". It is translated as "worth living". No matter how old we get, if many adult learners can enjoy Japanese as an intellectual activity and find the worth of living there, nothing would make me happier than this.
Eager to learn Japanese?
Here are some videos: Grammar Explanatory Video: there is/there are Grammar Explanatory Video: date, days of week Presentation video "Momotaro"