EPALE Interview: Judith Alamprese - Abt Associates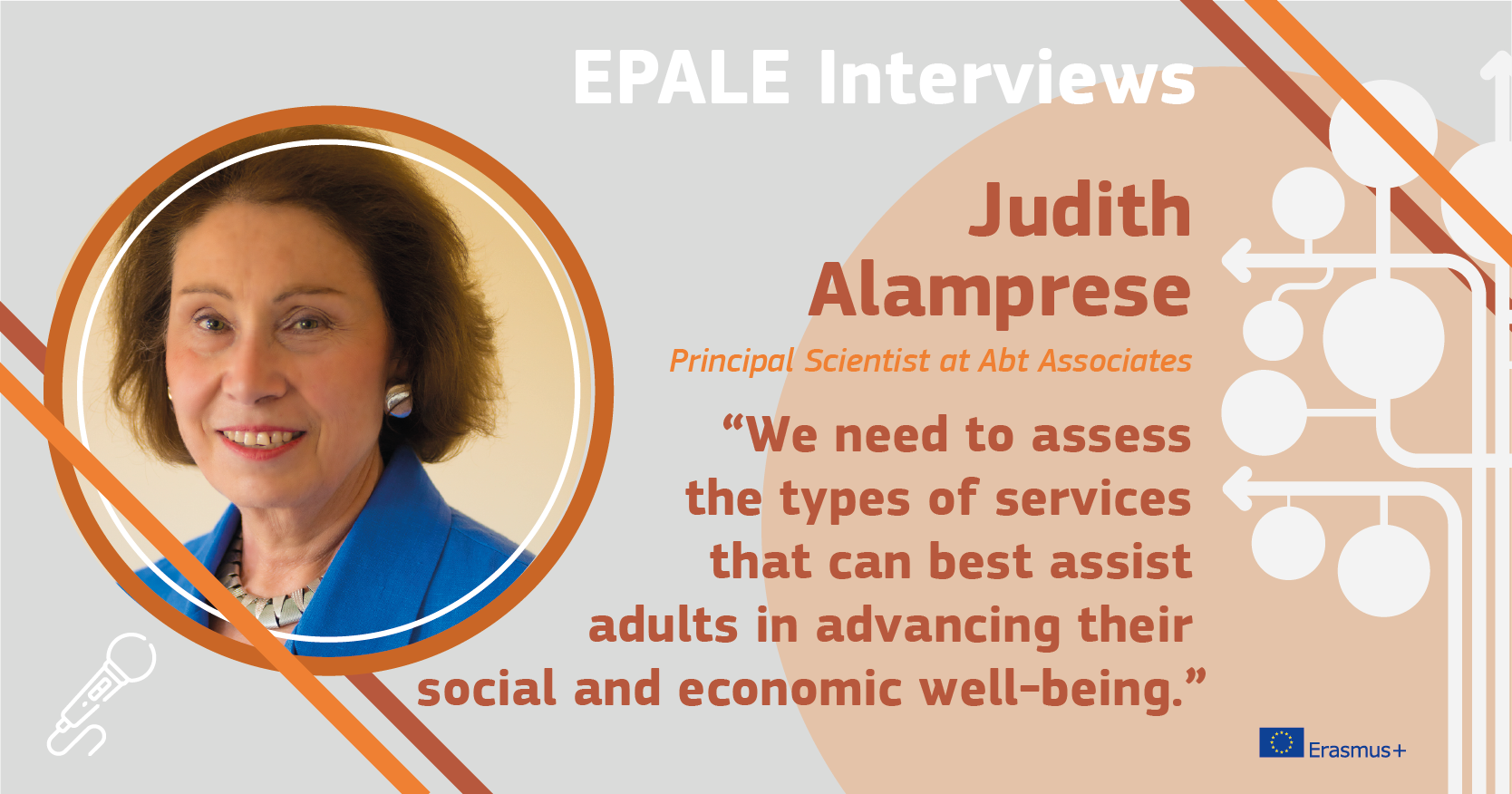 Judith Alamprese is a Principal Scientist at Abt Associates (USA) where she leads Abt's adult education practice and directs research and evaluation studies in adult education and workforce development. She is currently a Principal Investigator of evaluations assessing career pathways programs to facilitate adults' social and economic well-being and studies on the use of text messaging to support adult education learners and on innovative practices in adult education programs. Her recent publications include three reports on innovation in adult education and an evaluation report on the Bridges to Career Opportunities model. Ms. Alamprese has served on two committees for the National Academies' Board on Testing and Assessment. She was a member of the U.S. Delegation to the Shanghai International Forum in Lifelong Learning, and a member of the U.S. Delegation to the 6th International Conference on Adult Education, CONFINTEA VI. She received her M.A. in Sociology from Syracuse University and her B.A. in Sociology from Emmanuel College.
Judith, reading your CV you spent your entire professional career on finding out how adult education can support people living a better life, and how new approaches and developments in delivering education and training services can lead to improved learning outcomes. Can you share some personal and professional aspects of your affiliation with adult education and your specific interest as researcher?
My entry into adult education was as one of the developers of the innovative National External Diploma Program, which is an alternative secondary credentialing program through which adult basic skills learners can earn a high school diploma. It was a wonderful opportunity to be involved in the design of a competency-based credentialing system that recognizes adults' skills and knowledge and gives them credit for their prior experience. My experience with the National External Diploma Program influenced my lifelong interest in studying innovation, particularly in adult basic skills where programs need to be able to meet the needs of the diverse learners who seek to improve their lives by developing their basic skills.  
As a sociologist, I have been interested in the systems-level factors that affect adult learners' success in developing their basic skills and have focused much of my research on evaluating adult education program designs and policies and how they affect adult learners' participation and progress. As the services provided by basic skills programs become more complex with the implementation of career pathways, it will be important to assess the types of services that can best assist adults in advancing their social and economic well-being.      
What is the federal initiative "Advancing Innovation in Adult Education" is about, and what is your role in it?
The Advancing Innovation is a three-year initiative that the U.S. Department of Education's Office of Career, Technical, and Adult Education funded to highlight innovative practices in adult education that lead to improved adult learner outcomes. The project identified 18 adult education practices that were developed or significantly enhanced during the past 10 years and are not commonly carried out in the adult education field in the U.S. These practices relate to instruction or adult learner support and have positive data on learners' development of basic skills, attainment of a secondary credential, enrollment in postsecondary education, attainment of a vocational certificate, or placement into employment. The initiative was designed to motivate adult education staff to incorporate new approaches into their services that can better assist adult learners develop their basic skills and transition to further education, training, or employment. The initiative began in September 2018 and just concluded in September 2021.
The initiative was implemented by the Manhattan Strategy Group and Abt Associates. I was the Principal Investigator and led the initiative's activities in identifying possible innovative practices in adult education programs, rating the application forms the programs submitted to the initiative, and gathering information about the practices' background, implementation, and learner outcome data. I also led the preparation of three compendia of innovative practices that provide case studies of each of the 18 practices, and I have disseminated the results of the initiative at national conferences and through podcasts.
Based on your vast research experience, what are the key factors of effective upskilling programs for adult basic skills learners? What should be the major shifts in our way of thinking when we move toward the future of basic skills provision?
My experience in conducting research on upskilling programs for adult basic skills learners indicates that these programs need to conduct a number of activities to enable learners to be able to earn a secondary credential, if needed, and a vocational credential that is well aligned with their skills and interests and leads to employment in a career pathway. These are:
Learner intake processes and assessment of basic skills at program entry that can help to ensure that learners' skills, goals, and time availability are well aligned with the program.

College and career awareness advising to help basic skills learners identify their skills, interests, and abilities; how these align with the local labor market and possible jobs that interest learners; and the types of educational credential(s) learners will need to earn to qualify for and obtain their job of interest, as well as the provision of psychosocial supports.

Instruction involving contextualized basic skills, digital literacy, and vocational training if the program is using an integrated education and training model.

For integrated education and training programs: Explicit connections with employers and workforce centers to facililtate learners' placement into employment after they complete the program and earn a vocational credential(s).

Referrals to community supportive services.

Development of partnerships between adult basic skills and postsecondary education/vocational education, community services, workforce development agencies, employers, and other organizations or agencies who can assist adult basic skills learners in achieving their goals.
One major shift we should consider making as we move toward the future of basic skills provision is integrating the use of digital technologies and distance learning as a critical part of the infrastructure of adult basic skills programs. This step should enable a broad range of learners to access basic skills services and provide learners with diverse learning modalities.
Another shift may be to institutionalize processes in adult basic skills programs for addressing basic skills learners' range of academic and non-academic needs. Adult basic skills programs may address learners' needs either directly or through referrals to community services to ensure that learners have sufficient support and guidance to meet their learning goals. This shift may involve expanding the types of staff who work in adult basic skills programs to include those who can provide career awareness, identify community resources, and support learners as they address their barriers to participation.
Underpinning these activities will be the need for adult basic skills programs to develop strong partnerships within their home institutions and in their communities to provide the range of services that adult learners require. These partnerships can also support basic skills programs' implementation of multi-component career pathways approaches that can facilitate basic skills learners' attainment of further education and work credentials and placement into family-sustaining jobs.         
How do you see the potentials and benefits of professional dialogue and exchange of adult education experts from the U.S. and Europe working on basic skills / upskilling policies?
Professional dialogue between U.S. and European adult education experts would be a wonderful opportunity to learn from each other so that we can expand and improve our work on basic skills / upskilling policies and practices.
After listening to reports from EBSN conference participants about their approaches to the use of digital technologies and distance learning during the COVID-19 pandemic, it's clear that we have a common ground that could be enhanced through sharing of experiences and ideas. Another topic of personal interest is how the concept of lifelong learning is being integrated into policy and practice in European countries. One desired outcome for learners participating in adult basic skills programs is that they will know how to learn new information and develop skills as a routine part of their daily lives. A dialogue on these topics between adult education experts from Europe and the U.S. would be very beneficial.     
---
This interview has been conducted by Zoltán Várkonyi, Head of EPALE Team at EBSN during EBSN's Annual Conference in Valletta, Malta.