Books beyond bars: the transformative potential of prison libraries
UNESCO Institute for Lifelong Learning has published Lisa Krolak's book Books beyond bars: the transformative potential of prison libraries, which discusses prison libraries around the world and considers to what extent they support the rehabilitation of prisoners. The book is provided as digital copy on the UNESCO website but can be printed and the digital book can also be shared with others.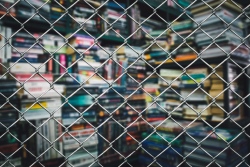 The book provides a holistic view of prison libraries, including the role of the prison librarian; security issues and how they relate to the library's collection; the possibility of digital opportunities and challenges; and much more. The focus on international prison libraries offers a wonderful insight into how different countries approach prison education, learning and rehabilitation. Countries covered include Kenya, Norway, Slovenia, Chile and Germany. Krolak draws on the aspects of these countries' prison libraries that should be celebrated, including a state of the art library in a German prison and a drive to support more engagement with reading in Chile.
The book will be particularly useful to those working in prisons, especially prison librarians, education providers and senior management. It may also be of interest to those working in general libraries or those researching the impact that libraries have on adult learning.
You can download the book for free on the UNESCO website.
You might also be interested in:
Resource Details
Type of resource
Studies and Reports