Teaching teachers how to teach - Interview with Thomas Tobin Faculty Developer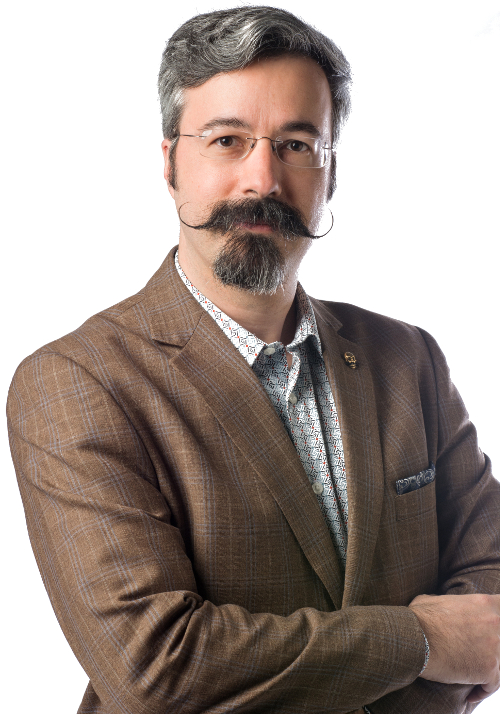 Mr. Thomas Tobin is an author, speaker, scholar on quality in higher education. He lives in State College, Pennsylvania and teaches teachers how to teach. At the University of ELTE he is teaching a PhD course in evaluation of tech-enhanced teaching and also doing a Faculty Development seminar on different ideas. He has also been doing lectures, workshops all throughout Hungary.
EPALE Hungary took the opportunity and requested Emese Schiller, university student, who was highly inspired by Mr Tobin to make on interview about his perspective on the 21st century teaching methods and instructors.
I would like to thank you for being willing to have an interview for the EPALE Platform. Would you please tell me a little bit about yourself: where do you come from, where did you study, what is your profession?
My name is Thomas Tobin, and I live in State College, Pennsylvania. For your readers who might not know where that is, think of Philadelphia in the east of the state and Pittsburgh in the west, and I am right in the middle.
I am a faculty developer: I teach teachers how to teach. I did not start out in this field, though. I began as an English-literature professor, studying nineteenth-century British literature. Early on, I had an experience that changed my whole career. As I was earning my PhD in the late 1990s, I was also working for a 2-year college in Pennsylvania, developing online programs. One of my colleagues wanted to teach his Introduction to Business course online, but he had gone blind in his forties due to complications from undiagnosed and untreated diabetes.
I was able to help him do it, but I inadvertently broke all kinds of student-privacy laws, because we had to get graduate students to read aloud to him all of the student responses in his online course. And that failure caused me to look around and think, "if I can't help him, who else are we not serving very well? People with work responsibilities, family commitments, military learners, people in rural areas who cannot come to our campus?" That really changed my whole career. I've been working in the area of extending opportunity to populations of students whom we serve poorly or not at all, ever since. And that's now 20 years ago.
That sounds very interesting. Let's talk about your current pedagogical and research field.
The research that I do: I am the person who can get you started in a number of different fields. I specialize in things that tend to scare teachers and faculty members, like academic integrity and cheating—especially when we talk about technology. Accessibility: how can we reach out to students who have barriers in their lives and help them overcome those barriers for studying? Copyright: how do we use the works that others have provided in an ethical way, and how do we protect our own copyrights when we create materials? And evaluation: assessment of online teaching and teaching with technology.
That's actually the reason that I'm here at ELTE. I'm teaching a PhD course in evaluation of tech-enhanced teaching, and I'm also doing a faculty-development seminar on all of those different areas. A third part of my work is giving lectures and workshops all throughout Hungary: I am very honored to be able to help in that regard.
Why did you decide to spend a semester at Eötvös Loránd University in Budapest?
There are two reasons why I selected Eötvös Loránd University. The first one was that Orsolya Kereszty, the Department of Education chair, put out a call for a Fulbright researcher to help with faculty development. That matched up very well with the skills that I have. Also, my wife Mary Ann's grandmother and grandfather are from Mucsány, outside Miskolc, and they came to the United States in the 1890s. The two branches of the family have not been in contact since then. My wife is here with me, and she is able to do some research into her family and really experience the culture that her family is from, so Hungary was a natural fit for both of us.
You already mentioned what kind of courses you teach. Could you please talk about them in more detail?
TT: The PhD course that I'm teaching has to do with teaching-evaluation techniques. It was initially designed as a course on evaluating online teaching. I have done more research now that I am here in Hungary, and I am realizing that there is not a lot of fully online teaching that's happening yet, so I worked with my PhD students to adjust the course to focus on both online and technology-enhanced teaching methods. We're examining questions such as: how do you know what good teaching behaviors are? How do you observe those behaviors and give useful feedback for the improvement or strengthening of teaching?
How do you give feedback if you are an administrator and you have to make employment-related decisions, like giving someone a raise in salary or asking a part-time person to come back next time? Also, how do administrators look at programs themselves in terms of their evaluation and assessment, so that your institution can start to move at the program level toward its academic goals.
The faculty-development seminar is a much more varied program. We're looking at lots of innovative ways to interact with students. Here in Hungary, one of the challenges that we perceive is that there is still a great reliance on "chalk and talk"—that Prussian method of the lecturer standing up for 60 minutes, and then you take a test. We have years of research that shows that this is not a very effective way for students to retain information. Students remember information best when they have opportunities to put ideas into actual practice, and to do that practice in a guided way with an expert near them: that's the instructor.
We're looking at things like the flipped-classroom model, peer mentoring, and active learning. Our goal is for not only the participants in the faculty-development seminar to be able to do these things themselves, but I am also teaching them how to teach other people to implement these practices. I want to turn them into secret, sneaky evangelists for active and inclusive teaching methods!
How has school and adult education evolved, and what changes have you perceived lately?
One of the things for adult learners that is really, really useful, and which I've seen open up in the last ten years, is mobile learning. 83% of all Hungarian adults have a smartphone, so if we can reach out to them in ways that give them even 20 more minutes for studying, for interaction, for practice, then that 20 minutes that they spend with their phones can be the difference between struggling and keeping up with coursework. It also frees up time when we are together, in face-to-face or synchronous remote courses, for more practice-oriented conversation and Socratic questioning.
Adult learners don't do anything unless they have a reason why. Emese, I know from your own work with adult learners, that's absolutely true. If you give them a reason—and they believe it, and they see a need—they will study like crazy. But if you just say, "oh, you need to know this, and please just study this," and there's no reason why, there's no motivation behind that, they're not going to do it.
In adult education, we can help with that motivation and "reason why" by designing interactions so that people extend their learning beyond the classroom via their mobile devices, through the framework of Universal Design for Learning, or UDL. Now, I am an advocate for people with disabilities, but I don't work only with people with disabilities. In fact, Universal Design for Learning is a framework that allows us to reach out to people who have all different kinds of barriers to learning, whether they are physical disabilities, mental challenges, or they're just time challenges, like people who have work and family responsibilities.
Could you talk about your personal experience and what changes you could predict for the foreseeable future.
One of the changes that we're seeing right now is that almost everyone has a resource in his or her pocket that gives them access to all the information that they could ever want. I can turn on my phone and say, "okay, Google, tell me where there are restaurants near me," or "tell me how to fix a broken pipe under my sink." We use our access to solve problems in the immediate moment. "I am lost. Where is the building that I need to go to?"
One of the changes that is happening is that people are no longer seeing information as this content that is located in a library, in a building, where I have to go there and find things out. Now, if you wonder who won the World Cup in 2016, you ask your phone. You don't have to wonder anymore.
With adult learning, that shift into everyday micro-learning is already happening. I predict that we're going to see people preferring to take adult-education, development, skill-based, and credit-based undergraduate courses in a more distributed way. Instead of everyone going to the building and getting the information, like a library or a class, we will go to the building so that we can contact the experts. With a library, we go to the building because the librarians know how to cut through all the information "noise" and help us find resources that are really useful, and the same thing will be true in education and adult learning. We will go to human beings because they are experts and they can help us find what we need.
We already do this. We ask our phones not only information questions, like where there are restaurants,  but we ask "where is there a plumber," because I don't know how to do plumbing, and I need someone to come help me. We use our always-on access to find other human beings who are experts. In education, we, the experts, the instructors—we become more like facilitators. We help people figure out processes and practices, and so that's a trend that I see will be very strong in the next 10 years. It's only going to increase.
What do you think are the newly emerging expectations for instructors?
We are almost one fifth of the way through the 21st century, and we have already seen three huge changes that will continue to evolve. The first change is that instructors are no longer the sole repositories of knowledge. It was not the case, even in the year 2000, and leading forward to today, that the only way people learn is for me to stand in front of you and give you the knowledge, and maybe it soaks into your heads. Adult learning and adult instruction are much more interactive now. People are coming to their learning interactions as students not content merely to sit there and listen. They want to be engaged, be active; they want to interact.
The second change that we're seeing is that our students are much more likely to want to get individual skills rather than a large degree. In fact, in the United States, we are seeing that many tasks that used to require only a high-school diploma now require an undergraduate degree. For example, if you want to take care of small children under the age of six, it used to be that you would pass a one-hour test and you would be certified. Now you have to have an undergraduate degree in childhood education. The professionalization of many tasks is pushing more people into college, but the opposite is also happening. Many people who are adult learners, they want to know how to do one specific thing. They'll take a mini-class on that, and they don't necessarily want to get a 3-credit class or take a degree in the broader field. In the United States, some of the best-paying jobs are in the trades: plumbers, electricians, brick-layers, and so forth. For a long time, so many people have been pushed to go to college that there are now fewer people going into trades, and so trades are now very  well-paid jobs in the United States. These are the kinds of learning experiences where mobile-learning and adult-learning theories best fit what learners are doing in their lives already, because they can practice on their own and then, when they come together with us as experts, they get practice with a welding torch, they get practice doing plumbing, with an expert there to guide them.
The third trend I see is related, toward micro-credentialing. Today, if you want to go to university, you can get a two-year certification, a baccalaureate degree, a master's degree, or a PhD. Right now, though, people want to be certified in things that are much smaller than these degrees. You can get a Microsoft Office user certification: you know how to use Microsoft Word, PowerPoint, and Excel, and they will certify that you are an expert in those specific skills. People want to have badges and micro-certificates, and they want to be seen as having expertise in various small areas. Learners are starting to put together their own packages of what mastery means to them, and they want to choose from a menu: I want just this skill, that skill, and the other skill. They put skills together based on their needs in the workplace, and that's an adult-learning trend that will only strengthen in the 21st century.
Thank you very much, Tom. It was a pleasure to speak with you!