Marica Ognjenovic: the comfort zone to which I strive to belong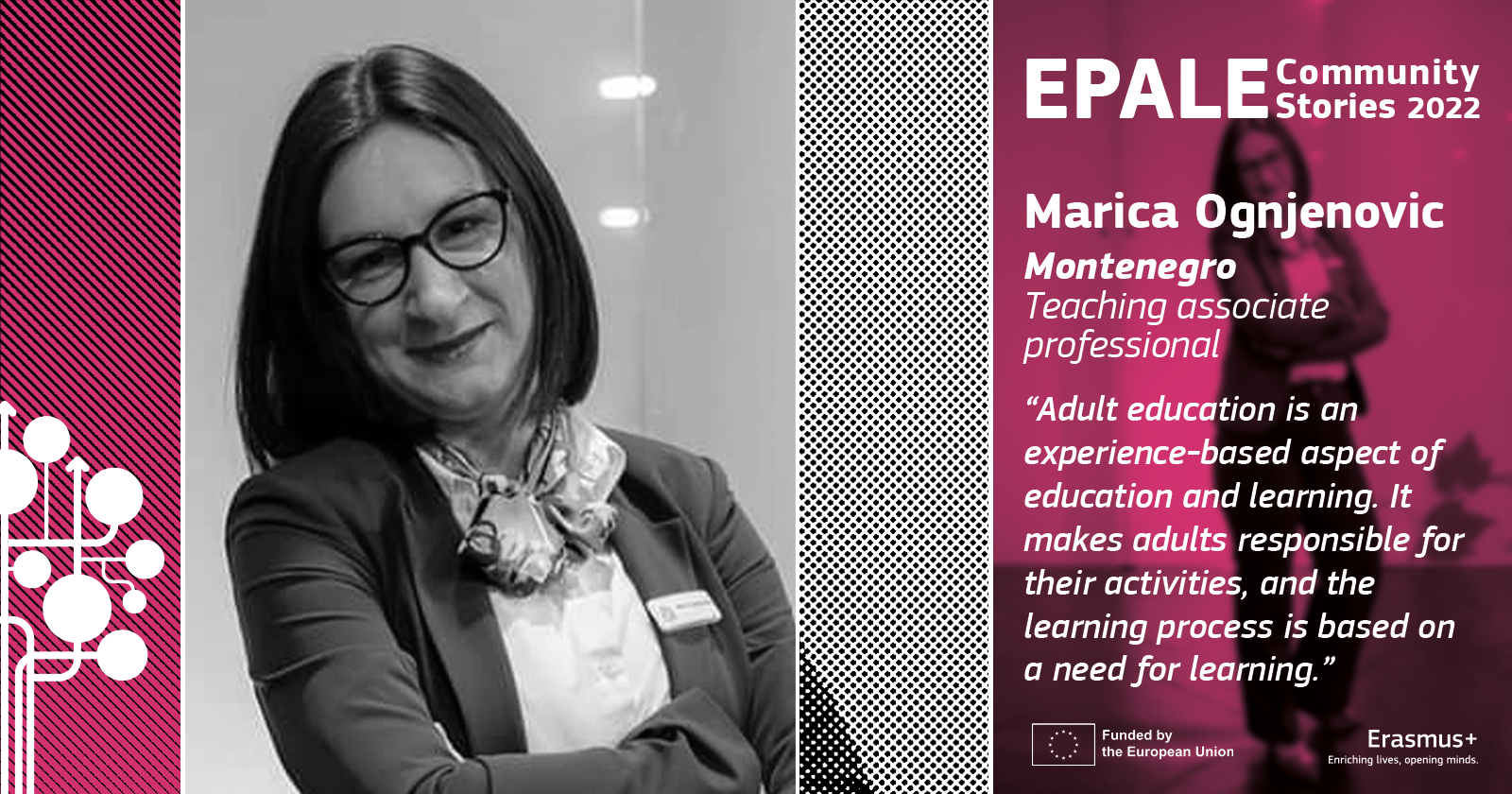 Short bio
I have a master's degree in pedagogy and am employed as a professional associate at a school. I associate my professional interest with the field of pedagogues at school with continuous professional development. Adult education is a special area of ​​interest for me, and I see working with adult students as a valuable experience.
My story
Learning resembles upstream paddling – when you stop doing it, you immediately go backwards... Lao Ce
When I looked back to try and identify my first contact with adult education, I realized that it was the day I obtained my pedagogy specialist university degree. It was the moment when I became aware that although I had completed formal schooling, it was just the beginning of my life-long learning and education process.
Immediately entering the world of labour put professional development in focus, since it is primarily related to adult education and learning. I have been attending training and learning, and have realized that it's actually the segment of education that particularly interests and motivates me to learn and do, and thus to develop professionally.
In 2016, I became part of EPALE Montenegro, and this made me intensely grasp and study adult education contents. Being chosen to be a member of the EPALE ambassadors' team, meant I was faced with numerous challenges because this was the first year of the project being implemented in Montenegro and something completely unknown to me. T
here was a multitude of opportunities for professional development, ranging from the situations where I learnt from the most distinguished professionals in my area to the occasions where I was on the opposite side, in the role of the presenter sharing the knowledge. All of these situations made me aware that it was exactly what I wanted – to transfer my knowledge and experience to adults.
From that moment, I have been incessantly exploring and searching for opportunities for a further professional upgrade in order to find personal satisfaction and present myself in the best possible way to my audience. The feeling of ease, enthusiasm and motivation indicates that adult education is the comfort zone to which I strive to belong.
Adult education is an experience-based aspect of education and learning. It makes adults responsible for their activities, provides them with a certain freedom of work along with clearly defined rules, and, generally speaking, the learning process is based on a need for learning.
If we observe what the learners do during various training, we may see how different they are on one side, and how motivation for further upgrade unifies them and brings a special value to their joint work. It is exactly the motivation of learners that differs between adults and youth, as it is based upon a voluntary decision and clearly defined goals. This is what makes me eager to work on myself in this area and regard it as a significant part of my professional pathway. The readiness of adults to learn, work and develop represents an exhaustive source of motivation for adult learning professionals in all future joint work and learning opportunities.
Being a trainer in adult education has taught me to evaluate myself at the end of each working day so as to examine my performance, the good and the bad, and to identify room for improvement. Evaluation and self-evaluation prepare me for future situations and provide guidelines and sometimes even the solution for forthcoming work challenges. Precise analysis of my own work, comprising of strengths and weaknesses, has influenced not only my professional life, but also my personal and family life. I realized that I made progress in various life roles – daughter, sister, spouse, mother, friend, colleague, etc.
The benefits of adult education are evident and this story serves as a reflection of what remains to be further explored and upgraded, because adult education and lifelong learning ensures continuous progress and self-improvement.