Henrik Zipsane, a Community Story from Sweden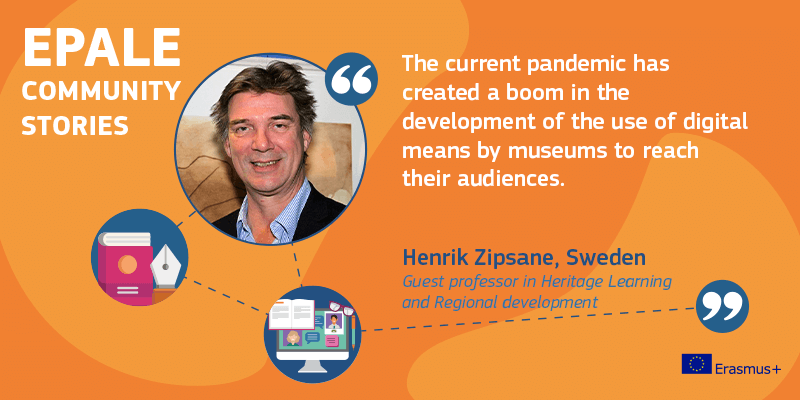 I was born in 1956 and I have been the director of the European Museum Academy since 2019. I was CEO of the Jamtli Foundation (2002-2019) - a heritage organisation in central Sweden which runs one large and three smaller museums. In 2005 I was co-founder and then senior researcher at The Nordic Centre of Heritage Learning & Creativity– a R&D organisation for learning through heritage engagement. I was also Director for Farum Local Archives and Museums in Denmark 1987-2001.
I am a guest professor in Heritage Learning and Regional development at Linköping University and an associate expert of Pascal Observatory at Glasgow University as well as an associate at the European Expert Network on Culture. I am an expert on culture and adult education for the European Commission and Swedish Government.  I have been a board member of Culture Action Europe and the European Commission Dialogue Platform on Access to Culture and hold a PhD degree in Education and History from The School of Education, Aarhus University. In recent years my research has primarily centred on issues related to the use of heritage in regional development and lifelong learning.
I have been working with adult education in cultural heritage organisations for many years and have also participated in several projects within programs under the European Union and the Nordic Council.
I found out about EPALE in 2016 through the Swedish National Agency. I have been active on EPALE since 2017. I have primarily used EPALE to keep up to date on trends and developments which has been important in my job. I am very pleased that the website is now working so efficiently. It is so important for getting more colleagues active on EPALE; the more activity and the more active colleagues, the more valuable EPALE will be.
Lessons from the Coronas – Interesting Museum Education
Colleagues at museums all over the world have mostly been closed for a number of months now. Besides the problems and challenges with employment and financing that comes from that, museums are also not used to not being filled with the general public. After all, they exist for the people. Together with colleagues at the University of Padua and the University of Glasgow, the European Museum Academy is monitoring how museums respond to the Covid-19 situation by using technology. We have of course only been working on this initiative for the last two months, but there are already some interesting observations which may point to innovative museum features in the future.
First, all museums are now more active than ever on the web and on all kinds of social media outlets. The current pandemic has created a boom in the development of the use of digital means by museums to reach their audiences. The boom is significant in size and it could be argued that the Covid-19 pandemic has done more for the digital development of museums than the many programmes and projects over the last two decades. Most digital  initiatives implemented by museums are about making their collections easily available on their websites. This, of course, can be done in many ways. However, what strikes me is that the initiatives which take note of the demand for interactivity and participatory governance, are as important as ever if museums are to stay relevant for the people at large and not only for a limited elite.
An interesting example of the digital outreach initiatives in a classical atmosphere of a museum are the visits by the director of Design Museum Denmark in Copenhagen – Anne-Louise Sommer – to the museum archives. She shows the audience some drawings and water colour paintings by Finn Juhl. The visit was recorded and is now available on YouTube. The director talks clearly about a part of the collection. The museum has produced a number of similar guided digital tours on specific items in the collections in which specialists tell the story of the item and re-create its historical context; something so important in the classical museum experience.
It is simply great! I am sure that other museum enthusiasts like me will love it too.
But for the public this is an offer like any other on TV where you watch what you want to watch when you want to watch it, but you have no influence on the content, you are not part of the production and you may be left with questions unanswered.
A completely different type of digital offer is the 360 degrees museum experience at Rijksmuseum in Amsterdam produced by Q42. Here, the digital visitor can move around the galleries and experience the collections through the amazing eyes of a robot camera. Here you can look at paintings at your own pace and spend more time in one gallery than another as you choose. It is really the visitor who is in charge, and again this may be great for the visitor who is already passionate about what can be experienced. But the visitor is left alone, with no guidance or only passive guidance in the form of texts.
In the good old days before the Covid-19 pandemic when museums had real visitors in the flesh and blood, the most popular museums which attracted a public with a broad range of genders, ages, cultural backgrounds, educations, and social backgrounds, were those which offered some kind of interactivity. This was most often in the form of screens or other digital devices in the exhibition rooms which could bring the pieces to life at the click of a button and which allowed the visitor to scroll and search, among other things. They could ask questions which the exhibition could answer, thereby creating an inclusive environment. In other museums real people – maybe even in costumes – met the visitors. Bringing history to life like this has become increasingly popular in museums throughout the world and not least in the popular open-air museums and archaeological parks. But how can this kind of interactivity be integrated in a digital museum visit? Mostly we have so far seen a quantitative explosion in the use of digital outreach in museums. However, during the Covid-19 pandemic a number of interesting ways to include the public have immerged.
An interesting example is the Museum of Childhood Ireland initiative where children are invited to produce and deliver illustrations based on a theme which changes each week. They then present them at a digital exhibition on the museum's website. This way the visitors are also co-producers of the exhibition and the children are as proud of themselves as their parents. Inviting the public to contribute need not to be restricted to children.
Another interesting example moves further towards bringing the best of an analogue museum experience into the digital realm. At Randers Regnshov (Randers Rain Forest) in Denmark they have offered biology lessons through Facebook to all school classes. It has been a great success with school classes from the whole country taking part. During the lesson the pupils or their teacher send text messages to the museum lecturer who can then answer their questions in real time and he/she can then ask for reactions from the audience in real time too. This gives the museum visit the features which are otherwise missed in a digital setting; it is real life, it is interactive and it provides the opportunity for the museum to be in direct contact with its visitors. This is clearly a breakthrough in the use of technology and it will be interesting to see how this can be further developed as such findings emerge elsewhere. This educational offer need not be exclusively for formal education or one target group. There is no reason why a group visit offering informal learning for adults cannot be executed in the same way or why the museum cannot offer non-formal lessons for integrational purposes to immigrants or provide interesting experiences.
The Covid-19 pandemic has brought many unfortunate experiences but maybe – just maybe – there might also be a few positive lessons to take away from 2020.
Distance learning can be developed further, and it is interesting to see that museums are slowly but surely making innovative and exciting efforts.
---
We're looking forward to hearing your story. Share your story today!