Chapter 1 on Key policies to master change and digitalisation

1. Introduction: The need for digitally inclusive policies
This section intends to give an overall introduction to the different themes and concepts used in chapters of the OER. Firstly, it provides a short rationale to the need for digital inclusion programs and policies by outlining some of the recent changes concerning digital transformation of work and learning. Secondly, the term digital literacy is introduced briefly as conceptualised by the UNESCO. Finally, the section closes with some implications of the above-mentioned recent changes on assessment procedures.
1.1 Digital transformation of work
Digitalisation permeates all areas of people's lives. Public services are increasingly offered online. There are hardly any professional activities that do not require the use of some form of digital device and the world of work is changing dramatically in the course of digital transformation.
More and more jobs require digital skills. A new OECD taxonomy reveals that highly digital-intensive sectors were responsible for the creation of around 40% of the 38 million jobs added in OECD countries between 2006 and 2016 (OECD, 2019).
"Around 170 million people or 44% of adult Europeans have low or no digital skills. Lack of need or interest and insufficient skills are the top reasons for not getting internet at home. Although most jobs currently require basic level of digital skills, 26 million workers or 11% of the EU's labour force in 2016 still had no digital skills (down from 13% in 2015)" (European Commission, 2017). 
For further reading
The vast majority of people in European countries are now online and use web-based services to retrieve information, make and maintain social contacts, order goods, etc.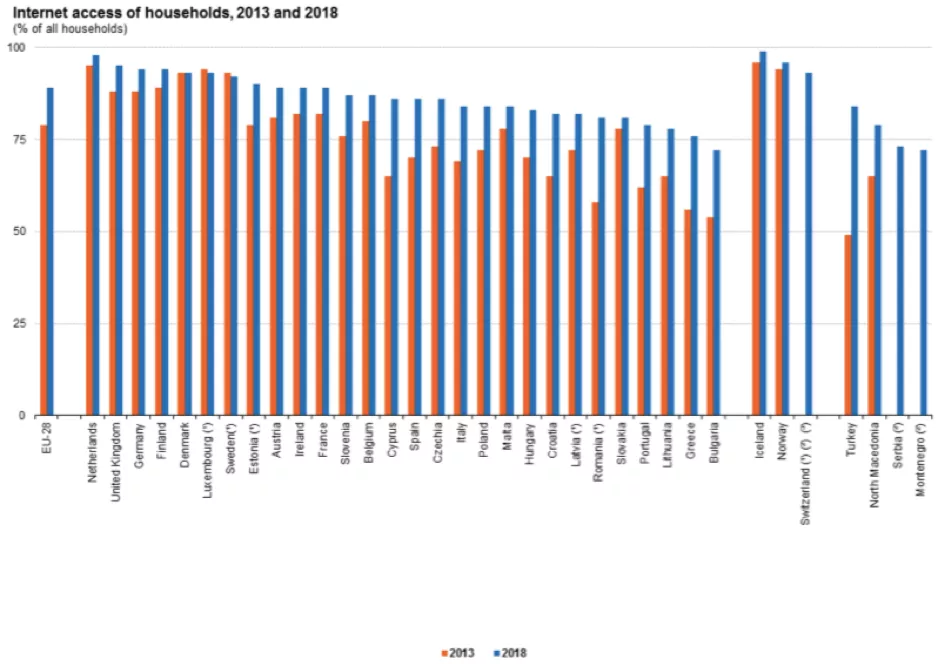 Figure 1. Internet access of households, 2013 and 2018 (% of all households) Source: Eurostat (isoc_ci_in_h)
The ongoing shift to a growing online presence must be managed and mastered so that people at risk of social exclusion in the EU are involved and able to understand (and ideally shape) processes of change and the challenges involved. A significant concern for example, is that many people lack basic knowledge about how to protect their data on the internet or how to assess the quality of the information sources they are accessing.
While the majority of the European population regard the digitalisation of in economy and social life as an overall positive development still many people see (and experience) dominantly a negative effect of digitalisation on the quality of their lives. Seven in ten Europeans share a pessimistic outlook when it comes to the impact robots and artificial intelligence have on jobs (Special Eurobarometer 460). Although a minority think their job could be done at least in part by a robot or artificial intelligence, three quarters of the respondents in the study were convinced that digitalisation causes the loss of more jobs than being created, less were comfortable with the idea of having a robot assist them at work than they were in 2014.
1.2 Digital literacy as a life skill
Digital literacy is a life skill, involving the 'consumption' and production of digital media content, information processing and retrieval, sharing knowledge and the professional use of computers and software in the workplace. Digital inclusion refers not only to the development of digital literacy itself, but also to the general inclusion of low-educated adults into training programs and cultural offers that are computer-supported and online. The competences described above are pre-requisites for access to educational opportunities and knowledge. Social participation and lifelong learning are increasingly linked to access to resources made available online. The goal of inclusion programs, thus, is not only to enable individuals to develop knowledge, but also to increase their potential to fully participate in their local community as well as in the society.
As part of the DigComp frameworks the European Commission has presented a description of key competences which should ideally be available to all citizens in order to support them in moving confidently in the digital world. UNESCO also compiled a list of skills for ICT literacy (as UNESCO puts it), technological literacy and information literacy that are inter-related and form the concept of digital literacy as a life skill:
"Digital literacy is a life skill because it targets all areas of contemporary existence" (UNESCO 2011, p. 2).
Policy-makers need to take a strategic approach towards the provision of integrated basic skills & ICT-related competences in order to mitigate the challenges of digital inclusion and social cohesion.
1.3 Skills needs and the assessment of digital competences
Automatisation and digitalisation are increasingly referred to as a process by which computers substitute workers performing routine cognitive and physical tasks but complement them when performing non-routine problem-solving tasks. This is one of the central findings of the OECD Skills Outlook 2019 – A digital world of work: Transformations of occupations and the implications for skills needs.
Restructuring the world of work involves decentralised decision-making, widely shared information, flexible work arrangements and collaboration in project teams. This requires an increased role of ICT in the workplace and workers who respond flexibly to complex problems, communicate effectively, manage information, work in teams, use technology and produce new knowledge. These capabilities are rarely measured with typical assessment tools. Besides digital strategies and policies that are focused on normative assessment criteria, there should be an emphasis on self-assessment mechanisms to increase motivation to participate and learn and awareness on the learning process.  
Successful didactic settings integrate digital tools into existing or newly-emerging innovative programs for the benefit of learners and teachers at the same time. Frameworks and assessment tools e.g. DigCompEdu highlight the need for digital skills to be integrated in teacher education and training. It is inevitable that didactic integration of digital tools and assessment practices involve sustainable funding schemes, quality tools with the commitment by teachers and institutions.
2. EU's digital policy context
The second part of the first chapter is concerned with the major policy initiatives and tools. It presents the context of the Digital Single Market strategy and the New Skills Agenda for the EU (especially the Digital Skills and Jobs Coalition; Upskilling Pathways) as two of the major policy schemes concerned with digital skills, digital transformation among others. This section also provides resources about policy design and implementation that are directly related to inclusive digital innovation strategies and digital inclusion.
Digital Single Market
The European Commission has set itself the ambitious goal of a Digital Single Market in order to further integrate the EU member states and put Europe in a good position for the digital age. Digital tools should be made available to provide digital public services across borders so that citizens and businesses alike benefit from eGovernment. The availability of public services online, digital standards and access to services increases the mobility of the European population. In order to achieve truly digital European societies, however, the digital skills of the population as a whole must also be developed. If the Digital Single Market is to bring "innovation, growth, jobs and European competitiveness", there must be enough skilled workers in the labour market to support the transformation.
The spread of digital "is leading to the need for every citizen to have at least basic digital skills in order to live, work, learn and participate in the modern society" (EU COM). For more information on the initiatives regarding eGovernance visit the EU Commission's website for eGovernment and Digital Public Services.
New Skills Agenda for EU
The New Skills Agenda for Europe was adopted by the European Commission on 10 June 2016. It launched 10 actions related to training, skills and support that are available to EU citizens. The goals and actions on the Agenda are set out in the Communication: A New Skills Agenda for Europe.
Digital Skills and Jobs Coalition
The Digital Skills and Jobs Coalition
brings together Member States, companies, social partners, non-profit organisations and education providers, who take action to tackle the lack of digital skills in Europe. It is targeting the development of digital skills for all and especially the European work force and unemployed youth. Among the goal of the coalition is also the transformation of teaching and learning of digital skills in a lifelong learning perspective, including the training of teachers (digital skills in education).
Upskilling Pathways
Digital Economy and Society Index
A useful analytical tool is provided by the Digital Economy and Society Index (DESI), a composite index summarising relevant indicators on Europe's digital performance and tracking the progress of EU Member States in digital competitiveness. Its section on "Human Capital" concludes that 45% of the EU population suffers from insufficient digital skills. Visit the website under the link above to find out more about DESI, and read the 2019 DESI report with special focus on Human Capital – Digital Inclusion and Skills.

Figure 2. Digital skills of the EU population in 2017. Eurostat.
3. Building inclusive policies
This section is dedicated to resources provided by EBSN and international experts addressing the policy level from a practical perspective with an emphasis on inclusion and implementation. The European Basic Skills Network is committed to supporting the formation of inclusive and sustainable basic skills policies through its various activities, in line with the Upskilling Pathways recommendation of the European Commission.
Follow the link to this section. 
Points for reflection
Check the country-specific data for your home country in the context of DESI. What segments of your country's population have no or low basic digital skills? Who uses computers or other digital equipment in the workplace?
Identify the members of the digital skills and job coalition in your country via this link.
What do you know about your country's activities and policies for digital inclusion? Do they specifically relate to the Upskilling Pathways initiative?
Do you know of any initiatives in your country that are directly addressing the digital inclusion of adults?
How can the actions of the New Skills Agenda support the inclusion of adults in your country?
Recommendations for further relevant resources are welcome in the comment section below!
The Capacity Building Series of EBSN provides free open educational resources (OERs) and massive online courses (MOOCs) through EPALE, to help the implementation of the European Commission recommendations on Upskilling pathways in EU Member States. EPALE is funded by the Erasmus+ programme, as part the European Commission's ongoing commitment to improving the quality of adult learning provision in Europe. The project is implemented with the support of the Education, Audiovisual and Culture Executive Agency (EACEA).
Continue here!Back to main pageChapter 2