New Digital World - online conference by SGH: Warsaw School of Economics
to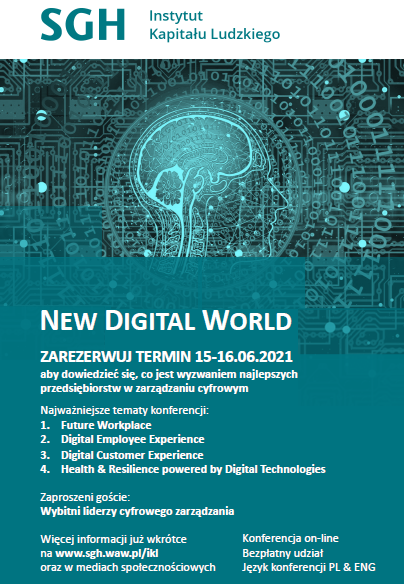 Meet international leaders of digital management and transformation! Take part in an online conference about:
Future Workplace,

Digital Employee Experience,

Digital Customer Experience,

Health & Resilience powered by Digital Technologies,
Held by the Institute of Human Capital, Warsaw School of Economics. Subscribe to get most recent information regarding this event. No admission costs.
AGENDA
DAY 1
12.00-12.15 Welcome speech | Inauguration
Prof. Piotr Wachowiak, Ph. D. – Rector, SGH Warsaw School of EconomicsProf. Gabriel Główka, Ph. D. – Dean of Collegium of Business Administration, SGH Warsaw School of EconomicsProf. Agnieszka Wojtczuk-Turek, Ph. D. – Director of the Institute of Human Capital, SGH Warsaw School of Economics  
12.15-14.00 Module I: Digital Customer Experience
Key Note Speaker:
Digital Customer Experience – a Practitioner's View [speech in English]Sonia Wędrychowicz-Horbatowska – Partner McKinsey & Company Middle East Office
Discussion panel:
Kamila Kaliszyk – Vice President, Head of Commerce Business Development, Mastercard EuropeAnna Kania – Marketing and Retail Sales Director, DHL Parcel Polska
Mikołaj Wezdecki - E-Commerce Director, eobuwie.pl
Speech: New Digital Champions: how startup factories build companies of the future, Tomasz Rudolf – Executive Chaiman, The Heart
Leader: Rafał Łąbędzki, Ph. D. – Institute of Human Capital, SGH Warsaw School of Economics  
14.00-14.30 Well-being break  
14.30-16.30 Module II: Digital Employee Experience
Key Note Speaker: Transformation of the Microsoft Culture, Paweł Jakubik – Board Member, PL CLoud & Digital Leader, MicrosoftDigital
Employee Experience – Best Practices:
Barbara Korczyńska – HR Services Experience Director, Abbott, Digital HR Champions Network
Cezary Mączka – HR Director, Budimex, Digital HR Champions Network
Speech: The voice of Z generation, Students of SGH Warsaw School of Economics  
Leader: Dariusz Danilewicz, Ph. D. – Institute of Human Capital, SGH Warsaw School of Economics 16.30-17.00 Summary: Day 1 John Guziak – Partner Human Capital, Deloitte
DAY 2
12.00-12.10 Warm-up | Introduction
Team of the Institute of Human Capital, SGH Warsaw School of Economics  
12.10-14.00 Module III: Future Workplace
Key Note Speaker:
Distributed Work Success: The Future Is Now, Philip Vanhoutte – Co-Founder of the European Smart Work Network
Speech:
Workspace of the Future – mindset change
Tina Sobocinska - HR Transformation Leader & Digital HR Champion Network Leader
Future Workplace – Best Practices:
Workplace of the Future - Żywiec Group Case Study
Andrzej Borczyk – HR Director, Grupa Żywiec
Speech: Olgierd Cygan – Filmteractive Founder
Speech: Responsibility and risks of managers at work in the hybrid model, Monika Drab – Legal Advisor  
Leader: Prof. Tomasz Rostkowski, Ph. D. – Institute of Human Capital, SGH Warsaw School of Economics  
14.00-14.30 Well-being break  
14.30-16.30 Module IV: Health & Resilience
Key Note Speaker:
Sylwia Dębińska – HR Director, Deloitte
Health & Resilience – Best Practices:
Agata Kaczmarska – HR Director, dentsu Aegis
Jacek Jedut – HR Director Orange
Health & Resilience – research conclusions and recommendations
Team of the Institute of Human Capital, SGH Warsaw School of Economics  
Moderator: Prof. Agnieszka Wojtczuk-Turek, Ph. D. – Institute of Human Capital, SGH Warsaw School of Economics  
16.30-17.00 Summary: Next Steps of Digitalization, Jowita Michalska – Digital University
Event Details
Organiser type
Other event
Entrance fee
No admission costs