Erasmus accreditation: new brochure out now!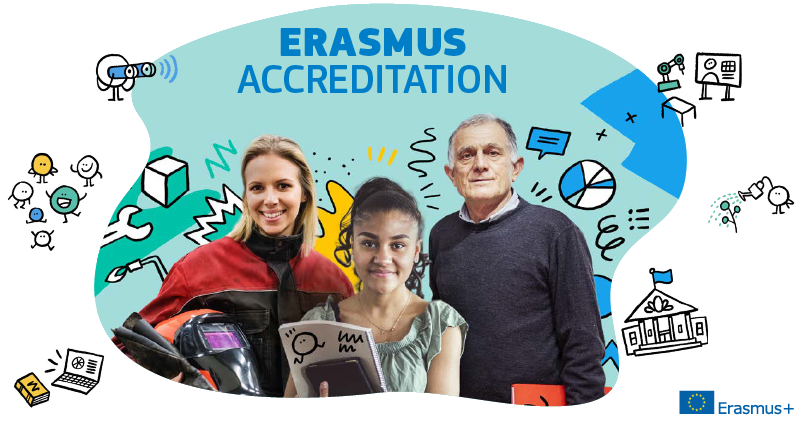 Launched in 2014, the Erasmus+ Programme has created numerous opportunities for mobility and cooperation in education, training, youth and sport. It has provided valuable skills and experience to participants, and helped to modernise education, training, and youth work across Europe. The new Programme (2021-2027) aims to be even more inclusive, accessible, and sustainable. Important goals include supporting the digital transition in European education and helping to build the European Education Area. To achieve these objectives, the new Programme has been designed to be easier than ever for organisations to access. Erasmus accreditation is crucial for this objective. Erasmus accreditation is a new way to access mobility activities under the new Programme. Erasmus accreditation gives organisations access to learning mobility opportunities under the Programme's Key Action 1. Key Action 1 supports organisations in delivering professional and personal development opportunities for learners, teachers, trainers and other education staff.
Let's discover how accreditation works, who can apply, and what the benefits are!
Each Erasmus accreditation covers one of three fields of education:
Adult education
Vocational Education and training
School education
Supported activities
Staff mobility in school education, vocational education and training, as well as adult education
Mobility for learners in vocational education and training
Group and individual mobility for pupils in school education
Who can apply?
Applications are open to organisations from Programme Countries. This includes all European Union Member States, as well as a number of other countries that have joined the Programme. A full list of Programme countries and their National Agencies is available here: www.ec.europa.eu/programmes/erasmus-plus/contact
What are the benefits of accreditation?
To be accredited, organisations need to create a plan to implement high-quality mobility activities and use them to improve their education and training offer. Once accredited, organisations can take advantage of the following benefits:
stable funding
making your own strategy
investing into the future
opportunity to grow and explore
Want to know more?
Further information and resources are available below
The Rules of application https://ec.europa.eu/programmes/erasmus-plus/calls/2020-erasmus-accreditation
The application form: https://webgate.ec.europa.eu/erasmus-applications
National Agencies: http://ec.europa.eu/programmes/erasmus-plus/contact
Have a look at