Flipping the classroom

"Flipping the classroom" has become something of a buzzword in the last several years, driven in part by high profile publications in The New York Times (Fitzpatrick, 2012); The Chronicle of Higher Education (Berrett, 2012); and Science (Mazur, 2009); In essence, "flipping the classroom" means that students gain first exposure to new material outside of class, usually via reading or lecture videos, and then use class time to do the harder work of assimilating that knowledge, perhaps through problem-solving, discussion, or debates.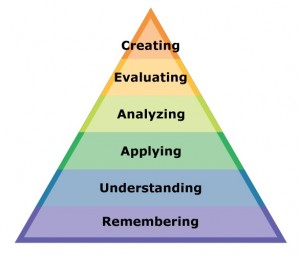 In terms of Bloom's revised taxonomy (2001), this means that students are doing the lower levels of cognitive work (gaining knowledge and comprehension) outside of class, and focusing on the higher forms of cognitive work (application, analysis, synthesis, and/or evaluation) in class, where they have the support of their peers and instructor. This model contrasts from the traditional model in which "first exposure" occurs via lecture in class, with students assimilating knowledge through homework; thus the term "flipped classroom."
CFT Director Derek Bruff has a good blog post on flipping the classroom with some great embedded references. Find it here: http://derekbruff.org/?p=901.