Corporate Social Responsibility – Fostering environmental responsibility at work

A new decade and greater Corporate Social Responsibility
2019 has been a year of change and progression for environmental causes – the likes of Extinction Rebellion has helped to push environmental responsibility to the top of the political agenda. The impact that business activities can have on the environment are vast and for the most part very negative. Businesses are expected to take responsibility for their actions and do their best to limit negative impact and education providers are no exception. This blog post will consider the positive changes organisations can make, both big and small, to support the environment and set a good example.
Customers and clients are becoming increasingly aware of their own impact on the environment, frequently choosing to give their custom to businesses that drive Corporate Social Responsibility (CSR). CSR requires businesses to think responsibly about their impact on philanthropic causes, wider society and the environment. Businesses that prove they value CSR can benefit greatly from a boost to their public image, increased custom and partnerships with likeminded organisations.
Small steps for businesses mean big steps for the environment
Even making the smallest of changes can have a big impact. There are many different approaches that businesses can take to onsite processes, for example by aiming to reduce printing and recycle more paper waste. Many organisations have made a move to digital appliances, sending digital files as opposed to print ones and taking laptops to meetings in place of paper and pens. Research recycling businesses that can come and collect the paper waste and dispose of confidential documents safely, whilst still giving maximum benefit to the environment.
Swap your current leading hot drinks brands for fairtrade ones – these tend to be responsibly sourced, ensuring that the land used to grow the ingredients is sustainable and will continue to yield for years to come – this not only benefits the environment, but also ensures you are supporting less fortunate people to develop a livelihood.
Galvanise colleagues to make personal positive changes – introduce or better promote cycle to work schemes. Enable employees to receive a loan from the company to buy a bicycle; reducing the number of vehicles on the road will reduce the carbon footprint whilst also encouraging employees to positively impact on their own health. The environment outside of the office will improve thanks to reduced pollution. Loans for public transport, such as season tickets for the train or bus, will also encourage colleagues to ditch the car and reduce their carbon footprint.
Team building and green thinking
Incorporate CSR initiatives into team building activities, which can help to promote a unified attitude towards environmental responsibility. The possibilities here are endless, but there are many things you can do with colleagues. Consider getting out of the office in the open air and doing something that will instantly impact on your surrounding environment, for example litter picking or clear ups focused on particular areas. You could increase impact by asking friends and family of colleagues to sponsor them and then donating the money raised to an environmental cause of your choosing.
Another excellent choice of activity is tree planting. Many businesses now support tree planting with every sale of an item – one example is Etnies, a footwear company that plants one tree for every pair of shoes sold. However, you could choose to support tree planting by organising out-of-office planting sessions, allowing colleagues to take the morning or afternoon out to give time to charitable causes.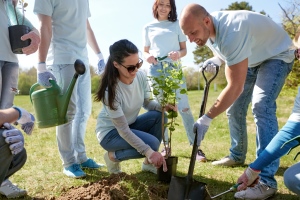 Painting playgrounds and building green spaces is another option – this will encourage children and adults alike to get outside and enjoy nature. Consider approaching schools and the council to identify a suitable location. You could also improve green spaces around the workplace – install outdoor break out areas and turn unused roof spaces into beautiful roof gardens.
Most companies sponsor a charity each year, or several, splitting funds raised between them. Make one of your choices an environmental charity and hold fund raising events throughout the year. Events could come in the form of sponsored sports or endurance challenges, bake sales with cakes donated by colleagues and book exchanges.  
2020-30 – the green decade
2020 ushers in a new decade that will surely see businesses and consumers alike taking greater responsibility for the environment and organisations should ensure they are not left behind. Having a positive attitude only benefits companies and contributes to the sustainability of their own custom. Ensure that you communicate the changes you will be making to staff early in the year, proving that you prioritise positive environmental impact and ensuring that everyone is on the same page.
To maximise positive impact for your business' success, be sure to communicate changes to customers too – utilise social media and direct mailing to notify them of your CSR initiatives and keep them up to date with fund raising progress.
You might also be interested in: