Exchange ideas and create networking opportunities with individuals or organisations through the EPALE Partner Search. 
Get involved! Share your ideas, curricula, or set up project partnerships. 
Add your organisation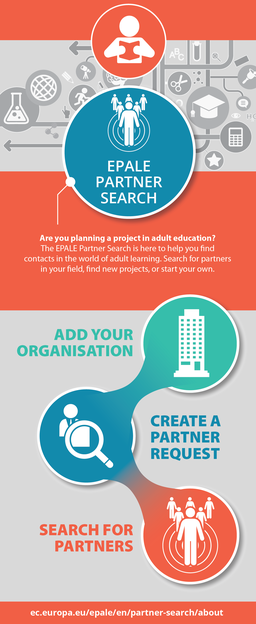 Interested in collaborating with others from across Europe but don't have a specific idea yet? Add your organisation to the EPALE Partner Search to raise your profile and make others aware that you are looking to get involved in pan-European cooperation.
Top tip: Add as much information as possible about your organisation and the type of activities you are involved in to help others find you.
Add a partner request
The EPALE Partner Search helps spread the word – whether you would like to share an example of good practice with peers, start a project, or you just have a great idea to shout about!
Create a partner request to build networks with Europe's adult learning community by inviting others to contact you and get involved.
Top tip: Be as specific as possible. It helps build trust. Outline your needs, what type of collaboration you would like to be involved in and what you expect from your potential partner.
Search for partners
Use the EPALE Partner Search to find organisations and individuals who are interested in collaborating with you. Search by country, activity and organisation type to find your ideal partner.
Top tip: Refine your search further by using the advanced search to look for key topics of interest.
---
Disclaimer: EPALE does not endorse the organisations listed in the Partner Search, any views they express or any services they offer. All links are provided as information and we cannot take responsibility for the content of external websites.
If you decide to partner with any of these organisations, the contract will be directly between you and the relevant organisation, and EPALE will have no contractual involvement.
If you have concerns about any content on EPALE, please contact us at helpdesk@epale-support.eu.