EPALE focus: Social inclusion of the ageing population and intergenerational learning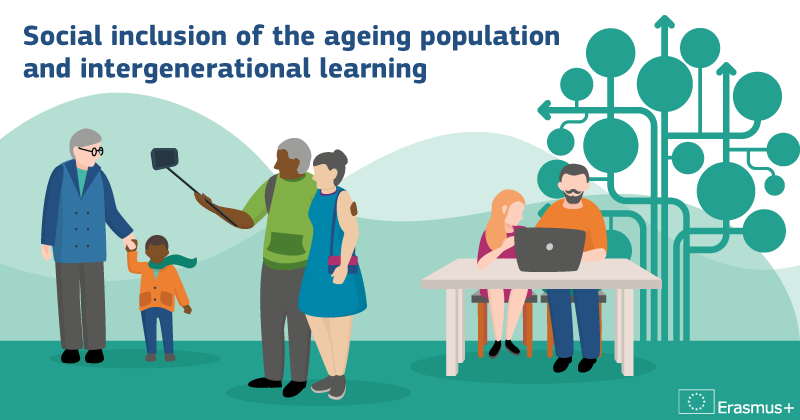 In the context of demographic change throughout Europe, older people are a large and growing part of the European Union's population. It is therefore crucial to provide high quality learning opportunities for older people, and to include them in strategies of lifelong learning and active participation in society.
According to the WHO's Active Ageing: a Policy Framework, population ageing is one of humanity's greatest triumphs, as well as one of its greatest challenges. Global ageing will put increasing social and economic demands on all countries. Countries can afford to have ageing populations if governments, international organisations and civil society enact active ageing policies and programmes that enhance the health, participation and security of older citizens – states the World Health Organization.
To facilitate the integration of older people in society we need to pursue opportunities which fully develop their potential. Senior citizens should have access to the educational, cultural, and civic resources of society. They need to be able to fully participate in societal life and be active, autonomous, and healthy as they age.
Therefore, the lifelong learning needs of older learners should be a priority for education providers who need to develop high quality and specific training programmes.
Intergenerational learning can contribute to social cohesion by promoting cooperation between different generations. Many intergenerational initiatives and practices have been seen in recent years, and the opportunity for cooperation between generations is increasingly acknowledged as a way of pursuing an inclusive, dynamic and fully democratic society.
It is in this context that we present the fourth thematic focus of 2020:
Social inclusion of the ageing population and intergenerational learning.
Do you work with older learners?
What target groups do you work with?
Do you know of policies, strategies and initiatives that target older learners in your country, region or city?
Who do they focus on?
What do you think needs to happen to make sure that adults remain active members of society as they age?
Share your experience with our community! You can do that by publishing content on our blog, newsroom, event calendar and resource centre!
On 28 October 2020 we have also run our Online discussion.