ProAge: Active and Healthy Seniors
The publication Active and Healthy Seniors is a useful tool for healthy and active ageing with beneficial information and tips on nutrition, exercise and the importance of social networking, for anyone looking to improve their lifestyle or engage with older people more actively. It is part of the international project Preparation for Active Ageing, supported by Erasmus+, and is one of the four modules. In the spirit of lifelong learning, they together form an informal curriculum for the conscious preparation for active ageing, which also covers the field of computer literacy in old age, cultivating volunteering for all age groups, and advice to family members of patients with dementia, especially Alzheimer's disease.
Over the past 30 years the world has seen a marked change in viewing the elderly age group differently than before. The new social policy concepts are claiming that older adults should be treated differently. Instead of seeing them as a burden the new approach rather emphasizes the new possibilities offered for the involved generations. The 'active ageing' concept has been widely promoted since the 80s by national and international organisations.
Our Erasmus+ project "Preparation for Active Ageing" offers complex curricula for different generations, social groups and individuals to get prepared to the new stage of life.  People, being in different life situation may find appropriate knowledge, inspiration and help for their questions in this adult learning material.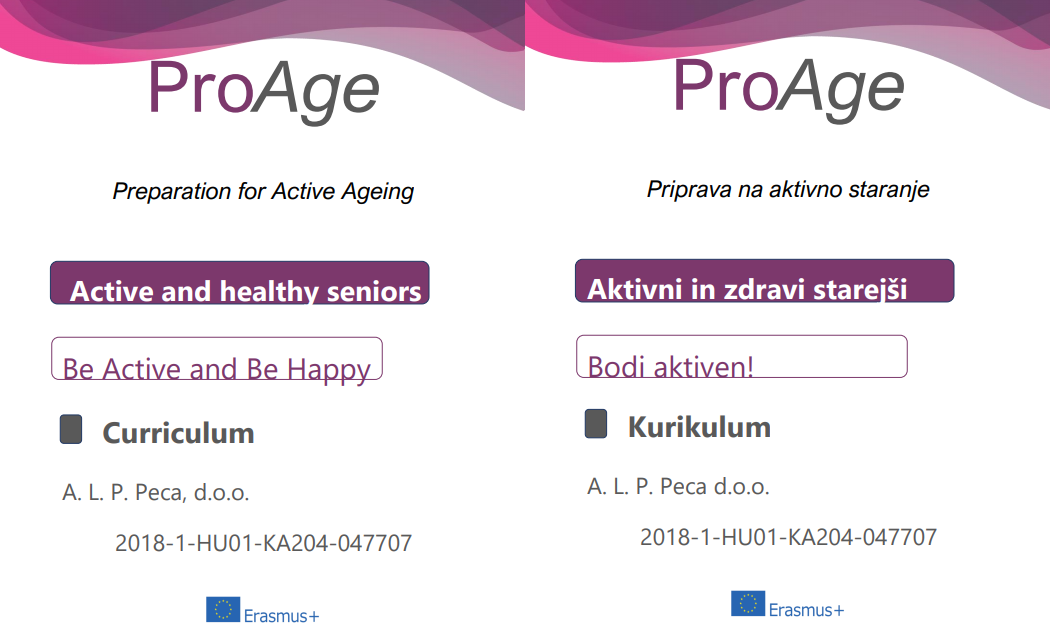 The first volume of the curricula is about IT teaching and learning in elderly age. Our module's significant feature is that it pays special attention to the characteristics of the elderly age group. The content and the teaching methods of the volume are adapted to the special needs and learning pace of the elderly.
The second volume gives examples, best practices and instructions for all age-groups concerning voluntary activities. Being involved with community activities, and volunteering will enhance social engagement and well-being of anyone. Joint experiences with different generations is one of the best ways to fight against loneliness and depression.
The third volume shares knowledge and provides advice on how to maintain or build up new habits for healthy lifestyle, useful leisure activities, nutritional advices and recreation possibilities. This volume also highlights those roles that would promote the preparation for active and sound elderly ageing.
The fourth volume brings up several good practices on cooperation of generations. It focuses on  dementia symptoms and offers practical knowledge for those facing a close family member's path toward to the illnesses of  Alzheimer or other forms of Dementia.
The four partners intended to reveal and present such knowledge and activities, which are increasingly needed in ageing societies and are not - or hardly - accessible by formal learning methods.  The four partners are - Alsómocsolád Local Government Hungary, XVth. District Goverment of Budapest Hungary,  A.L.P. Peca Development Company from Slovenia and the Bjerkaker LearningLab., from Norway.  
The partners considered all age groups - young, middle-aged, and the ageing population themselves: as target groups. The process of growing old takes place in various ways and through different 'routes'. The seniors cannot be regarded as a homogeneous group. Potential benefits of using our curricula by civil organizations, families, communities, and individuals may be to make these 'routes' interesting and useful.  We aimed at contributing to the social visibility of the elderly and searching for "elderly-friendly" solutions, as well as  trying to demolish unfavorable stereotypes affecting the elderly.
Alenka Miler is an EU project manager employed at  A. L. P. PECA d.o.o.
Resource Details
Copyright status
Open source
Type of resource
Open Educational Resources