Media literacy methodology and material for parents (grandparents)
This methodology is 'step by step' guide for parents and grandparents to contribute to their child's safe, meaningful and wise use of media (including digital), as well as to develop critical attitudes and habits. The methodology is based on a mix of approaches: Experiential learning and learning by doing and Bite-sized learning. It covers highly relevant, topical themes of nowadays digital world on how to: deal with complex moral dilemmas, come up with informed decisions, recognise and oppose mis- and disinformation, remain safe in online oceans or fight cyber bullying. For each theme there is presented materials for family activities – conversations, queries, debates or discussions that will help to facilitate family communication, identify where each young person is most vulnerable, and create a routine of dialogue between parents or grandparents and their children.
About the project
This publication has been developed by the strategic partnership in project APRICOT - Attentive parental education for wise being and co-being in changing times (No. 2019-1-LT01-KA204-060481).The project APRICOT brought together 4 partner institutions from four countries: Šiuolaikinių didaktikų centras, project coordinator (Lithuania); Apricot Training Management Ltd. (UK), ItF Institut Kassel e.V. – Frauencomputerschule (Germany), Planeta Ciencias (Spain).
The APRICOT project aimed to support teachers, who want and need to improve their professional competences working with diverse audience of parents (grandparents) in order to deliver high quality media literacy programs; and parents (and grandparents) in helping them to contribute to their children safe, meaningful and wise use of media tools (including digital), as well as developing critical thinking attitudes and habits.
2019-2022 the consortium produced the following results:
Detailed Project information is available at https://apricot4parents.org/
The European Commission's support for the production of this publication does not constitute an endorsement of the contents, which reflect the views only of the authors, and the Commission cannot be held responsible for any use which may be made of the information contained therein.
Resource Details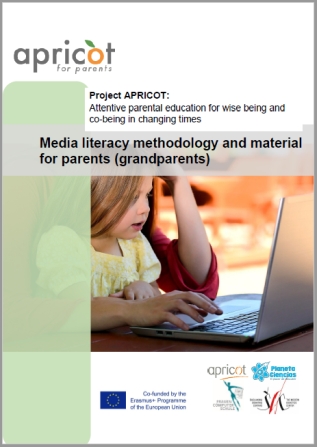 Type of resource
Open Educational Resources
Language of the document
English
Lithuanian
German
Spanish