The Long Game: How to reboot skills training for disadvantaged adults
"It is a sobering thought that, even before the problems hurled at our jobs market by Covid-19, so many adults struggled with basic skills. Astonishingly, over six million working aged adults in England are not qualified to level 2 (GCSE level). And yet our adult learning offer is fragile. This is one of the most pressing social issues of our time. Why? Because, as this CSJ report shows, adult training is a lifeline for people who left school under-qualified.

So how can we make sure that those who are most vulnerable in the jobs market of today, and tomorrow, are able to thrive? The CSJ's timely report is packed full of important ideas, at a time when, more than ever, people are going to need to reskill as we recover from Covid-19."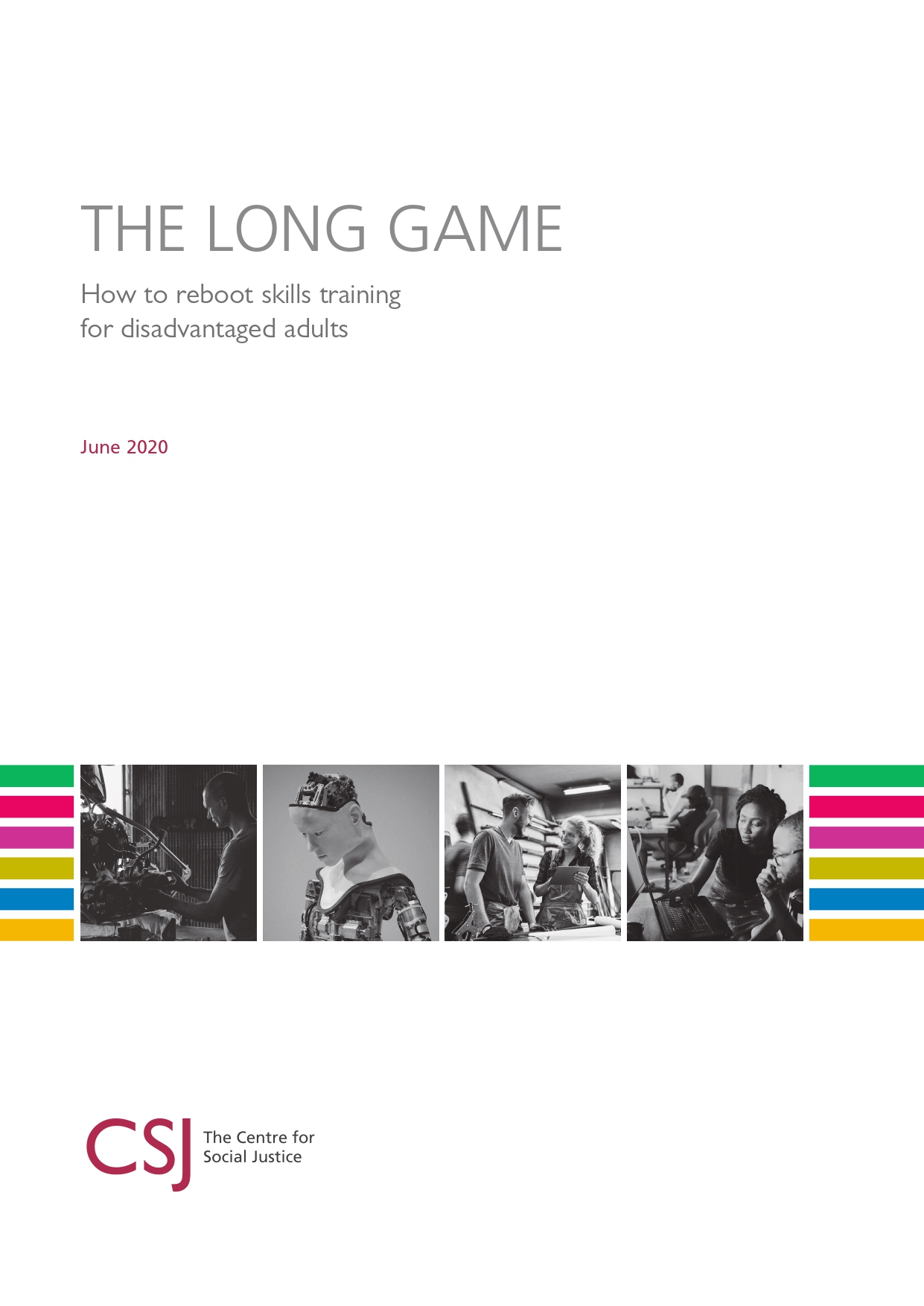 In this paper, we outline several major barriers faced by disadvantaged individuals in the context of adult learning. However, this is not an exhaustive list of the issues at hand. In particular, we have chosen not to include an analysis of apprenticeships policy, an increasingly important tool for adult training. Our reason for doing this is that we will soon publish a separate paper that focuses solely on apprenticeships policy.
We drafted this paper before the coronavirus pandemic's inception, at a time when the economic climate was substantially different to the one in which we now find ourselves. Accordingly, our paper focused on boosting the prospects of low-skilled, low-wage employees in a labour market that, at the time of writing, was buoyant and fluid. As we outline on page 7, some of the analysis we carried out in this paper will, therefore, have since changed. And in the context of a substantial spike in unemployment, the immediate challenge will be to protect jobs through emergency job retention schemes, and to support unemployed individuals back to work through welfare policy and policies that support job creation – neither of which are within the scope of our work here. However, many of the challenges, and solutions, that we outline in this paper will be more salient than ever as we emerge from lockdown and pick ourselves up.
Established in 2004, the Centre for Social Justice is an independent think-tank that studies the root causes of Britain's social problems and addresses them by recommending practical, workable policy interventions. The CSJ's vision is to give people in the UK who are experiencing the worst multiple disadvantages and injustice every possible opportunity to reach their full potential.
The majority of the CSJ's work is organised around five 'pathways to poverty', first identified in our ground-breaking 2007 report Breakthrough Britain. These are: educational failure; family breakdown; economic dependency and worklessness; addiction to drugs and alcohol; and severe personal debt.
Our research is informed by experts including prominent academics, practitioners and policy-makers. We also draw upon our CSJ Alliance, a unique group of charities, social enterprises and other grass-roots organisations that have a proven track-record of reversing social breakdown across the UK.
The social challenges facing Britain remain serious. In 2020 and beyond, we will continue to advance the cause of social justice so that more people can continue to fulfil their potential.
Resource Details
Type of resource
Studies and Reports