Literacy Matters - Issue 19 - Summer 2017 (National Adult Literacy Agency)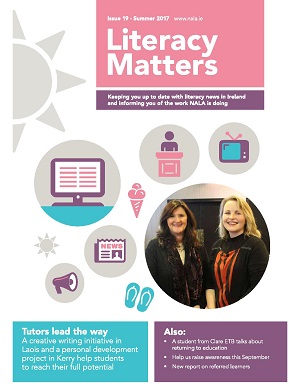 Issue welcome note: 
Welcome to our latest edition of Literacy Matters.
It is always a great pleasure to share the inspiring stories of the people we meet and  this issue kicks off with one such story. On page four, Ann Nicholas talks about the drive and determination that saw her return to education so she could improve her literacy skills and get a healthcare qualification.
In adult education centres all over the country there are tutors involved in fascinating projects that help people improve their literacy and numeracy skills. You can see a great example of one of these projects on page 10 where Denise Dunne, a tutor from Laois and Offaly ETB, talks about a local creative writing and artwork initiative. Also, as part of our report from this year's Tutors' Forum on page 14, you can find out about the positive impact a personal development course has had for students in Kerry.
On page 18 you can read about our report on the challenges and specific teaching strategies that tutors use to motivate and support people who have been referred to their education service. On page 22 we take a look at a report outlining how organisations can save time and money by using plain English. Also, on page 27, we give a snapshot of our new strategic plan and outline our objectives for the next three years.
The input and feedback we get from literacy students and tutors is vital in helping us shape our work. With this in mind, we are already starting to plan this year's awareness week and, on page 30, you can read about the many ways you can get involved.
We hope you enjoy this issue of Literacy Matters and we would be delighted to hear from you if you have a story that you would like to share in the next edition. To get in touch please just send an email to media@nala.ie.
Best wishes from all the team at NALA.
Resource Details
Copyright status
No cost. Freely available to download.