LET ME BE BRAVE: Transgender people's experiences of sport participation in Scotland
This 10 minute film was created by LEAP Sports Scotland to address a knowledge gap in the sports sector around the needs and experiences of transgender learners. It was first shown during the Diverse Identities in Sport 2016 conference and shares the stories of six transgender people active in community sports in Scotland. 
Speaking about the film, Hugh Torrance, Director of LEAP Sports Scotland said,
"In the process of delivering training to the sports sector, it became apparent to us that there was a general lack of awareness of the issues that transgender people face in sport. Feedback from training also told us that whilst issues around sexual orientation in sport were becoming better understood and participants were gaining confidence, the same could not be said for gender identity or gender reassignment.

The idea for the film emerged as we tried to work out ways to provide resources to the sports sector to help them to better understand these issues. The film shows the importance of sport in the lives of trans people in the same way that it is important in the lives of others, but how difficult it can sometimes be to take part. It will be used as an awareness raising tool, as well as a resource that groups can use within training."
This resource can be helpful for sports educators, trainers and clubs to:
raise awareness of the needs and experiences of trans people within your club or sport
ensure that your club or sport is an inclusive environment for trans people
meet the requirements for the Equality Standard for Sport
deliver on your commitments under the Scottish LGBT Sports Charter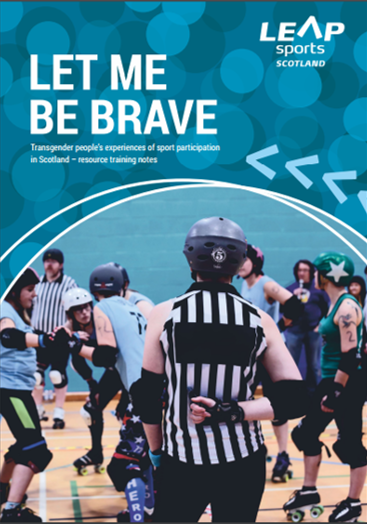 In order to make this resource more accessible, LEAP Sports Scotland has also created a small companion booklet (PDF) for the film which contains some key focus questions which allow the issues to be explored in greater depth. 
The questions in the companion booklet are mainly reflective and the answers will likely differ between individual sports and clubs.
The film was made by Asten Holmes-Elliott and funded by sportscotland and Awards for All Scotland. The Scottish Transgender Alliance provided support and advice on this project.
Resource Details
Type of resource
Open Educational Resources