Introduction: Localizing the SDGs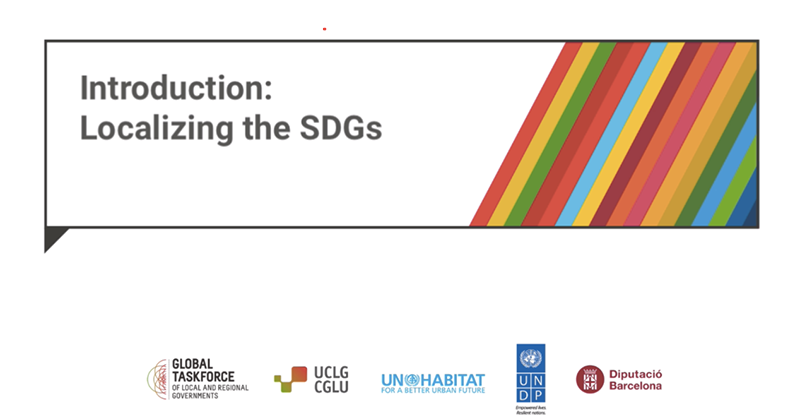 This introductory Mooc (Massive and Open Online Course) about the Localization of the Sustainable Development Goals (SDGs), is based on the Training of Trainers Learning Module 1, and has been developed by the Global Taskforce of Local and Regional Governments, UN-Habitat, UNDP-Art and the Barcelona Provincial Council.
What will you learn?
The SDGs have been established at the global level to help create a more sustainable planet and a free, prosperous and peaceful society and localizing these objectives at the sub-national level is of paramount importance. In this course, we will learn how to align the SDGs with actions already undertaken by Local and Regional Governments and work on strategies for mapping and raising awareness about the SDGs, through articles, dynamic infographics and exercises.
Why localizing?
Localizing is not the parachuting of global goals into local contexts. It means implementing global agendas in cities and territories to achieve local and global goals. More than a technical process, localizing is a political process based on harnessing local opportunities, priorities and ideas. Local governments have a crucial role to play in this process of localizing the Global Agendas. As policymakers, catalysts for change and key actors in development, cities have a unique capacity to implement and monitor sustainable development, prosperity and well-being at the local level.        
What is UCLG?
In order to fulfill their role in achieving the Local Agendas in their territories, local governments and local government associations will need sufficient support from all levels of government and adequate financial resources. Moreover, it will be essential for them to increase their capacities using appropriate methods and knowledge platforms. UCLG is devoted to supporting local and regional governments in this challenging process of localizing. The tools and trainings we develop can contribute to the better use of existing knowledge and to sharing successful strategies for the local implementation of global Goals.
Resource Details
Type of resource
Open Educational Resources