Good practices and edu-tools for adult civic education
BACK TOGETHER - Exchange of good practises in the field of adult civic education 
We present to you the final publication of the project "Back Together" - exchange of good practises of adult civic education, lasting 15 months untill February 2022. Together with partners: Europe4Youth (PL), Nausika Foundation (PL), Open Europe (ES), Evolution Trade Union (LV) and IASIS (GR) we have been researching practises used in different countries to involve adult learners in civic educational activities. In the second stage we have tested and adapted chosen tools into new realities and our own target groups. Results of our work you can find in this publication.
Under the term civic education we understand any form of formal, non-formal, or informal activities that intentionally or accidentally develop competences connected to the role of an active member of a political community. Civic competences we define after Youthpass as following: civic competence equips individuals to fully participate in civic life, based on knowledge of social and political concepts and structures and a commitment to active and democratic participation. 
We find it extremely important to conduct civic education not only with young people, who are usually treated as "future" citizens that we need to "invest in", but also with all parts of the society, no matter to what extent civically active, educated, or included in the society. Those are people who are making decisions and shaping the world right now, not rarely basing on their knowledge, skills and attitudes developed in different circumstances than now, not having possibilities to conceive the processes reconstructing, revolutionising and changing the world today. Civic education should be changing together with it and address not only the future, but also the very present. 
The publication consists of 3 parts:
Inspirations from our research: good practises discovered in our countries that can serve as inspirations for your practises of civic adult education,

Exploratorium - the practises we have selected to adapt to new target groups, test them in new countries, environments and conditions and analyse results,

General conclusions and "aha moments" appearing during the project in a form of reflection.
With this structure we want to give you a bit of what we have experienced ourselves looking for new and innovative ways to work with adult civic education in our countries. We have found out that there are:
various structures of civic engagement in our countries, giving spaces for self-organisation of citizens, which we found also highly educational,

various methodologies to develop knowledge, skills and attitudes up-to-date and in connection to adult learners needs,

various projects already developed in this field, from which you can take inspiration!
We don't claim that this publication provides a complete overview of this field. It provides selected tools, elaborated and tested in our countries and with our target groups. As the term "adult learner" is very broad and encompasses people with very different life situations, we have narrowed down the possible target groups of the tools presented in this publication. Feel free to adapt it, adjust to people you work with, or simply enjoy the inspiration and perspectives we present. 
This publication has been prepared as a result of the strategic partnership project in the field of Adult Education in Erasmus+ programme between Europe4Youth (PL), Nausika Foundation (PL), Open Europe (ES), Evolution Trade Union (LV) and IASIS (GR).
Co-funded by the Erasmus+ programme of the European Union.
Resource Details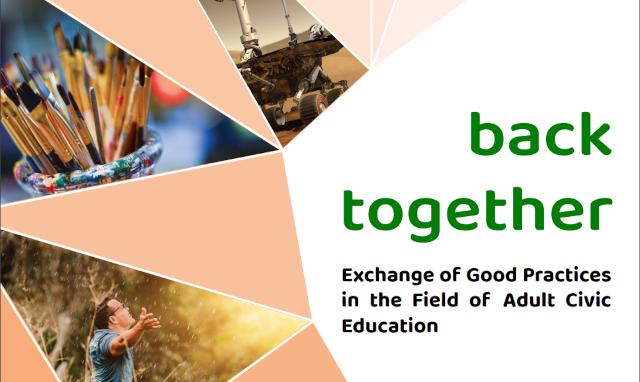 Type of resource
Open Educational Resources