FutureLabAE - How to design, implement and promote change-oriented adult education in the fields of democracy and digitalisation
We live in a rapidly changing word, where new challenges emerge every day. FutureLabAE-project has developed knowledge and resources for a more change-oriented and innovative learning provision. 
Traditionally, adult education is regarded as the repair shop for educational systems. However, FuturelabAE Erasmus+ project (2018-2021) has challenged adult educators to take a more proactive role in solving modern day challenges. Adult education should analyse, debate, and shape future trends and develop educational measures to support individuals and societies to manage and change the society.
The project has produced several resources that adult educators, policy makers and education providers can use:
Articles published about the project:
FutureLabAE project has nine partners representing eight countries:
Institut National de Formation et de Recherche sur l'Education Permanente (INFREP) – France
European Association for the Education of Adults (EAEA) – Belgium
National Adult Learning Organisation (AONTAS) – Ireland
Asociacia institucii vzdelavania dospelych v Slovenskej republike (AIVD) – Slovakia
Kvs Foundation (Kansanvalistusseura sr.) – Finland
University of Eastern Finland (UEF) – Finland
Amar Terra Verde, LDA. (EPATV) – Portugal
Die Wiener Volkshochschulen GMBH (VHS) – Austria
Swiss Federation for Adult Learning (SVEB) – Switzerland
Resource Details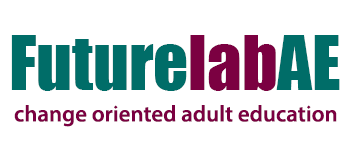 Type of resource
Opportunities and Resources