E+EX LTTC2 What we have learned: Bringing the Methods to Light – Forum Theater
This is the second of five eManuals, from the new series, covering the experiences of partner organisations within the "Educational theatre as the place of raising inclusion and employability of people with disability – Expander" Erasmus+ Strategic Partnership in adult education. In a broader context, this publication (and this partnership) is a continuation of the successful Grundtvig workshop (2013 ) and Erasmus+ partnership (2015-2017 ) and aims to expanded those positive educational experience both geographically and in practice – by introducing new locations, new partners, and new methods into Educathe+ corpus of knowledge about using educational theatre in working with people with disability. 
Partnership consists of five partner organisations that originate from Lisbon (Portugal), Škofja Loka (Slovenia), Zagreb (Croatia), Krakow (Poland) and Skopje (North Macedonia). It is coordinated by a public cultural centre with years of experience in developing and implementing inclusive educational programmes, Trešnjevka Cultural Centre CeKaTe from Zagreb (website: www.cekate.hr). They are joined by Associacao Vo'Arte from Lisbon (website: www.voarte.com), Zavod TRI from Škofja Loka, Slovenia (website: www.zavod-tri.org), Fundacja Inicjatyw Tworczych i Spoleczno – Edukacyjnych Kurdybanek from Krakow, Poland (website:  www.kurdybanek.com), and Union- National Council for Gender Equality from Skopje, North Macedonia (website: http://www.sozm.org.mk). All partners share their knowledge equally, organise their own workshop of educational theatre, and participate in workshops held by others.
Therefore, these publications have the purpose of sharing the knowledge and experiences of working in an international setting and using educational theatre in non-formal education, especially when working with people with disability, and when (equally important) promoting their capabilities so that we diminish their stigmatisation in the general public and on the labour market. These eManual are intended for any educator and facilitator who works with and for people with disability and wants to introduce educational theatre in their work. They are free and open source.
Resource Details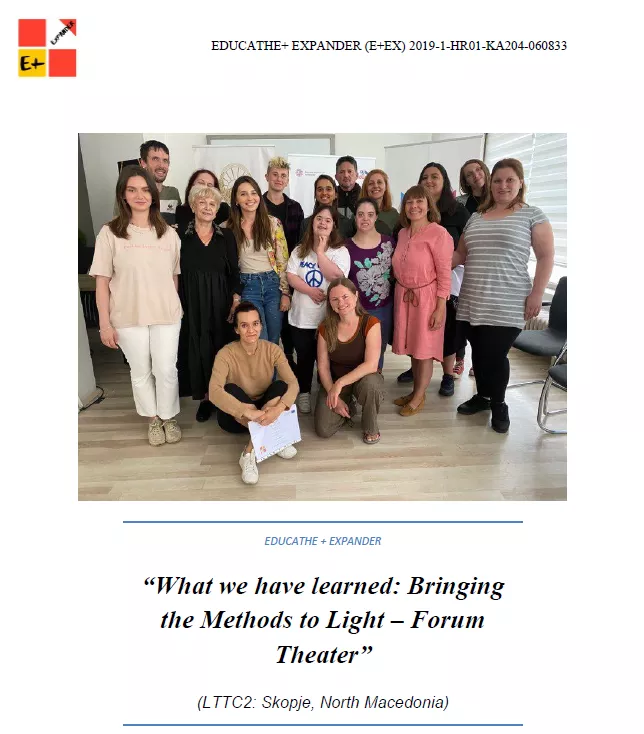 Type of resource
Open Educational Resources