EAEA Grundtvig Award 2015
Each year, the European Association for the Education of Adults (EAEA) celebrates innovation and excellence in adult education. The EAEA Grundtvig Award highlights project results that produce new ideas, new partnerships, new methodologies and a new understanding how we can work in adult learning.
In 2015, EAEA was looking for projects that tackle health and well-being through adult education. Recent research has demonstrated the wider benefits of adult learning, including its impact on health, e.g. Benefits of Lifelong Learning (BeLL)1 project. The EAEA was eager to award best practice examples on this theme which combine innovation and excellence.
The broad topic of adult education and health encapsulates projects which have either a direct or indirect impact on an individual's or a collective's health. Nominated education projects address a health issue (mental and/or physical) specifically or take a more general approach, for example improve well-being. Ultimately, EAEA was seeking nominations that link the theme to an innovative education practice.
The publication presents the contestant projects of the EAEA Grundtvig Award 2015.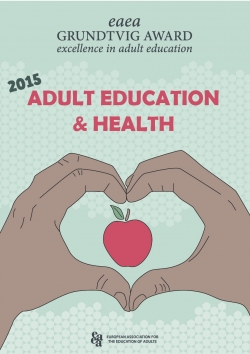 Resource Details
Copyright status
No cost. Freely available to download.
Type of resource
Studies and Reports