Continuing vocational training in France
In France, continuing vocational training (CVT) is characterised by an original structure that leaves an important place for collective bargaining. Historically, access to training has varied according to the status of individuals. This criterion was reduced with the introduction of the personal training account in 2015. This system of access to training is no longer linked to status but to the person (see CPF box p. 11). Structured in its current form at the beginning of the 1970s and largely reformed since then, the FPC mobilises the State, regional councils as well as companies, public and private training bodies, professional, trade union and family organisations. The provisions on CVT are the result of initiatives by the social partners in collective agreements and by the State in laws and decrees. Depending on their status and the specific training problems that individuals, the social partners, the State and, since 1999, the Regional Councils, have created and set up various mechanisms: work-linked training, individual training leave and contracts and professionalization periods. A major reform took place in 2018 that significantly changed the foundations of the French system in terms of governance, financing and mechanisms, including the monetization of the Training personal account. Continuing vocational training and apprenticeship is an important economic sector that accounted for 1.2% of France's gross domestic product in 2016.
This document, updated in January 2019, is expanded with a booklet of articles to illustrate some of the topics in the guide. The articles are exclusively publications from the EPALE platform.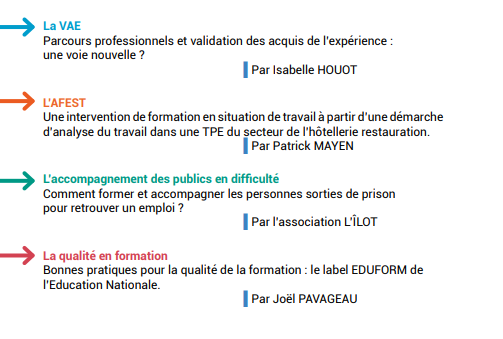 Feel free to download both documents below. 
Resource Details
Copyright status
No cost. Freely available to download.
Type of resource
National and Policy