"Šála sounáležitosti" ohromila Evropský parlament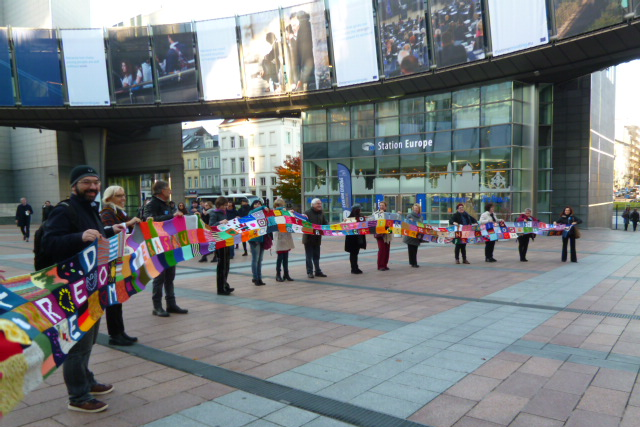 Významným dnem pro večerní univerzitu v Olchingu byl 8.listopad 2018, kdy představila v Bruselu svoji "šálu pospolitosti". 18 metrů dlouhá šála byla upletena nadšenými Evropany v Olchingu (Německo), Padua (Itálie), Valladolis (Španělsko) a Le-Puy-en-Velay (Francie).
Evropa není pro univerzitu v Olchingu pouhým slovem,  tato univerzita již od roku 2003 s velkým úspěchem iniciuje, realizuje a koordinuje evropské projekty. O tom se v Bruselu také mluvilo. Petra Kammerevert (MEP), předsedkyně evropské kulturní komise, zkráceně CULT, pozvala aktéry projektu strategického partnerství "Boosting Individual Competences" (externí link) (BIC) do Bruselu, kde univerzita v Olchingu a její partneři prezentovali výsledky listopadového zasedání evropské kulturní komise, což bylo pro všechny zainteresované mimořádným a vzácným oceněním.
Přesně v 10:30 dostala předsedkyně univerzity v Olchingu Helene Sajons v Evropském parlamentu slovo, aby jako zástupce partnerů z Padua (CPIA), Valladolid (FeCEAV), Le-Puy-en-Velay (GRETA) a také univerzity v Olchingu představila projekt Erasmus+ BIC. Helene Sajons představila dokument "Definition of Relevant Educational Steps to Facilitate Inclusion"  (D.R.E.S.F.I.), který byl vypracován v průběhu dvou let a má být pomocníkem při odkrývání kompetencí osob bez vzdělání. Poté zodpověděla Helen Sajons otázky delegátů.
Hlavní atrakcí byla ovšem 18 metrová "šála pospolitosti" (Scarf of Solidarity), která vznikla díky pomoci dobrovolníků ze všech čtyř partnerských zařízení. Potlesk byl obrovský. Poslanci obdivovali délku šály, její barevnost a poselství, která byla vyšita na mnoha z 280 čtverců a jasně ukazovala hodnotu spojené Evropy, jako například Vzdělání pro všechny "Education for all", Žádný rasismus v Evropě "No racism in Europe", Společně pro lepší svět "Together for better world".
Petra Kammerevert a její kolegové obzvláště chválili týmy za jejich kreativitu, s jakou se jim povedlo vytvořit společné umělecké dílo, za propojení mladé generace s tou starší v kreativním procesu. D.R.E.S.F.I. dokument by měl být cenným pomocníkem v oblasti integrace a inkluze. Petra Kammerevert zdůrazňuje, že projekt BIC je vynikajícím příkladem rozličnosti projektů Erasmus+. Julie Ward z Velké Británie zdůraznila, jak Evropa v současné době právě solidaritu potřebuje. Ocenila jasně viditelné poselství sounáležitosti, které tato šála vyjadřuje. Helga Trüper z Německa a Bogdan Andrzej Zdrojewski z Polska uvítali využitelnost projektu D.R.E.S.F.I. po celé Evropě a poděkovali všem zúčastněným projektu BIC za jejich práci a kreativitu.
Radost zástupců jednotlivých zařízení, kteří se na projektu Erasmus+ Partnerství "BIC" podíleli a kteří měli možnost naživo se zúčastnit prezentace svého projektu v Bruselu, byla samozřejmě obrovská. Obzvláště pyšní jsou na úspěch svého partnerství, na což také pyšní být mohou. Obrovské poděkování patří za vřelé přijetí ze strany komise, díky také za perfektní organizaci setkání panu Tino Kunert, vedoucímu oddělení komise.
Nyní je "šála pospolitosti" v Evropském parlamentu, kde jí náleží čestné místo.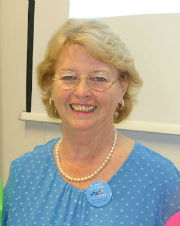 Projekt Strategické partnerství "BIC" byl veden a koordinován večerní univerzitou v Olchingu, která se již od roku 2003 evropskými projety zabývá. Zodpovědnost za žádosti a vedení evropských projektů má Hélène Sajons, zapálená Evropanka, které je od roku 1998 předsedkyní představenstva univerzity v Olchingu a od roku 1984 je také docentskou v oboru francouzština, němčina, mezinárodní kompetence na univerzitě Olching/ Bayern.