Resource
Pregled izobraževanja in usposabljanja 2018
Posted by Nevenka Kocijančič
Evropska komisija je sredi oktobra objavila Pregled izobraževanja in usposabljanja 2018 (Education and Training Monitor 2018). Glavni poudarek letošnje izdaje je državljanska vzgoja in njen pomen za spodbujanje angažiranosti, vključevanja in razumevanja državljanskih pravic.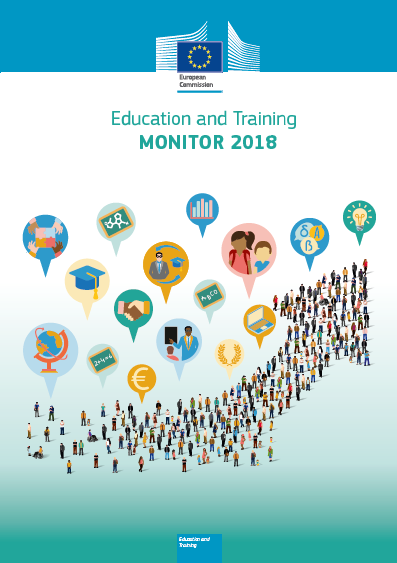 Poročilo ugotavlja, da so države članice EU naredile dodaten napredek pri doseganju ciljev EU, določenih za leto 2020. Kazalnik udeležbe odraslih (25–64 let) v vseživljenjskem učenju je eden od šestih ciljnih vrednosti, ki si jih je EU zastavila v strateškem okvirju Izobraževanje in usposabljanje 2020. Povprečna stopnja udeležbe prebivalstva EU (25–64 let) v vseživljenjskem učenju naj bi do leta 2020 dosegla najmanj 15 %. EK v poročilu ugotavlja, da bo to ciljno vrednost do leta 2020 težko doseči, saj je leta 2017 povprečna vrednostna raven v EU znašala 10,9 %. V podrobnem poročilu za Slovenijo poročajo, da je bilo v vseživljenjsko učenje v letu 2017 vključenih 12 % (2016 11,6 %) odraslih, kar je nad povprečjem EU. Vendar pa je bilo v Sloveniji v izobraževanje in usposabljanje vključenih le 2,9 % nizko kvalificiranih ljudi (EU 4,3 %). Poleg tega je stopnja zaposlenosti nizko kvalificiranih v Sloveniji leta 2017 znašala 49,7 %, kar je tudi pod povprečjem EU (55,6 %).
Dokumenti:
Vir (in še več informacij): spletna stran Evropske komisije - Izobraževanje in usposabljanje.
Publication Date:
Tuesday, 16 October, 2018
Language of the document:
English