Resource
Oktobrska številka e-Novičk
Posted by Nevenka Kocijančič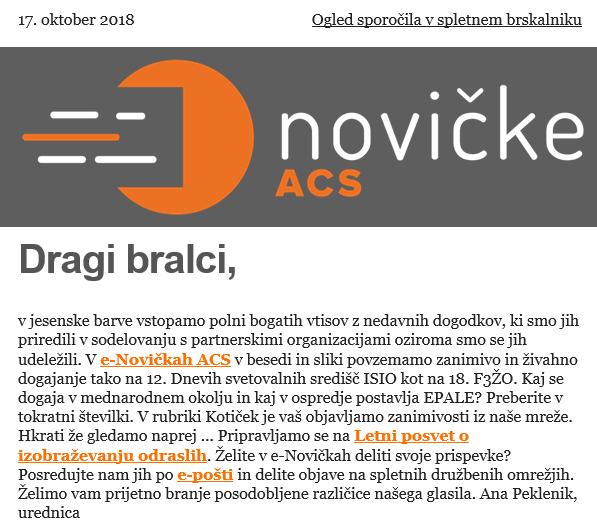 Vabimo k branju najnovejše izdaje glasila e-Novičke. Prinaša bogate vtise z nedavnih dogodkov, ki smo jih priredili v sodelovanju s partnerskimi organizacijami oziroma smo se jih udeležili. V glasilu ACS v besedi in sliki povzemamo zanimivo in živahno dogajanje tako na 12. Dnevih svetovalnih središč ISIO kot na 18. F3ŽO. V tokratni številki preberite tudi, kaj se dogaja v mednarodnem okolju in kaj v ospredje postavlja EPALE. V rubriki Kotiček je vaš objavljamo zanimivosti iz naše mreže. Hkrati pa že gledamo naprej ... Pripravljamo se na Letni posvet o izobraževanju odraslih. 

Naslednja številka e-Novičk bo izšla predvidoma v drugi polovici novembra. Želite v e-Novičkah deliti svoje prispevke? Posredujte nam jih po e-pošti (do 9. novembra 2018) in delite objave na spletnih družbenih omrežjih. 
Pretekle številke našega glasila so dostopne v arhivu. 
Želimo vam prijetno branje!
Publication Date:
Wednesday, 17 October, 2018
Language of the document:
Slovenian
Copyright Status:
No cost. Freely available to download.