DVV International je v letnem poročilu predstavil svoje dejavnosti v preteklem letu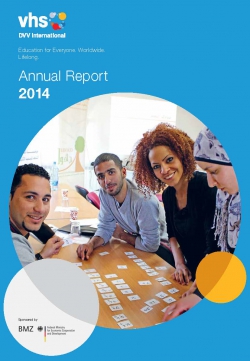 Izobraževanje za vsakogar. Po vsem svetu. Vse življenje. Za to si prizadeva DVV International, Inštitut za mednarodno sodelovanje nemškega združenja za izobraževanje odraslih, ki podpira vseživljenjsko učenje v državah v razvoju in tranzitnih državah že več kot 45 let. Dejaven je bil tudi lani, in tako je v Letnem poročilu 2014 predstavil teme, kot so mednarodno lobiranje za vseživljenjsko učenje, pismenost kot ključ razvoja v podsaharski Afriki, izobraževanje odraslih pri beguncih, »Gledališče zatiranih« – izobraževalno delo v bolivijskih zaporih, zagotavljanje človekove pravice do izobraževanja v Mehiki idr.
V poročilu prav tako lahko preberemo tudi o štirih projektih, ki so imeli v letu 2014 pomembno mesto v izobraževanju odraslih. Globalno učenje v centrih za izobraževanje odraslih (Global Learning in the adult education centre) je projekt, ki spodbuja dogodke za tri različne ciljne skupine: za mlade med 6. in 29. letom starosti, multiplikatorje in starejše od 50 let. Leta 2014 so tako financirali 158 dogodkov s skoraj 5000 udeleženci. Projekt Spoznaj svoj življenjski slog (Know your lifestyle), osveščanje za trajnostno (vzdržno) potrošnjo v izobraževalnih programih za manj izobražene odrasle, je izhodiščno namenjen manj izobraženim odraslim, predvsem mladim osipnikom, ki se vključujejo v programe neformalnega izobraževanja za odrasle. Leta 2014 so razvili pet modulov na teme Mobilni telefoni & pametni telefoni (Mobile Phone & Smartphone); Obnovljiva energija (Renewable energy); Voda kot globalna dobrina (Water as a global good); Svetovna proizvodnja blaga v tekstilni industriji (Global production of goods in the textile industry) in Človeška energija (Human energy). Odkrijte Gruzijo (Discover Georgia) je skupni nemško-gruzijski projekt, ki je od leta 2006 zgradil že devet gruzijskih centrov za izobraževanj odraslih po nemškem modelu. Vsako leto ponujajo uspešno strokovno, politično in kulturno usposabljanje ter socialne in skupnostne dejavnosti več kot 8000 udeležencem. Vpogled v sistem VHS (Insights into the VHS system) pa so študijske ture za spodbujanje izmenjave strokovnega znanja in izkušenj med sodelujočimi državami partnericami. Leta 2014 je študijska tura potekala med 27. oktobrom in 5. novembrom v Nemčiji, udeležili pa so se je predstavniki Ekvadorja, Peruja, Bolivije, Kube in Mehike, skupaj 14.
Nazadnje pa Letno poročilo ponuja še pregled svojega delovanja in partnerjev ter predstavlja vizijo za prihodnost. Letno poročilo 2014 je na voljo v Knjižnici Andragoškega centra Slovenije, najdete pa ga tudi na spletu: http://www.iiz-dvv.de/files/dvvi_jb_2014_e.pdf in v informacijskem središču EPALE. 
Simona Kavčič, Andragoški center Slovenije