Resource
Preberite prvo letošnjo številko glasila združenja EAEA
Posted by Nevenka Kocijančič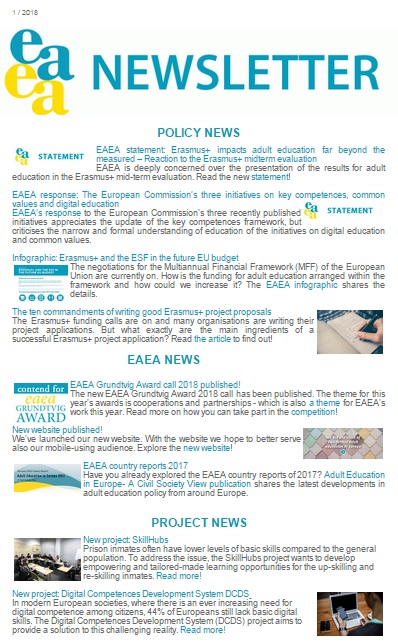 Prvi članek najnovejše številke glasila Evropskega združenja za izobraževanje  odraslih (European Association for Adult Education – EAEA) EAEA newsletter 1/2018 prinaša izjavo združenja, ki izraža  globoko zaskrbljenost nad predstavljenimi rezultati za področje  izobraževanja odraslih v poročilu o vmesni oceni programa Erasmus+.

Med novicami združenja med drugim objavljajo razpis za  Grundtvig nagrade za dosežke na področju izobraževanja odraslih, ki bodo letos osredotočene na  sodelovanje in partnerstva ter vabijo na prenovljeno spletno stran združenja.

Rubriko Novice o projektih začenjajo s predstavitvijo novega projekta Razvoj modelov izobraževanja zaprtih oseb – SkillHUBS, v katerem sodelujeta tudi slovenska partnerja – Center za izobraževanje in kulturo Trebnje in Andragoški center Slovenije.

Med obilico drugih dogodkov napovedujejo tudi regionalno konferenco EPALE, ki bo v začetku marca v Budvi in bo posvečena raziskovalnim praksam v izobraževanju odraslih, ter slovenski TVU v maju.
Language of the document:
English
Copyright Status:
No cost. Freely available to download.