Faro, tijdschrift over cultureel erfgoed
Faro is het tijdschrift van FARO, Vlaams steunpunt voor cultureel erfgoed vzw. Faro verschijnt viermaal per jaar (maart, juni, september en december), telt gemiddeld 60 pagina's en richt zich tot het brede cultureel-erfgoedveld in Vlaanderen (archieven, bewaarbibliotheken, documentatiecentra, erfgoedcellen, erfgoedverenigingen, musea, sector volkscultuur, …) en iedereen die van ver of nabij daarmee te maken heeft (overheden, pers, media, bibliotheken, scholen, …). Faro wil via actuele bijdragen en een (ver)frisse(nde) vormgeving bijdragen tot de verspreiding van kennis en praktijkervaring op het vlak van roerend en immaterieel cultureel erfgoed en de cultuur van alledag.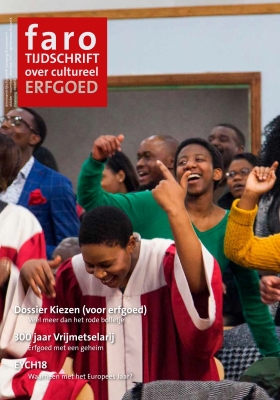 Resource Details
Copyright status
No cost. Freely available to download.