VI Forum Edukacji Dorosłych - weź udział!
Edukacja cyfrowa, umiejętności życiowe i zawodowe, włączenie społeczne – to tematy wokół których zbudowaliśmy program tegorocznego Forum. Ich wybór nie jest przypadkowy. To nie tylko priorytetowe obszary wskazane przez Komisję Europejską, na których koncentrujemy się w tym roku na EPALE. To zagadnienia, które są niezwykle ważne w dzisiejszym świecie. Odzwierciedlają wyzwania, jakie stawia przed nami otaczająca rzeczywistość.
Nowe technologie już na stałe wpisały się w edukacyjną codzienność, a umiejętność przystosowania się do nowych sytuacji i otwartość na zmianę, stały się pożądanymi kompetencjami nie tylko na rynku pracy. Priorytetem jest także zapewnienie dostępu do wysokiej jakości edukacji i możliwości uczenia się przez całe życie dla wszystkich. Efektywne działania na rzecz włączenia społecznego zmieniają życie osób, dla których są realizowane, lecz także pozwalają na rozwój całego społeczeństwa.
Każdego dnia tegorocznego Forum skupimy się na wybranym zagadnieniu. Ekspertki i eksperci podzielą się wiedzą i doświadczeniem, zaproszą do dyskusji, zachęcą do wypróbowania nowych metod, narzędzi oraz do wspólnej refleksji na temat przyszłości edukacji dorosłych. Dołączcie do nas!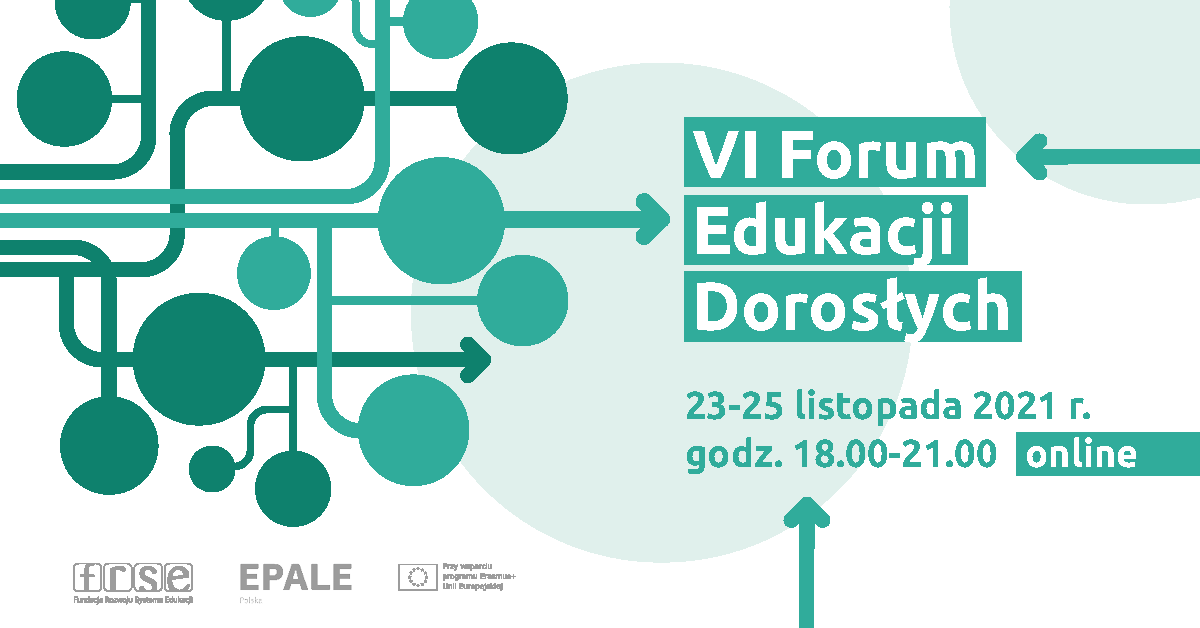 TEMATY
Pierwszego dnia Forum zaprosimy uczestników do świata cyfrowego. Pokażemy narzędzia, które warto wykorzystać w swojej pracy. Podpowiemy, jak odnaleźć swoje miejsce w cyfrowej rzeczywistości i jak się w niej wyróżnić. Pojawi się manifest rzetelnej edukacji online, cyfrowy narzędziownik, porównania, zestawienia i wskazówki przydatne każdemu trenerowi. WIĘCEJ INFORMACJI
Drugi dzień Forum rozpoczniemy od inspirującego spotkania, podczas którego zastanowimy się, jak sami edukatorzy mogą zadbać o własny rozwój osobisty. Nasi prelegenci poruszą także tematy, które towarzyszą nam na co dzień – od fake newsów, przez wyzwania świata VUCA, po wizję katastrofy klimatycznej. Podpowiemy również, jak w dzisiejszym świecie odbudować umiejętność koncentracji i jak zadbać o własne zasoby karierowe. Nowa rzeczywistość to nowe wyzwania, kompetencje i umiejętności. WIĘCEJ INFORMACJI
Ostatnim, ale równie ważnym tematem, będzie włączenie społeczne – poświęcimy mu trzeci dzień Forum. Spojrzymy na nie z różnych perspektyw. Od sposobu projektowania działań edukacyjnych, przez potrzeby osób z grup wymagających wsparcia, po rozwój samych edukatorów, którzy działają na rzecz włączenia społecznego. 
Będą przykłady dobrych praktyk, celnie postawione pytania i jeszcze trafniejsze odpowiedzi oraz dyskusja, która – mamy nadzieję – będzie punktem wyjścia do dalszych działań. WIĘCEJ INFORMACJI
PROGRAM
Zobacz szczegółowy program: http://www.fed2021.pl/program/ 
Pobierz program 
REJESTRACJA
Rejestracja na konferencję odbywa się wyłącznie drogą elektroniczną: http://www.fed2021.pl/rejestracja/ 
Udział w Forum jest bezpłatny. Warunkiem uczestnictwa jest posiadanie aktywnego konta na platformie EPALE. Załóż konto na EPALE.
Termin zgłoszeń upływa 22 listopada 2021 r.
ORGANIZATORZY
Fundacja Rozwoju Systemu Edukacji, Krajowe Biuro EPALE

 

PATRONAT
VI Forum Edukacji Dorosłych zostało objęte patronatem honorowym Ministra Edukacji i Nauki